Goalies – Underrated stars and eternal benchwarmers
Last updated: June 26, 2015 by Leon Marshal
The position between the sticks is arguably one of the most important on the football pitch, but no doubt the most ungrateful one. Yes, some shot-stoppers get the recognition they deserve, but to do so your heroics have to be immense. Few goalkeepers can match the achievements of Peter Schmeichel (5 League titles, 3 cups and a Champions League medal), Lev Yashin's stats (over 150 penalty saves and more than 270 clean sheets) or to get people's love like 1966 World Cup winner Gordon Banks did.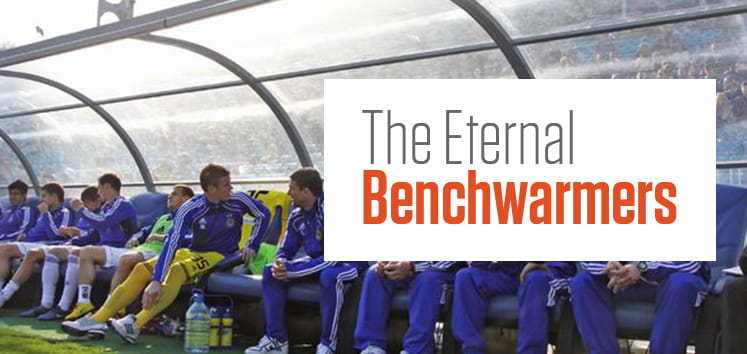 By Leon Marshal Share this Article: . t
Nowadays most goalies are being destroyed by the media after just few bad games and often it takes a lot of time before they bounce back. Some manage to do it, others fade away and are quickly forgotten. There is another breed of goalkeepers, though. The so-called back-up keepers, those who (almost) never play. Some blame them for lack of ambition, others praise them for their patience and loyalty.
Have a look at the story of the Top 5 benchwarmer goalkeepers in the Premier League era.
#5 – Steve Simonsen
Premier League games: 38
Unused substitute: 191
Simonsen's career begun in Tranmere Rovers and continued with 5 different clubs, before joining fallen giants Rangers in 2013. After two years in Merseyside's third team, Steve moved to Goodison Park, where mostly was used as a back-up for Paul Gerrard. In 2004, after just 35 starts for the Toffees, he opted for a switch to Stoke City. For 4 years he was the Potters' number 1, but sadly after their promotion to the Premier League in 2008 he had to play second fiddle again, this time to Thomas Sorensen. In 2010 he was released by Stoke and never again played in England's top flight.
The South Shields-born goalkeeper is no stranger to controversy. In April 2014 the veteran was forced to take down his twitter account after series of blunders he did, using the social network. In his position of second choice goalkeeper at Rangers, Simonsen tweeted that his colleague Cammy Bell will miss the Scottish Cup semi-final clash against Dundee United and he will deputise for him. That action apparently angered Ally McCoist and soon after Simonsen closed his twitter account. A year later he was charged with breaching the Scottish FA's gambling rules by betting on 55 matches over two separate periods.
#4 – Peter Enckelman
Premier League games: 38
Unused substitute: 194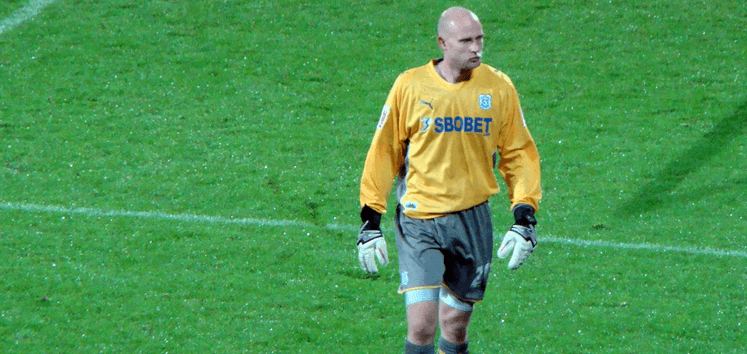 Enckleman recorded 72 League appearances for his local TPS Turku before he moved to England in 1999 when Aston Villa signed him. He was second choice to David James and must have been over the moon when 'The Calamity' moved to West Ham in 2001. His enthusiasm was soon dented as legendary Peter Schmeichel arrived as a replacement. Enckelman's only season as first-choice Villa stopper was 2002 – 2003, before joining Blackburn where he was behind Brad Frieled in the pecking order for four and a half years and played just twice for Rovers in the League.
Most of us remember Peter Enckelman with the bizarre own goal he scored while playing for Aston Villa against city rivals Birmingham. The incident took place in 2002 at St Andrew's. With 76 minutes gone, Villa were trailing 1-0 and had a throw-in deep in their own half. Swedish defender Olof Mellberg threw the ball to his fellow Scandinavian Enckelman, who somehow managed to miss it and the ball rolled into the empty net. The goal was given, but for years after it was debatable if the Finnish goalkeeper touched the ball and whether the goal should have stood.
#3 – Carlo Nash
Premier League games: 18
Unused substitute: 195
I guess lengthy spells on the bench affect different players in various ways, but obviously sometimes cause footballers to do strange things. Such is the case with former Manchester City stopper Carlo Nash. He struggled to settle as a number one at a top club through his career that lasted 21 years. In September 2014 he was summoned to appear in court after being accused of stalking. He was allegedly accessing a victim's email and tried to attach a tracking device to their car. If that wasn't enough, a month later Nash was banned from driving for 34 weeks. He was apparently being clocked doing 140 mph down the A11 in Norfolk with his Mercedes. But what exactly went wrong for Carlo?
The Bolton-born keeper started as a Manchester United trainee and played for non-League sides Rossendale United and Clitheroe, before joining First Division's Crystal Palace in 1996. He played 21 times in his first season and won promotion, but sadly was benched for the following Premier League campaign in favour of Kevin Miller. He had spells in England's top division with 6 more teams (Manchester City, Middlesbrough, Wigan Athletic, Stoke City, Everton and Norwich), but barely featured at all. He enjoyed most playing time during his three-season spells at Stockport County and Preston North End in the second tier.
#2 – Carlo Cudicini
Premier League games: 160
Unused substitute: 235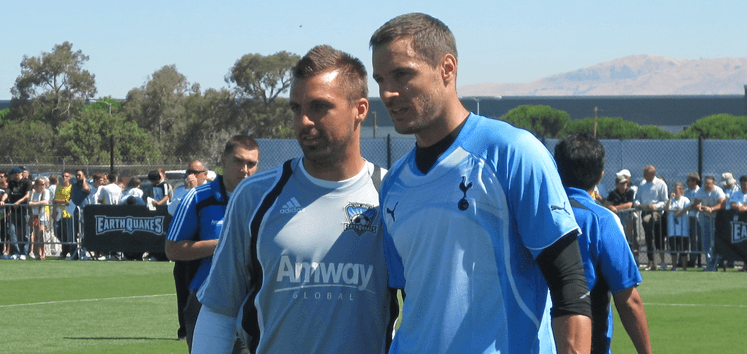 As we near the summit of our 'Most Unused Goalkeepers' ranking, we run into one more Carlo. No, it's not Ancelotti. The former Chelsea boss was a midfielder and had more than a decent record as a player for Parma, Roma and AC Milan. Our man just missed playing (or maybe not?) under Carletto for Chelsea as he left Stamford Bridge in 2009 to join Tottenham. Ladies and gentleman, I'm proud to present you 'the world's most unambitious footballer', according to The Daily Telegraph, Carlo Cudicini!
Cudicini started his career at AC Milan in the early 90's – a golden age for the club. He never played for the Rossoneri in Serie A, but was fielded twice in the Champions League. Cudicini was loaned to Como, had a season in goal for Prato and had spells with Lazio and Castel di Sangro, before joining Chelsea on loan in 1999. The deal was made permanent the following year, but it took him time to settle as the club's number one. However, he gradually took Ed de Goey's place and eventually was voted Chelsea's Player of the Year for the 2001 – 02 season by the fans. The Italian was immediately benched after Roman Abramovich's takeover. He was second and even third choice behind Petr Cech and Henrique Hilario until 2009, when he left for Tottenham, to record just 19 League appearances for Spurs over 3 seasons.
#1 – Steve Harper
Premier League games: 173 and counting
Unused substitute: 305 and counting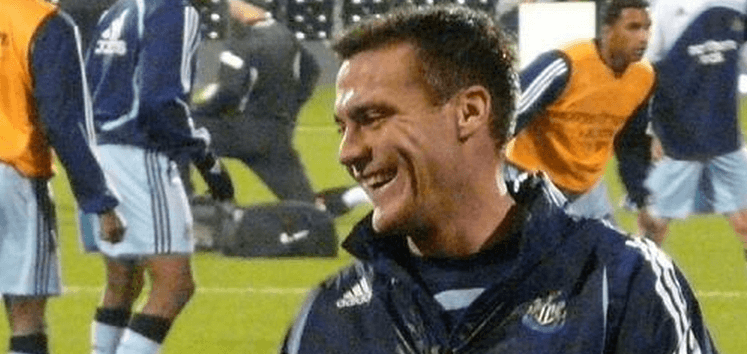 It just had to be an ex-Newcastle goalkeeper that will top our list. Steve Harper spent two full decades of his life at the roller-coaster club, mostly providing backup for Shay Given. On his first day at the club, the 18-year old Steve was called 'Too good looking' (?!) to be a goalkeeper by his coach, but Harper was determined to prove him wrong. It was never easy though, the series of loan spells resulted in him making an appearance in each of the Top 5 divisions of English football. In recent years, he confessed that he was struggling with depression in some periods of his career. Thankfully, medication and his lovely wife Lynsey made sure the Magpies legend made it through that difficult period.
Due to the numerous loan spells Steve Harper was sent on, he had to wait 5 years until he made his Newcastle debut in 1998. His eight start for the club was in FA Cup's final the following year, which was lost to Manchester United. In his 20 years at Newcastle, Harper had 18 different managers, played in the Champions League, got relegated from and got back in the Premier League, where he played 157 games for the Toon. In 2013 he left the North-East to join Premier League rivals Hull City. Respect.