Introduction
The top online bookmakers present you an extensive list of forms in which you may place your bets. Being completely aware of them all will significantly improve your chances of sports betting success. This page provides accurate information about them, that is backed with practical examples. We have clustered the bet types in 2 main groups, depending on the number of selections they consist and the conditions that grant you a return.
---
Singles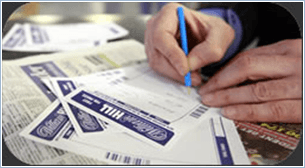 Single bets are appropriate for both seasoned punters and those who are new to the world of sports betting. They posses a lower level of risk, compared to Multiple bets and the stake costs only a single unit, unlike full cover bets. It's simple and straightforward with singles – either your selection wins and gives you profit or fails.
Another advantage of them is the ease with which the profits from them are calculated. All you have to do is simply multiply the odds by your stake and you will see how much you will get in a potential return. Below you can read brief guidance for the most popular types of single bets available on the internet.
Head to Head
Head to Head betting is probably the most used form of betting around the web. Simply put, the thing you do is bet on the fixture's outcome – win, lose or (when applicable) draw.
Example: Everton host Tottenham at Goodison Park in Saturday's late Premier League kick-off and I decide to back the home side to win. Only a Toffees triumph will cause my bet to count as winning and grant me a return, either the draw or a Spurs win will fail my bet.
Totals (Over/Under)
Totals is another top online betting market. The first bell it rings with you most probably is connected with a certain event's scoring. Can't blame you really, I'm exactly the same. But the truth is apart from goals, online you can place your Over/Under bets on practically any countable statistic in a game (points, corner, cards, games in a set, free throws, etc). In order to avoid confusion with the result, the condition for those bets always is a half number.
Example: Arsenal was playing Hull City on the 17th of May in 2014's FA cup Final at Wembley. Our friend and colleague Leon (logically very excited) decided to back Arsene Wenger's men to score over 2.5 goals in the game. Unfortunately, the Gunners' third goal, scored by Aaron Ramsey came only in the second period of extra time, so the bet was lost. Still, the Welshman's right-footed strike marked the end of a nine-year trophy drought for Leon's beloved Arsenal, which was a proper consolation.
Handicaps
You've probably heard a lot of things about handicap betting and it's various forms (Asian handicap, Line, Points or Spread betting). Call it whatever you like, the main principle behind all is identical, the common thing being an advantage that is given to one of the teams in advance. The upper hand usually is given to the team or competitor that is less likely to win. The handicap clause may be either a whole or a half number (Asian handicap can feature both). Handicaps are hugely popular in the United States and people there are crazy about betting on their traditional sports using those markets.
Example: Baltimore Ravens take on the Pittsburgh Steelers at the M&T Bank Stadium and the +8.5 points they are given make them slight underdogs for the encounter. Logically, the handicap value for Steelers is -8.5, which means they will have to win the game by at least 9 points difference in order to grant return for those who backed them. Say Ravens loose the game by 7 points, the 2012 Super Bowl champions will be the winning bet, even though they've lost the game.
Asian Handicap Example: We are backing the favorites for a certain event, which are rewarded with -0.5 and -1 handicaps. The table explains what will be the outcome of the bet in the case of different scenarios.
| Win by 1 | Win half |
| --- | --- |
| Win by 2 or more | Win |
| Draw or lose | Lose |
Each Way
Each way is a very popular form of betting, especially among punters who are into horse racing. This kind of bet actually consists two separate bets, one on your selection to win and another one to claim one of the predetermined 'awards' places, usually 2nd and 3rd. The terms for place bets are set in advance by the operator and pay out a fraction of the Win odds.
Example: We back Laser Blazer to win the 2.40 Warwick race at odds of 12/1 with £10. Each way pays 1/ 4 for 2nd, 3rd and 4th place.
1. Best case scenario is our selection to win the race, we get the astonishing profit of £120.
2. Laser Blazer finishes second, the EW terms apply and we get a quarter of the win odds, claiming a £30 profit.
---
Multiples
Every wager that has more than one selection in it is an accumulator bet. What those kind of bets do is multiply the odds for each bet in your betslip and then multiply the result once again by your stake. At the best betting sites you can usually build your ACCAs with up to 15 selections. That way your potential return is increased, but sadly so are the chances of the wager not to come out winning. However, if you feel multiples are your cup of tea, you can still try one of the following types of bets.
Double
Double is type of bet that consists exactly 2 selections. The condition to grant you a return is both selections to come out winning.
Example: We put a fiver on West Ham to beat Fulham at Evens and Wolves to get the better of Charlton at 2/7. If both selections win we will get a total return of £12.86, but even if just one of them lets us down, the whole bet will count as lost.
Treble
Treble is a type of wager that involves 3 bets. In order for a treble bet to be successful, all 3 selections need to come out winning.
Example: In our betslip we've picked the following 3 selections and put £10 on a Treble: Manchester Utd @4/6 Manchester City @1/2 Leicester City @4/5 If both Manchester clubs and the Foxes get the 3 points in their respective fixtures we will claim a £35 profit, added to the initial £10 stake and get a total return of £45.
Full Cover Bets
Full cover (or system) bets are wagers that consist all possible combinations for the number of selections they involve. Each combination requires a single unit stake to be placed on it. The great thing about system bets is that unlike accumulators they may still grant you a return if some selections let you down. The biggest downside of full cover bets are the lower returns compared to ACCAs.
Example:
The table below shows you the number of selections for each of the top system bets and in what combinations they are grouped.
| | Number of Selections | Doubles | Trebles | 4‑folds | 5‑folds | 6‑folds | 7‑folds | 8‑folds |
| --- | --- | --- | --- | --- | --- | --- | --- | --- |
| Trixie | 3 | 3 | 1 | – | – | – | – | – |
| Yankee | 4 | 6 | 4 | 1 | – | – | – | – |
| Canadian | 5 | 10 | 10 | 5 | 1 | – | – | – |
| Heinz | 6 | 15 | 20 | 15 | 6 | 1 | – | – |
| Super Heinz | 7 | 21 | 35 | 35 | 21 | 7 | 1 | – |
| Goliath | 8 | 28 | 56 | 70 | 56 | 28 | 8 | 1 |
The list of possible system bets you can place is really extensive. It's easy to calculate that 2 out of 3 consists 3 match-ups (including the accumulator), but the likes of 4 out of 10 generate some ridiculous numbers. We assume that you are not keen to practice your maths skills exactly in that way, so we've created a table that provides you comprehensive information on the amount of available combinations for various systems.