The Best Apple Pay Betting Sites
Last updated: by Leon Marshal

Apple have been around forever. Started by Steve Jobs, Steve Wozniak and Ronald Wayne, they were Microsoft's main computer rival – so much so that most computer software systems are either run on Apple or Microsoft these days. Apple have become the leaders in the mobile phone market ever since the introduction of the iPhone in 2007. One of its more recent features is Apple Pay, which allows you to pay for transport or consumer goods with only your phone. Now available for certain betting sites, it looks to become the payment method of choice for bookies and punters. We will now guide you through the best Apple Pay betting sites online, as well as giving you the complete overview regarding how to make the most out of the service. Read on now to learn all about it!
---
The Finest Betting Sites That Accept Apple Pay
When looking at the best betting sites that accept Apple Pay, we have to admit that there aren't many bookmakers to choose from. As it is such a new payment method, operators have been rather slow to get on the uptake and accept it. We are sure that in the future it will become a standard rather than an outlier. When we did look for the finest sites for the payment service, what we were looking for was the ease of use, the size of the bonus on offer and the odds levels you can expect. Take a look at our top pick below!
Bookmaker
Rating
Essential Info
Sports Welcome Bonus
Secure Link
T&C
🥇 888sport
5.0

out of 5

Minimum Deposit:

£10,

Maximum Deposit:

£1,500,

Odds Levels:

up to 94.87%
£30
888sport.com
Full T&Cs Apply! New customers only – Minimum deposit of £10 using deposit code 30F - A qualifying bet is a 'real money' stake of at least £10 placed on any sports market - Minimum odds of 1/2 (1.5) - Free bets credited upon qualifying bet settlement and expire after 7 days - Free bet stakes not included in returns - Deposit method and withdrawal restrictions apply & Full T&C's apply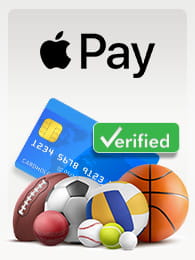 As you can see, we like this bookmaker because it has a low minimum deposit and a decent welcome bonus – making for great incentives to start creating a betting account. Read the rest of this review to learn more about Apple Pay and how to use it successfully.
---
How Do I Use Apple Pay for Online Gambling?
Using Apple Pay for online gambling is one of the easiest things to do and part of the reason why we think it will kick off really big in the next few years. The first step is to upload your card to your Apple Wallet (it goes without saying that this is only available for iPhone users). After that, just log into your bookmaker via your phone (this does not work on your desktop) and then you can deposit as much money as the limit allows. The money should go into your account almost instantaneously, ready to be punted on any sport you should desire.
The three steps to using Apple Pay for online betting
Step 1Link your card with your Apple Pay account
Step 2Log into the bookmaker via your phone
Step 3Use Apple Pay to make a deposit
How Do I Deposit with Apple Pay?
Using Apple Pay to deposit is super easy, and can be done with just a few clicks of your smartphone. All you have to do is access your favourite bookmaker on your phone – either via the online browser version or the mobile app. After that, take a look to find Apple Pay as a deposit method. Once you have got Apple Pay as a deposit method, you can adjust to put the amount of money you want to bet into the bookmaker. All you have to do next is use your Touch-ID to verify the account, and everything is done for you. Its really that simple.
Log onto your bookmaker on your phone

Access your favourite bookmaker via your mobile app or web browser.

[1/3]

Select Apple Pay as a deposit method

Find Apple Pay as a deposit method and add it to your account.

[2/3]

Deposit via Touch ID

Verify your deposit through the Touch ID process.

[3/3]
Are There Any Fees for Using Apple Pay for Betting?
Nobody likes to pay extra fees for something when it should really be very simple. When you use Apple Pay to deposit into your favourite betting account, you might be wondering whether or not any fees are charged. Thankfully for you, when you use the Apple Pay service, you will be glad to know that there are absolutely no fees incurred when using it to deposit. This is great because it means more money remaining in your pocket. In order to illustrate how this works for you, why don't you take a look at the specially made image that we have created for you below?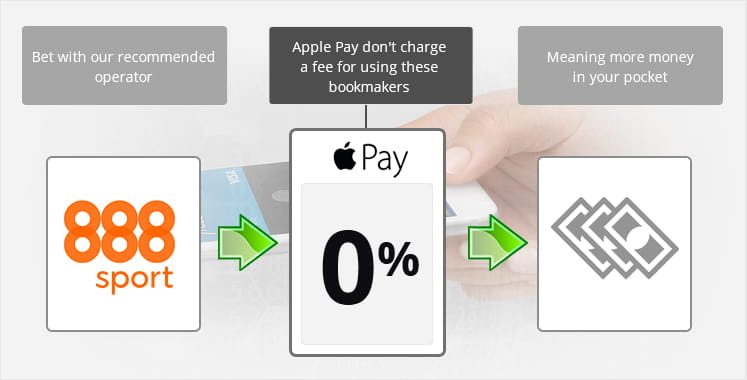 What Is One Touch ID for Mobile?
The team over at Apple have always been at the forefront of technological innovation. One great thing that they invented a few years ago was allowing people to log into or verify things on their device simply by using their fingerprints. This means that you don't have to type in long passwords or usernames in order to get things done, saving the user a whole lot of time. Now, when you use Apple Pay to deposit into your favourite betting accounts, you can verify your details by using Touch ID. What this does is make Apple Pay the fastest deposit method around!
---
Advantages of Gambling with Apple Pay
Very Quick To Use
One of the most important things when it comes to depositing into a bunch of betting accounts is being able to do so as quickly as possible. Thanks to Apple Pay's innovative platform, which includes the use of the awesome Touch ID system, it's one of the fastest payment methods around. Now you will really have no need to use a burdensome bank transfer ever again.
Links with Your Phone
Betting on the go is great for people who want to place a few bets while engaged in other tasks. Now thanks to Apple Pay, this task is becoming easier than ever. With just a few quick clicks you can get straight onto your betting app and deposit using your unique one-touch ID. Now all you really have to worry about is knowing the password to the wi-fi!
Extremely Secure
Security is one of the most important things when it comes to betting online. Without being secure, we wouldn't recommend betting at all. Thankfully with Apple Pay, you can rest assured that absolutely everything you do is completely secure. This is mostly down to the wonders of the Touch ID. As you, and only you, have your specific fingerprint, then it becomes extremely hard for someone else to use your account.
Apple Pay Pros and Cons
Very quick to use
Links with your phone
Extremely secure
Accepted in various stores
Not widely accepted
Doesn't allow withdrawals
Has to be used on phone
Needs the latest iOS version
---
Disadvantages of Gambling with Apple Pay
Not Accepted at Many Bookmakers
When you start betting, you realise the importance of having multiple betting accounts. This is where Apple Pay really falls down in comparison to other payment methods. It simply isn't offered at as many bookies as other payment methods. Nevertheless, we believe that in the upcoming years that Apple Pay will manage to expand its roster and be one of the finest payment methods around.
Doesn't Allow Withdrawals
While depositing is an integral part of the betting experience, it isn't much use if you cannot withdraw. This is something worth bearing in mind when using Apple Pay as a payment method. As of right now it still doesn't allow for withdrawals – something we find to be an almighty shame. Therefore, when you use it, you will have to connect it with another payment method in order to have the full betting experience.
---
How to Create an Apple Pay Account
Before you start using Apple Pay for betting, you have to create an account first. We will teach you exactly how to do that now! It's very simple. It goes without saying that the first thing you need is an iPhone, as it's not supported on any other type of mobile device. Then you should go into your Apple Wallet and link your card to it. This authentication process shouldn't take very long at all. Once you have done all that you have created an Apple Pay account. It really is one of the easiest things you can do with your iPhone, just make sure that you have an up-to-date iOS.
How to create An Apple Pay account
Step 1Choose to add your card on your Apple Wallet
Step 2Verify your personal card details
Step 3Use Apple Pay to make purchases
---
Legality and Safety
When you are betting, there are two things that are extremely important to uphold. The first is legality, the second is safety. Without those, betting can be – and usually is – a risky proposition. Thankfully for users of the Apple Pay service, they can get ahead in the full knowledge that everything they do is fully regulated within the limits of the law, and is done to guarantee the safety of its users. Firstly, as it is a financial payment service, it's regulated by the highly respected Financial Conduct Authority, who make sure that everything is completely above board. Secondly, everything that you do through the Apple Pay service is encrypted, meaning that only you have access to what you do. This also means that none of your card details will be available on the site itself, giving you a complete sense of security in absolutely everything that you do.
---
The History of Apple Pay and Info About the Company
Although Apple Pay itself has only been around for three years, it comes as a result of a long history involving the Apple Company itself. Apple was started in 1978 by Steve Jobs, often considered one of the smartest men in the 20th Century. Starting with building computers in the 80s, they were characterised by some of the smartest innovations man could think of. Some of Apple's designs have paved the way for the way we think now, most notably the iPhone which was invented in 2007. It did take a while for mobile payments to get started, however, as Apple observed others starting and failing before launching their own product. From the very start Apple Pay became one of the hottest payment methods around – working on both iPhone and iWatch – with many people using it to pay for things in a whole variety of shops as well as the London Underground!
Pamyent Method Name:
Apple Pay.
Headquarters:
Apple Campus, California
Invented:
2014
Parent Company:
Apple Inc.
Employees:
147,000
Revenue:
$215 Billion
Regulator:
Financial Conduct Authority
---
Alternative Payment Methods
We endeavoured in this review to show you the virtues of Apple Pay, but if they don't match up with your expectations then that's no matter. The great thing about online betting is that there are a whole host of different payment methods you can use. Anyway, if you do use Apple Pay to make a deposit, as you cannot withdraw, you will have to team it up with another payment method, such as Neteller and Skrill. In order to give you an idea of what other payment methods you could use, why don't you take a look at the table that we have created for you below.
---
Start Betting with Apple Pay Now
Now that you have learned everything that you need to know about Apple Pay, perhaps you think today is the day to get started and make an account. We did have a few qualms with the system – namely, it is only compatible with iPhone and you can't do any withdrawals – but we still believe that its positives highly outweigh its negatives. Below we have selected the best bookmaker to use for Apple Pay.
Check out the best Apple Pay Betting Site
Why 888Sport Is Perfect for Apple Pay Bettors?
Low deposit amount
Speedy transactions
Plenty of betting markets
Full sportsbook available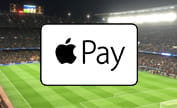 Full T&Cs Apply! New customers only – Minimum deposit of £10 using deposit code 30F - A qualifying bet is a 'real money' stake of at least £10 placed on any sports market - Minimum odds of 1/2 (1.5) - Free bets credited upon qualifying bet settlement and expire after 7 days - Free bet stakes not included in returns - Deposit method and withdrawal restrictions apply & Full T&C's apply
Of all the payment methods we have dedicated a page to, Apple Pay is by far one of the newest, meaning it has a long way to go before it can become one of the biggest hitters. Nevertheless, as this is Apple we are talking about, we are sure that they will corner the market in no time. If you are interested in what this payment method has to offer, why don't you start right away and use it now! To learn more about betting, head on over to our main homepage now!
Q&A Regarding Apple Pay Betting Sites
While we try to make our payment method reviews as comprehensive as possible, our readers often have more specific questions, which we answer below. If you feel we missed anything or have a question, feel free to contact us.
🏆 What are the best Apple Pay betting sites?
The best Apple Pay betting sites are ones licensed by the Gambling Commission. We only review licensed sportsbooks on our site, so you know they're fully legal in the UK. Check out our list of the top Apple Pay betting sites to see our suggested operators.
👮 Are Apple Pay betting sites legal?
Yes, as long as the Apple Pay betting site has a licence from the Gambling Commission. You can see our detailed analysis on the legality of Apple Pay betting sites for a thorough overview of the regulations.
🔄 Are there any alternatives to Apple Pay betting sites?
There are several alternatives to Apple Pay betting sites. You can check out our list of the most popular payment methods used at betting sites for some examples.
💳 How do I deposit to betting sites using Apple Pay?
To deposit using Apple Pay, you first need an iOS device like an iPhone or Apple Watch. After that, you must link it to your payment information before creating an account at a betting site. For a fully detailed guide, click here.