The Bad Boys of Football – Our Nasty 11.
Last updated: March 24, 2015 by Leon Marshal
"Bad boys, bad boys, whatcha gonna do? Whatcha gonna do when they come for you?" – said the lyrics of a catchy reggae song in the late 1980s. Well, perhaps take a selfie or ask for an autograph, if we are talking about football. Very often exactly the brightest and eccentric characters are those who provide the secret ingredient that makes the beautiful game what it is. Today it's not very easy to rank among the top rated bad-ass footballers. Many try and fail, getting minor recognition for their twitter rants or moody on-pitch behaviour. On this page we pay tribute to the most remarkable players, who won't settle with the conventional, even at the cost of getting off the rails every now and then.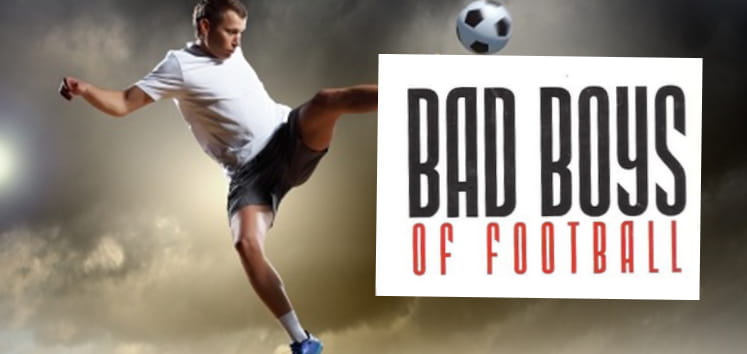 By Leon Marshal Share this Article: . t
Our outspoken team would put fear into most opponents! So let's start with our goalkeeper.
Goalkeeper – Mark Bosnich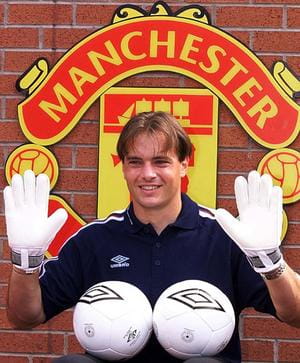 "The fact remains that I was the only player Alex Fergusson signed twice at Manchester United!"
Manchester United had real troubles in finding a proper replacement for Peter Schmeichel after his departure in 1999. Many tried, including World Cup and Euro winner Fabien Barthez, Tim Howard and Roy Carroll, but none of them matched the qualities of the Dane until Edwin van der Sar joined from Fulham in 2005.
The first goalie that tried to fill Schmeichel's big shoes was Australian Mark Bosnich. He was registered in United's books as a youngster, before returning to his homeland to play for Sydney United in 1991. After a year Bosnich returned in England where he had 7 seasons with Aston Villa before rejoining United in 1999.
His 2-year spell at Old Trafford won't go down in history, but will be remembered with the controversy around him. Apparently Mark was no stranger to arriving late for training and treating himself with Chinese and steaks, disregarding the training regime. In addition, back in his Villa days he was involved in a sex scandal with his to-be teammate Dwight Yorke. The duo taped a film of them being with four women, but the most disturbing part was the one that showed the footballers dressed in women's clothing. If you never watched it, don't.
Defender – Marco Materazzi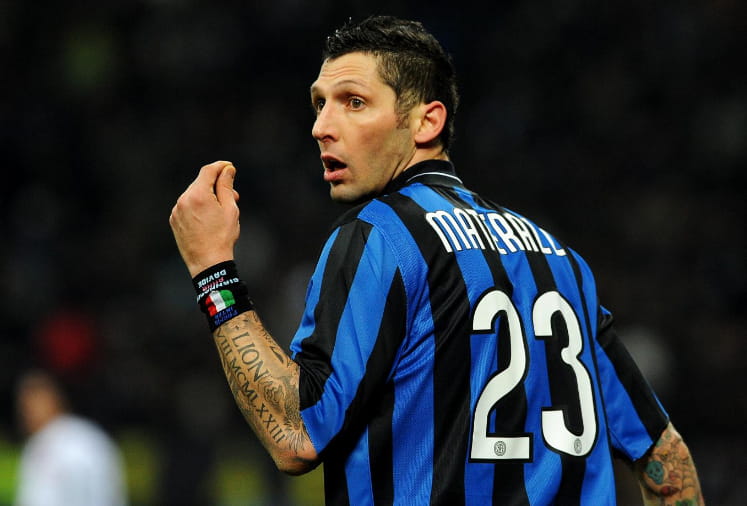 We won't go too far with the statement that Marco Materazzi is one of Italian football's modern legends. In his collection he has a World Cup winning medal, 5 Serie A titles, 4 Cups, as many Supercups and also has won the UEFA Champions League and FIFA Club World Cup with inter in 2010.
The Lecce-born defender had an outstanding contribution towards his country's success at the 2006 World Cup, but he was set to see out the tournament from the bench if Alessandro Nesta didn't get injured in the game against Czech Republic. Marco deputised in a stunning fashion, scoring in the 26 minute as he came in. The final in Berlin against France was a life-changing turbulence for him. He first conceded a penalty in the 6th minute that Zidane converted to open the score. Materazzi redeemed himself with grabbing the equaliser before performing the act for which he will be remembered forever.
In the 110th minute, as the game was heading to penalties, Marco mouthed some words to the France captain and seconds later was headbutted to the ground by Zizou. It remains a mystery what exactly did Materazzi say, but one of the most popular theories is that it was a racial abuse that involved the playmaker's mother. The whole world turned against the Italian after that, but it was worth it, as The Azzurri went on to win the penalty shootout 5-3.
Defender – Tony Adams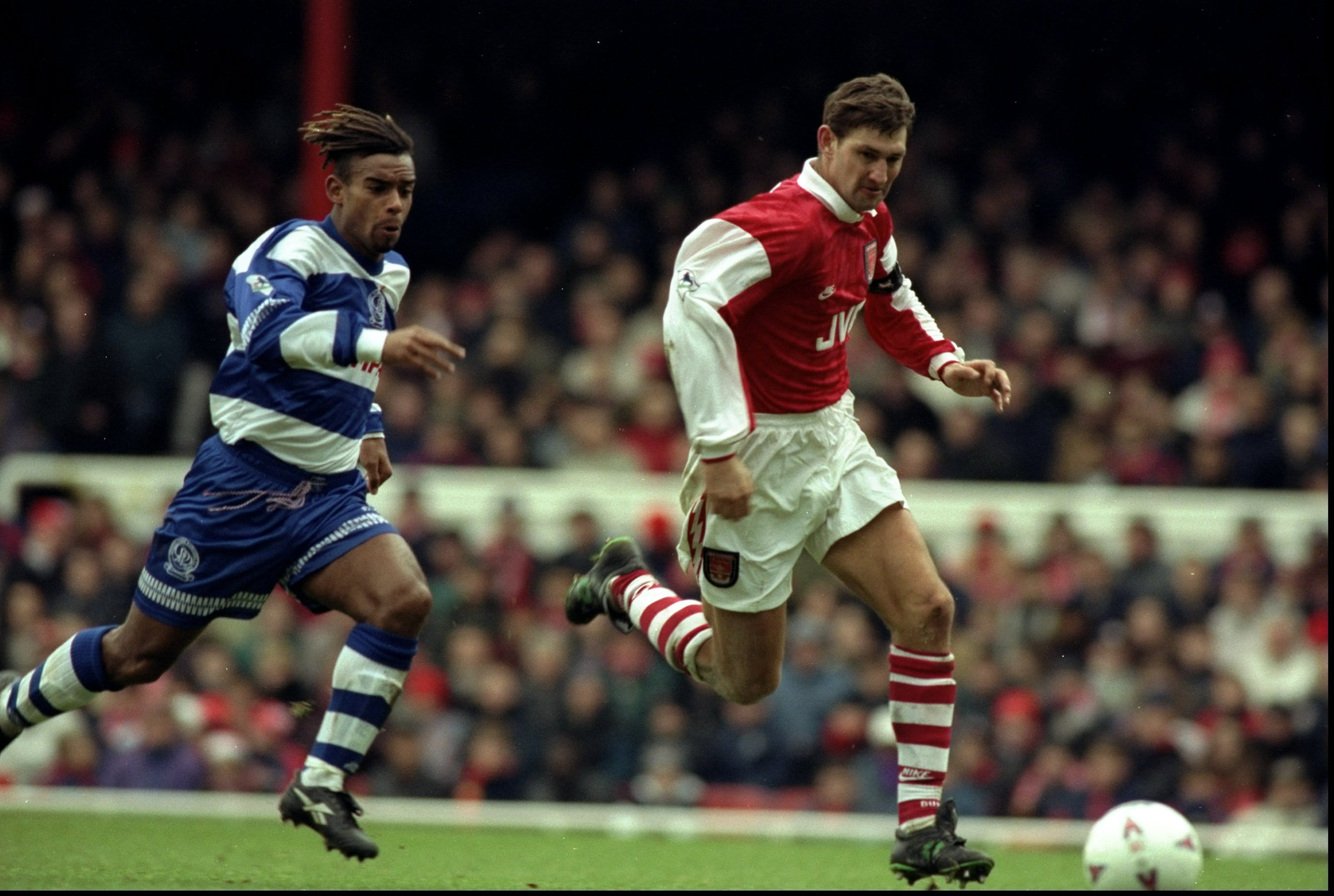 "Play for the name on the front of the shirt, and they'll remember the name on the back."
The Londoner spent his entire career playing for his home club and was so popular among supporters, he was nicknamed 'Mr. Arsenal' by them. During his 19 years as a professional, Adams won 13 major trophies, represented England at 4 tournaments and even captained the Three Lions for two spells in 1994 – 96 and 2000. He was an example for character, leadership and loyalty for any player, but his off-pitch behaviour was far from one of a role model.
Apart from the 'famous back four' (Dixon, Adams, Bould and Winterburn), George Graham's side from the 90s was also popular with the so called 'Tuesday Club'. Arsenal's players had the Wednesdays off and due to that fact, Tuesday nights were time for bonding. By bonding I mean heavy drinking sessions, led by Tony Adams, who was joined by his teammates. The Arsenal manager was aware of what was happening, but was keen to ignore the fiery nights as long the players showed up on time and in good condition on Thursday.
Adams developed an alcohol addiction, got into bar fights and even crashed his Ford Sierra into a wall when driving drunk. The incident took place in May 1990 and at the end of the year he was imprisoned for four months (subsequently got released on 15 February 1991 after serving half of his sentence). On his way of redemption, Adams speaks freely about his problem in his 'Addicted' autobiography and also found a clinic where sports men and women receive treatment for their drink, drug or gambling addictions.
Defender – Patrice Evra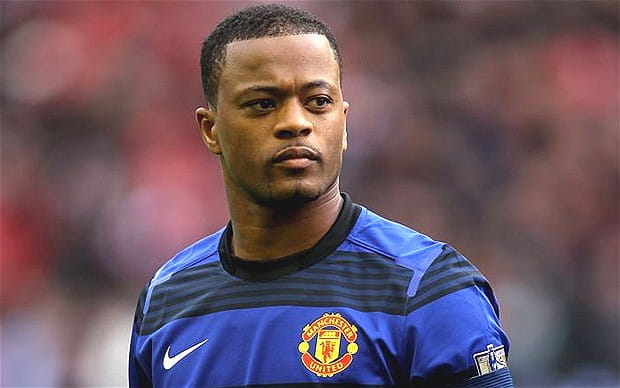 "It was 11 men against 11 babies."
In 2011 Evra, a Manchester United full back, was the victim in a racism scandal with Liverpool striker Luis Suarez after a clash between the two sides at Anfield. The uncertainty about the incident was huge. Was anything said at all? Was it racist or just an innocent Uruguayan saying, we will never know. What we know is that Suarez got banned for 8 games because of it and there were handshake antics between the two in the next derby.
A year earlier, at the 2010 World Cup finals in South Africa, Evra was in the heat of another scandal. Les Bleus practically turned into laughing stock after Nicolas Anelka's argument with coach Raymond Domenech, which resulted in the striker heading home early. His colleagues didn't stay much longer, though, having finished bottom of their group with just a point and a single consolation goal.
The situation escalated into a training boycott from the France squad as an act of solidarity with Anelka. The time was wrong and so was the execution. You can't behave in such manner at a stage of this level, on top of all in public. A video footage was released, showing captain Evra confronting fitness coach Robert Duverne. An ugly end of an ugly World Cup campaign that started with the infamous Thierry Henry hand-ball incident against Ireland.
Midfielder – Zinedine Zidane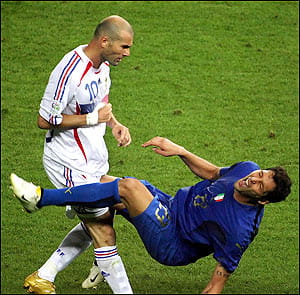 "Life is full of regrets, but it doesn't pay to look back."
Considered by most as one of the most elegant players in history to grace the football pitch, Zidane was idolised by millions through his dazzling career. Throughout his 17 years as a professional, Zidane won everything in football, but his bits of brilliance were mixed with some not-so-glorious actions on the pitch. And it's not only about the infamous Materazzi incident, for which he received unseen support in his homeland.
France won all three group matches of their home World Cup in 1998 and progressed effortlessly further in the competition. However, in the 71 minute of the second game (4-0 vs Saudi Arabia) Zizou saw red, stomped on the back of Fuad Amin and the referee had no choice but to send him off. He was back from his suspension for the quarter-finals and played a main role in the final against Brazil, scoring twice in the 3-0 win.
Two years after his triumph with the national team, Zidane showed his dark side again. Hamburger SV played Italian giants Juventus at Stadio delle Alpi and took a shock lead through Roy Prager in the 24th minute. Moments later, The Old Lady's French playmaker was shown straight red for headbutting Jochen Kientz after the German tackled him. Juventus lost the match 3-1 and had to finish it with 9 men, due to Edgar Davids' dismissal four minutes after Zidane's.
Midfielder – Vinnie Jones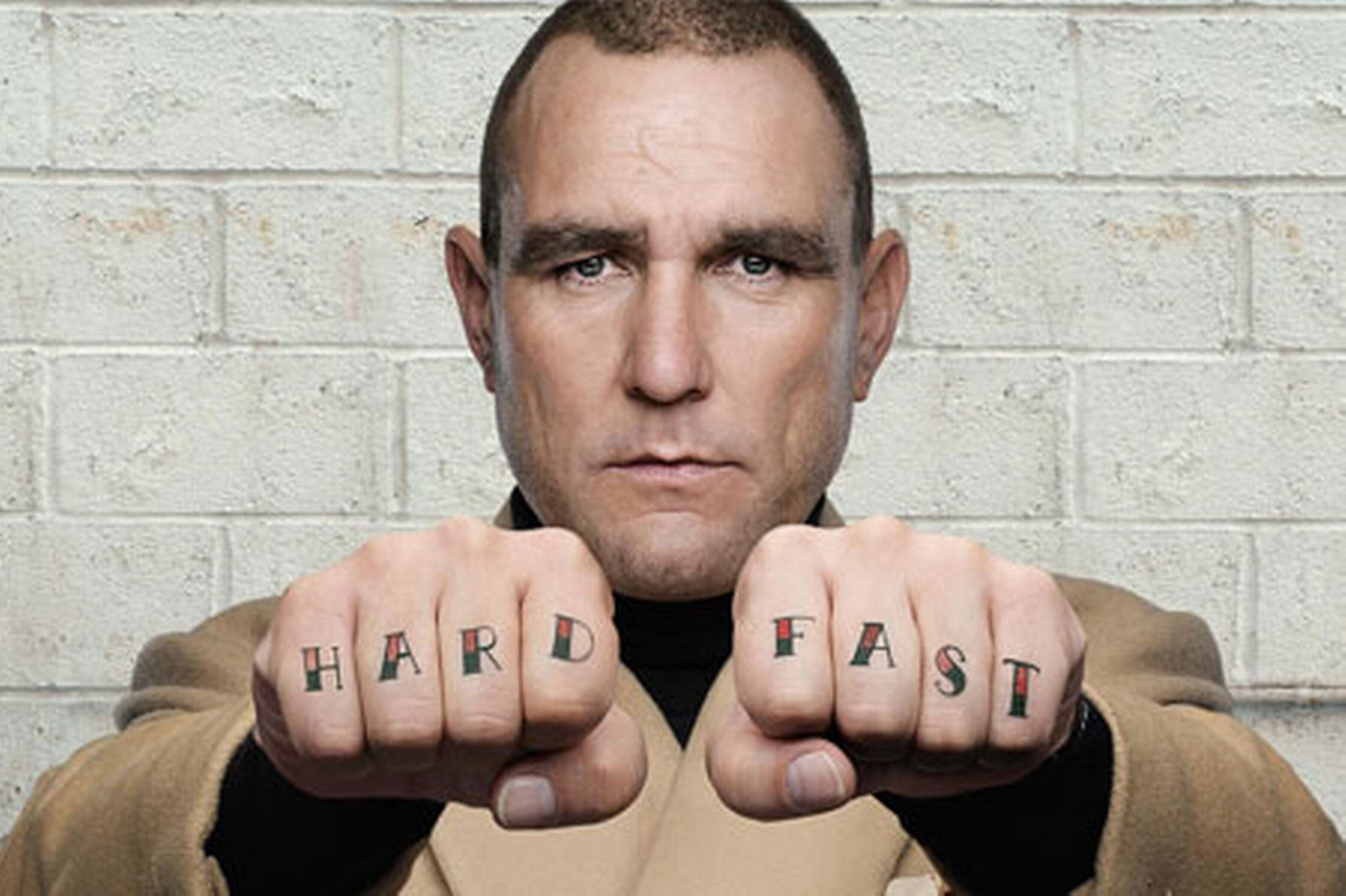 "Winning doesn't really matter, as long as you win."
Vincent Peter Jones is the embodiment of all late-80s / early-90s macho and bad-boy characteristics. The defensive midfielder with cold green eyes was a key player for the cult 'Crazy Gang' of Wimbledon, managed by Dave Bassett. Their straightforward style of play was often described as unsophisticated and basic, but that didn't stop Jones and his teammates to win the FA Cup in 1988, beating Liverpool 1-0, the country's finest side at the time.
Vinnie was never afraid to get in trouble and was sent of on the astonishing 12 occasions in his career. He also holds the record for the quickest yellow card in history, getting booked after just three seconds in a 1992 FA Cup clash with Chelsea, while playing for Sheffield Wednesday. You've probably seen the photograph from another cup tie (against Newcastle in 1988) where he grabs another of our Bad Boy XI midfielder's testicles, Paul Gascoigne.
Jones retired from football at the age of 34 and solely focused on his Hollywood career. His first film was "Lock, stock and Two Smoking Barrels", directed by Guy Ritchie, where Vinnie unsurprisingly played the role of hard-man debt collector called Big Chris. I haven't watched all of his close to 70 movies, but from what I saw all his characters have similar traits. 'Eurotrip' is highly recommended, he's so funny in it.
Captain – Joey Barton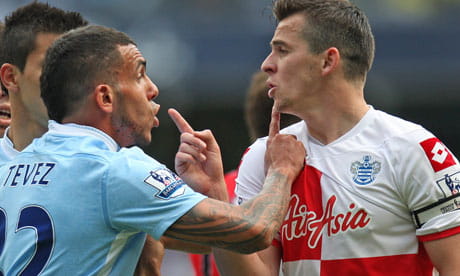 "England did nothing in the World Cup, why are they bringing books out? 'We got beat in the quarter-finals, I played like shit, here's my book'. Who wants to read that? I don't."
Easily the most controversial active English player. The undisputed highlight of Barton's antics surely is the six-month jail sentence he received in May 2008 for assaulting a man in Liverpool, punching him twenty times. Joey spent two months of his sentence in prison, before being released on the 28th of July. A year earlier, while at Manchester City, the midfielder knocked down his teammate Ousmane Dabo during a training session. Hashtag Anger Issues.
Barton has a strong character and opinion that he is most certainly not afraid to express. The tribune he uses most often is Twitter, where the midfielder is nearing 3 million followers and has more than 15k tweets since he joined in July 2010. Joey's first rant on the social network was with his former employers Newcastle United, which was sparkled by the sale of club captain Kevin Nolan to West Ham. Not long after Barton was sold to QPR, but his twitter-wars didn't stop, causing controversies on numerous occasions, including ones with England greats Gary Lineker and Alan Shearer.
On the football pitch Joey is no a saint either. He has been sent off quite a few times in his career, but the most memorable red card he received was on the final day of the 2011 – 12 campaign. Barton and his QPR teammates were away to Joey's ex-club Manchester City, who were aiming for the Premier League title. The Hoops were fighting against relegation, but the moody midfielder didn't help them a lot in this game. Ten minutes after half time, with the score being 1-1, the Huyton-born elbowed Carlos Tevez and was sent for an early shower. Barton made sure the commotion was full as he was walking out by kicking Sergio Aguero and trying to headbutt Vincent Kompany. These antics earned Barton a 12-game ban for the following season, for which he was loaned out to Marseille.
Midfielder – Paul Gascoigne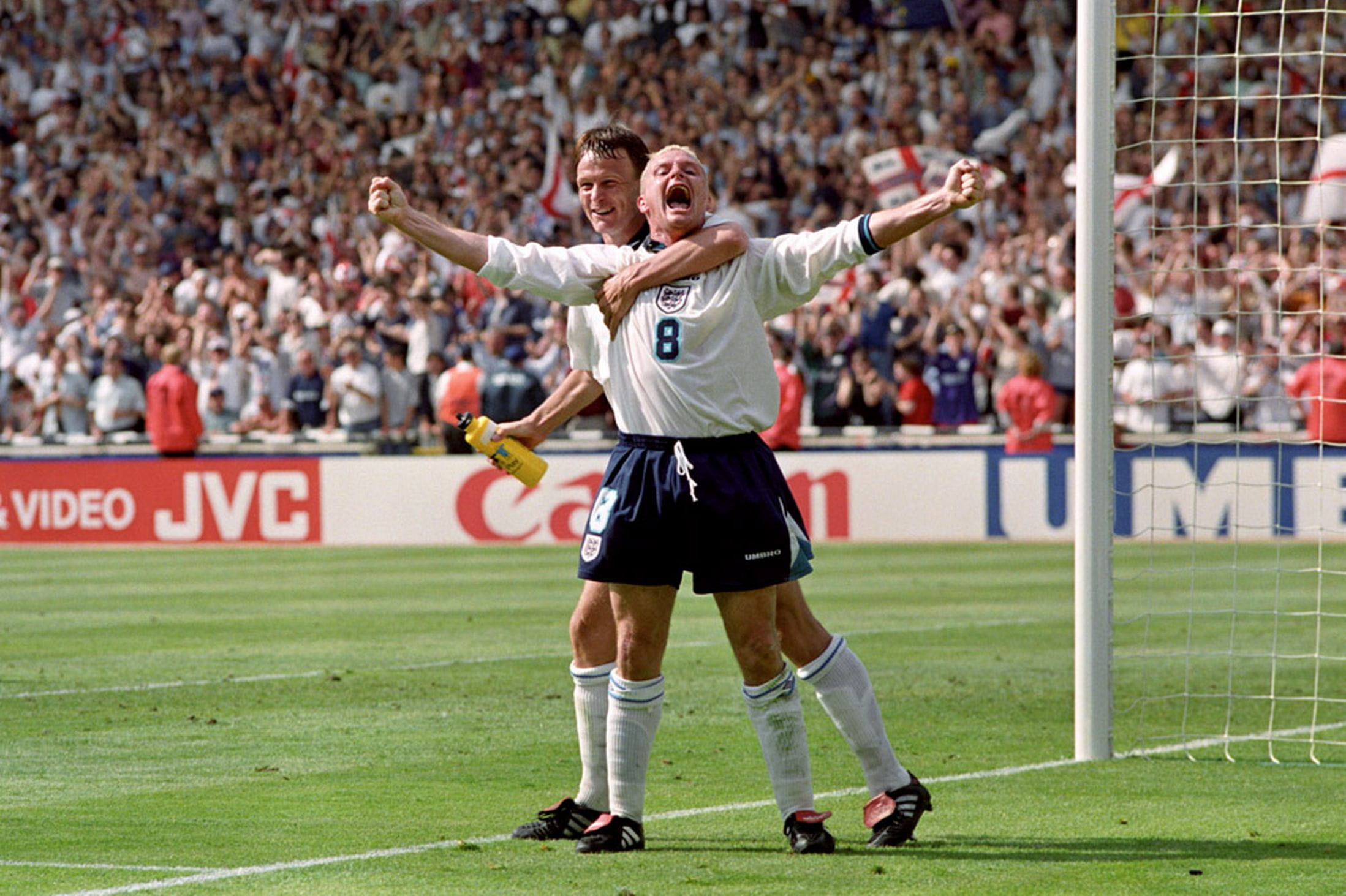 It's really sad to see how life unfolded for Paul Gascoigne, undoubtedly the most gifted English midfielder of his generation. A real football superstar in the 90s, Gazza occasionally got in trouble on the field and his post-football life is seriously complicated by alcohol, gambling, mental and many other issues. Perhaps it's all rooted in Paul's difficult childhood as it was marked with instabilities and tragedies. He chose football as a career path in order to help his parents and sisters financially.
Gascoigne signed for Newcastle on his 16th birthday and had a dazzling career during which he had won the FA Cup with Tottenham, two Scottish leagues with Rangers, moved to Italy and China, but mainly will be remembered for the heroics he performed wearing the England shirt. We all know the heartbreaking image of Gazza reduced to tears when he was booked in the 1990 World Cup semi-final against Germany, meaning he would miss the final, had England won the unfortunate penalty shootout.
The list of Gazza's controversies list consists of injuring himself with a crazy tackle on Nottingham Forest's Gary Charles, commenting on the breasts of the Lazio owner's daughter and many more. However, arguably the most shocking one was the notorious mock flute incident. While playing for Rangers in an Old Firm derby against Celtic in 1998, Gascoigne pretended to play the flute, a traditional Catholic symbol in front of the Celtic supporters. His behaviour was described as unprofessional and inflammatory and afterwards was disciplined by his club. It is believed that Gascoigne was fined with 2 weekly wages, being in the region of £40,000.
Forward – Mario Balotelli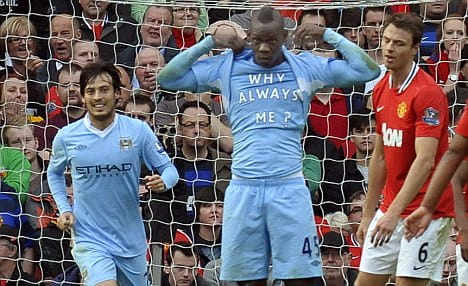 "There's only one that is a little stronger than me: Messi. All the others are behind me."
It's not an easy task to pick and describe Mario Balotelli's best bits of madness. There is so much material to choose from, you can effortlessly write a book on the subject. It will be easier to just list some of his most notable antics: drove into women's prison, dated a porn star while his girlfriend was away, numerous fights with teammates, paid over £10,000 in parking tickets, threw darts at a Manchester City youth player, brought an iPad to the bench during international friendly, went on TV with an AC Milan shirt while playing for Inter Milan and many, many more.
However, Balotelli refuses to get the stick for all of these crazy moments. In 2011 the Italian hosted a party and allegedly let off a set of fireworks in his bathroom, causing £400,000 in damages. Mario claims that the incident wasn't his fault, but the media didn't care. Days later he celebrated his opening goal in the 6-1 trashing against Manchester United at Old Trafford by showing his famous "Why Always Me" shirt.
In a CNN interview Jose Mourinho revealed an interesting story about when his Inter Milan side (including Balotelli) were playing Rubin Kazan in the Champions League. All strikers apart from Mario were injured, meaning Balotelli was his only option to lead the attack. In the end of the first half the youngster received a booking by the referee. Sensing the danger, Mourinho spent 14 of the 15 minutes of half time talking to the young forward. "Mario, I can't substitute you. Don't touch anyone. Play only with the ball and don't react if anyone fouls you!" Can you guess what happened in the 46th minute? Yes, Balotelli was sent off.
Forward – Luis Suarez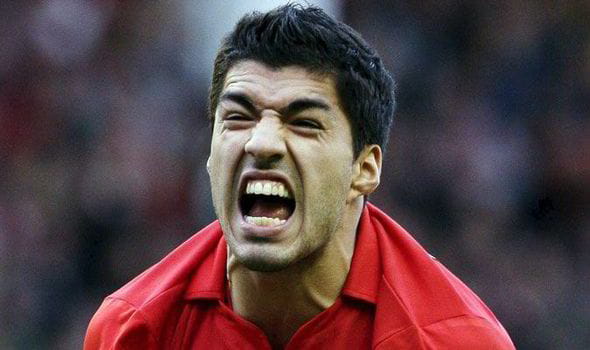 "As soon as I arrived in England I didn't like the press, they have never judged me on how I play football, they judged my attitude"
There were quite few eyebrows raised when Barcelona splashed out £75 million to sign Uruguay forward Suarez from Liverpool in the summer of 2014. It's not about his class, Suarez has enough potential to be first-choice striker at any team on the world. He can easily be one of the best goalscorers around, but earlier in his career he showed dangerously hot temper on a number of occasions.
We can most certainly state that Luis Suarez bites when he gets angry! Yes, it can happen to anyone, the second time can also be considered as a coincidence, but the teeth marks on Giorgio Chiellini's shoulder in Brazil 2014 show a pattern. The first time he sank his teeth into an opposition flesh was in November 2010, while playing for Dutch side Ajax. In a match against PSV, Suarez bit Otman Bakkal on the shoulder, earning his nickname 'The Cannibal of Ajax'. He got a 7-game suspension for that offence and was transferred to Anfield in January 2011.
Suarez had to wait until April 2013 for his next victim. This time it was Branislav Ivanovic, Chelsea's Serbian defender. The incident was not noticed by the referee and Suarez eventually scored the equaliser for 2-2 in the last minute of the game. Afterwards, the FA charged Luis with violent conduct and a three-man panel decided to hand the striker a 10-game ban that was carried for the opening weeks of the following season. Apparently the punishment motivated Suarez as he scored 31 goals during the 2013 – 14 Premier League season and almost won Brendan Rodgers' side the title.
Forward – Zlatan Ibrahimovic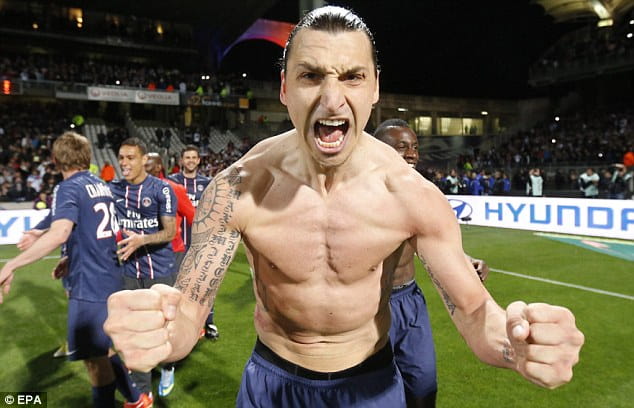 We wrap up our Bad Boy XI with a player that is so confident, he even speaks for himself in third person. Ladies and gentleman, Sweden's all-time top scorer, Zlatan Ibrahimovic. Do you remember his stunning bicycle kick goal against England? Well, in his portfolio he has bags of goals like that one. Perhaps not as spectacular, but he is no ordinary footballer and you can count on him to produce a special moment at any time.
Ibrahimovic had a really difficult childhood. His parents got divorced when he was just two years old and grew up in a working-class suburb area, populated with immigrants. Zlatan was never a child for example, he often threw bricks at car windows, went shoplifting and even stole the postman's bike with the mail still in the bag.
He always had shocking outbursts, confronting teammates, coaches, opposition players and referees. At the early age of 13, Zlatan put a fellow trainee in hospital with a headbutt. There were no consequences (he was simply too good) and no wonder his arrogance escalated massively as years went. In 2000, the young Ibra went to North London and even posed with Arsenal's number 9 shirt. It's baffling why he was asked to have a trial later on, but his reply was quite clear: "Zlatan doesn't do auditions!"
Manager – Brian Clough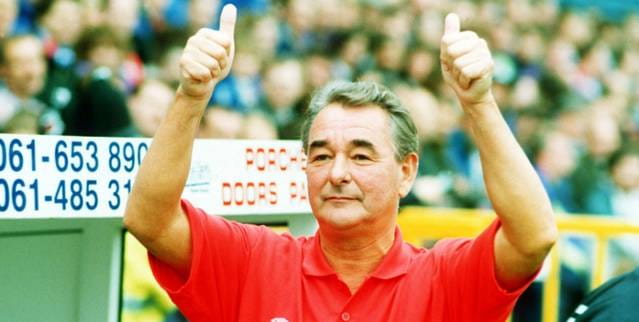 "I wouldn't say I was the best manager in the business. But I was in the top one."
"I wouldn't say I was the best manager in the business. But I was in the top one." There is no doubt Brian Clough would be the perfect manager for our Bad-boy crew. The outspoken Englishman had outstanding careers as both player and manager and was never afraid of confrontation. Actually, it seemed that Clough enjoyed the banter. There are two stories that stand out from his rich controversies portfolio.
Middlesbrough-born, he took over at Derby County in 1967, when the Rams were in the second division, got them promoted and even won the league with them in 1972. His vivid rivalry with Don Revie is hands down the most vivid example for the passion that Brian had for the game. The 6 years he spent at the Baseball Ground were marked by his intellectual swordplay with the Leeds United manager. Ironically Clough was appointed as Don Revie's successor and although his reign at Elland Road lasted just 44 days, it will be remembered with brian's famous quote. "You can throw out your medals as they were won unfairly".
The eccentricity and courage of Brian Clough were beyond any debate. Few men on earth were able to intimidate Roy Keane, even at an early age. During his time at Nottingham Forest (managed by Brian Clough), the Irishman was punched and reduced to tears by his manager. If that's not enough for you, in 1989 Clough got a three-match ban for hitting three of his own fans during a pitch invasion after a 5-2 win against Queen's Park Rangers.