Value betting explained
Simply put, value betting is taking advantage of the bookmakers' mistakes. Surely you won't see a 10/1 price for Real Madrid to beat Gillingham, but what makes the difference in favour of professional punters is the ability to recognise value in odds and benefiting from it. In other words, a value bet is a wager that in your opinion has bigger odds than normal. Some wagers come out winning, others lose, but that doesn't matter to professional punters. Boosting their account balance in the long run is their actual aim. This page will give you some guidelines and explain to you how this is possible using value bets.
---
How to calculate a bet's value?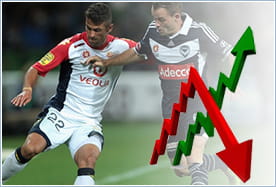 The first thing you need to learn is the concept of value in sports betting and how to calculate it. You can easily do that by using the following formula:
Value = (odds x probability %) / 100
A value bet's odds will get a higher result than 1.00, meaning the average payout for any pound you stake will be more than £1.
Let's assume that England travel to Germany for a 'friendly' match in which our chances for beating the World champions are rated 3/1 (4.00 decimal). The away win has an implied probability of 25%, however we will give additional 5% to the Three Lions, due to our 'gut' feeling (say Wayne Rooney is hitting top form and Die Mannschaft is having defensive woes).
(4 x 30) / 100 = 1.2
Voilà, it's a Value bet! The statistics are not on your side but each payout will be 4 times your stake. If 3 out of 10 £1 bets come out winning, you will get £12 in return, which makes £2 on top of the £10 you've placed.
---
How to get the knowledge you need to recognise value bets?
Here comes the tricky part, exactly how to assess the probability of a certain outcome. In order to do so, you need to have Knowledge about the sport you are betting on. Sports are different to casino games where slots have set payout percentages and betting on roulette is a pure coin flip.
Morale, form, pitch and weather conditions, crowd support, referee decisions and Lady Luck are just some of the components that may have either positive or negative influence on both sides in any sporting event.
There are various ways to gain the needed sports betting knowledge. Some punters rely entirely on the mathematical approach, analysing in details past events, in hopes to figure out the upcoming. Online you can find comprehensive rating systems based on huge database with statistics, which is used to measure the superiority of any team or player. Opta is the undisputed leader for sports data analysis.
Others opt to overlook the stats and focus on gathering extensive amount of info on their own. Will Yaya Toure be fit for Wednesday's Champions League clash at the Etihad? How Arsenal's defence copes with counter-attacks and set pieces? What does Alan Shearer think of Manchester United's title chances? The internet is oozing with websites where tipsters and pundits provide insight into different sports. It's up to you to decide which ones are worth your trust.
Another option is to subscribe for somebody else's advisory services, it won't be a problem to find free or paid services that provide you wagers with valuable odds. What you need to keep in mind is that equal odds can have completely different value and blindly backing the favourites is not always the best approach.
---
How to put value betting into practice?
It really doesn't matter what method you use to gain knowledge about sporting events, as long as it works fine for you. After figuring out the right bet you need to carefully check all bookies' odds. It's best to have accounts with multiple betting sites if you are seriously considering value betting. That is essential for professional punters, they can easily turn even slightly higher odds into a gold mine. In addition, strict bankroll management is 'a must' for any successful betting experience, especially when playing with serious money. Losing bets are part of the game, don't you ever think of chasing them just for the sake of it. Never bet more than you can afford to lose and your bet should never exceed 5% of your total bankroll.
Pro: Guaranteed long-term profit, You can win big from a single bet;
Against: Requires strong knowledge, Possible losing short-term runs.