The Best Giropay Betting Sites

As we live in a multicultural world with people from all over the globe calling the UK home, our guides to the different payment methods reflect this by including Giropay. Hugely popular in Germany, Giropay isn't available for punters here, but as we know many Germans call Britain home, and if 'Auf Wiedersehen, Pet' taught us anything, many Brits have a German bank account; therefore we present our guide to the best Giropay betting sites.
---
Recommended Betting Sites That Accept Giropay
As Giropay isn't a payment method that is accepted for bank holders on our shores, you'll not be surprised to learn that not many UK facing bookmakers offer it as an accepted way to deposit. However, all is not lost, we've done the hard work for you, and you'll see our results below.
The Best Giropay Betting Site
Bookmaker
Rating
Essential Info
Sports Welcome Bonus
Secure Link
T&C
🥇 Netbet
5.0

out of 5

Minimum Deposit:

£10,

Maximum Deposit:

£4,000,

Odds Levels:

Up to 95.89%
£30 in Free Bets
go.netbet.co.uk
Full T&Cs Apply! Customers will be awarded £15 in free bets and £15 in free spins for casino and Vegas. New customers only. Free bets valid for 3 days. Free spins valid for 7 days. 18+

Top 5 Giropay Betting Sites
Unfortunately, though the choice of sites is limited to just one of our recommended bookmakers, it's not all bad news. NetBet is a well respected and liked online sports betting site. In our review, NetBet scored a respectable B+ grade and offered great promotions with live betting and the choice of markets being well above average.
---
What Do I Need to Do Before Using Giropay?
As Giropay is a direct bank e-system, the money comes straight out of your bank account, so it requires very little preparation before using this payment method. The most obvious one is to make sure you have enough funds in your overseas bank account to cover the total amount that you wish to deposit at the online sports betting site.
THE THREE STEPS TO USING GIROPAY FOR ONLINE BETTING
Step 1 Ensure you have enough funds in your bank account to cover the deposit
Step 2 Check that the current online sports betting site you wish to use accepts giropay
Step 3 If not, create a Netbet account by visiting the website and apply
A great thing about using Giropay is that using this payment method enables you to take advantage of the welcome offers at the best Giropay sites. Any bonus that increases your bankroll can only be a good thing; some other options exclude you from receiving these so this is hugely positive in our eyes.
How to Deposit on Betting Sites that Accept Giropay
When depositing at betting sites that accept Giropay, it is an easy process but does involve more than one stage. You first need to log in to your bookmaker, access the account section and just the deposit option. In the list of deposit options that you will be shown, pick Giropay and then the online sports betting site will ask you to choose the name of your bank from the list.
Log-in to Your Bookmaker

Log-in to the betting site using your user name and password and select the account section

[1/3]

Select Your Bank

you'll be asked to choose your bank from the list shown, pick the correct one.

[2/3]

Enter your Online Banking Details

You will now be redirected to your online banking gateway. You need to enter the details that you use for your online banking with that bank. Enter the amount you wish to deposit

[3/3]
When you have selected your bank, you will automatically be re-directed to your bank's internet banking portal. You now need to log in to this with the user name and password that the bank provided for you when you signed up for internet banking. Please note, these are not the details you use to log on to the bookmaker. Follow the instructions on the screen and enter the amount to deposit and confirm.
Can I Withdraw with Giropay
While the best Giropay betting sites are excellent for depositing, which is completed instantly, the downside is that it is not possible to withdraw any winnings using this payment method. You will need to pick an alternative at Giropay betting sites. Our recommended site NetBet offers plenty of alternative options, seven in fact. Ranging from e-wallets such as Neteller and Skrill to more traditional methods such as bank transfer. NetBet doesn't charge fees for any of the withdrawal methods as long as the amount is under £500, figures above that are subject to a 1.5% fee.
Fees when using Giropay at Betting Sites
One of the first questions we always ask when reviewing a payment method is one of cost, does the payment provider or the bookmaker charge us for using it, and if so, how much? The good news with best Giropay betting sites is that the service doesn't charge at all for depositing funds.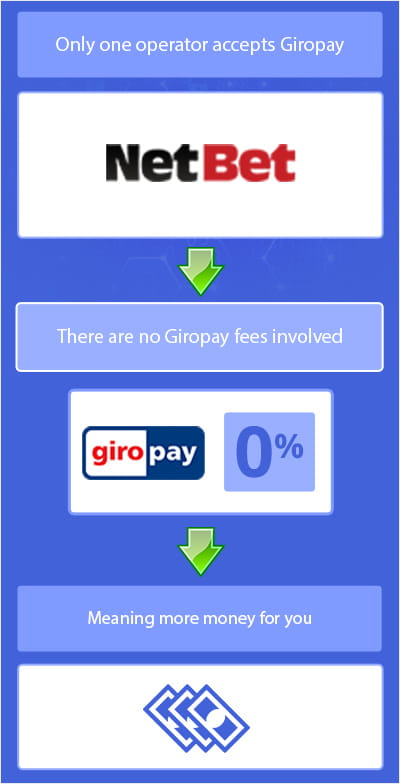 The money comes straight out of your bank account, and the amount you deposit is the same as what will be taken. This makes Giropay a great option, especially when compared to other methods, especially e-wallets that charge you to fund your accounts. And while these fees are usually quite nominal, no fees are better than even small ones in our opinion.
---
Advantages of Gambling with Giropay
In this next section, we have assed what we think are the top three advantages of Giropay gambling. We compare other payment methods and list why this one is better than others. If you have are tempted to use Giropay but are still undecided, the benefits listed here should help you decide if it is suitable for your needs.
You are in Control of the Transaction
One of the best things about giropay is the simplicity in using it, being a direct bank e-system, the money comes straight out of your bank account, and you use your own bank's internet banking facility and initiate the transfer yourself. This means you are in total control of the transaction and do not need to involve a third-party.
Safety of your Funds
Online fraud is a significant problem, not just in the UK, where it is estimated to cost £1.2billion a year but worldwide. Anything that you can do to reduce your chances is a good thing and using this method is one of them! As you never disclose your debit card or any other financial information, it makes Giropay betting sites one of the safest ways to gamble online.
Eligble for Bookmaker's Promotions
One of the main reason for choosing an online sports betting site rather than visiting a traditional bookmaker is the special promotions that the operators offer. Free bets, matched deposits, no-risk first bets are just some of the exclusive deals you can claim as a new customer which can help you boost your bankroll. However, not all payment methods are eligible for these offers, especially e-wallets. Thankfully Giropay customers can benefit from all NetBet's promotions.
Giropay Pros and Cons
You Control the Transaction
Safe and Secure
No Need to Share Details
Instant Deposits
Not Universally Accepted
Cannot Withdraw
Need a German Bank Account
Limited Deposit Amount
---
Disadvantages of Gambling with Giropay
We've explored what we deem as the highlights of betting sites that accept Giropay, and it's now time to take off the rose-tinted glasses and explain what we don't like about this payment method. As each punter is different, these shortcomings may or may not affect you. Here are the two issues that we believe let this payment down:
Must Have a German Bank Account
The first disadvantage and perhaps the biggest one for UK punters is that this payment method is only available to German bank account holders, without one you will be unable to use it. If however, you like the sound of Giropay, in our alternatives section we will discuss a similar service that is available to UK Consumers.
Very Limited Choice of Bookmakers
Another huge disadvantage of using a Giropay bookmaker is that there aren't many at all. In researching operators for this article, we checked every one of the betting sites that we recommended, and only one, NetBet accepted this payment method. This means that you are extremely limited in your choices. And while we are fans of this bookmaker, more choice would be welcomed.
---
Legality and Safety of This Payment Method
We mentioned several times in this review that Giropay is one of the safest and most secure payment methods that you can use. As you are using your bank to make deposits at Giropay betting sites, this means the security that your bank employs also protects your transactions.
That in itself should be enough to reassure you, but as an added layer, the payment method has its own protection that is employed when you use it. When making a deposit, all transactions are encrypted with AES 256-bit encryption with TLS 1.2, which ensures your data is safe from prying eyes. Need more? All Giropay payments are 100% guaranteed up to a £5,000 limit which should give you peace of mind.
---
Giropay Company Information
Giropay is a payment method that allows you to fund purchases at a Giropay bookmaker using the money that is in your bank account. When it was introduced in 2006 in Germany, it offered much quicker transaction speeds than the traditional bank transfer, which could take days if not weeks at the time.
Company Name:
Giropay
Headquarters:
60322 Frankfurt, Germany
Founded:
2006
Parent Company:
giropay GmbH
Emploees:
Unknown
Revenue:
Not Disclosed
Regulator:
Federal Financial Supervisory Authority
Due to its availability at most banking institutions in Germany, the payment method became popular very quickly. In the first year of being available, €100 million worth of purchases were made using it. The rapid growth continued, and in the following year, over 3 million transactions took place. The company's website claims that 85% of consumers in Germany have used Giropay at some point.
---
Alternative Payment Methods to Giropay
As we come towards the end of our review, hopefully, you have a good understanding of this payment method and whether it suits your needs. However, before you make up your mind, we will suggest a couple of Giropay alternatives that you may wish to consider. Here is a list of suggested alternative payment methods:
If like us, you like the idea of Giropay betting sites but don't have a German bank account, the UK alternative is Trustly. It offers the same functionality as PayPal but can be used with all major UK banks. As you will need a separate method for withdrawals, we would also suggest considering Neteller.
---
Is Giropay Recommended for Betting?
Giropay will not be suitable for the vast majority of our visitors due to the requirement of having a German bank account. If however, you do have one, this payment method is excellent for depositing. There is no need to open a new account; you use your existing online banking functionality, and the money will be available instantly for you to use.
Check out the best Giropay Bookmaker
Why NetBet Is Great for Giropay Bettors?
Great Promotions
Huge Range of Sports
Bet Maker
Mobile Friendly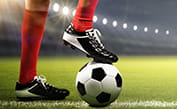 Full T&Cs Apply! Customers will be awarded £15 in free bets and £15 in free spins for casino and Vegas. New customers only. Free bets valid for 3 days. Free spins valid for 7 days. 18+
However, it is the lack of betting sites that accept Giropay that is one of the most significant issues; you'll struggle to find many on our list of best betting sites. You also question how useful it is to use a payment method with which you cannot withdraw to, this forces you to seek alternatives, and many punters would instead use one that can do everything. Overall, throughout this betting review we feel we have made it clear there are better options than Giropay gambling.
Giropay FAQ's
We hope you found our Giropay review useful and you have found all the answers to any questions you may have had. To ensure we have covered everything we have checked online to see what other punters have been asking, you'll find the top questions below:
⚽ Can I Use Giropay for Online Sports Betting?
If you have a mainstream German bank account or savings account it is possible to use Giropay for online sports betting. However, it is difficult to find UK facing bookmakers that accept this payment method. We cover this in detail in our recommended site for Giropay gambling section.
🤔 Are There Any Fees for Using Giropay?
The use of Giropay is free for you as a customer at online sports betting sites. Whether your bank or savings bank charges additional fees as part of the account management for the use of Giropay, you would need to check with them. You can find out more information in our section on costs.
👮 Is Giropay Safe to Use at Online Bookmakers?
As you never share your debit card or any other financial information with the betting site, Giropay is one of the most secure payment methods you can use. Not only does your bank's security processes protect you, but Giropay also has additional safety features. You can find out more in our Legality and Safety section.
🏆 What are the best Giropay betting sites?
The best Giropay betting sites are ones licensed by the Gambling Commission. A UKGC licence is the primary indicator of a legitimate bookmaker. Since we only list licensed bookies on our site, you can also check out our list of the best Giropay betting sites.