A Detailed Matched Betting Guide for Every Punter
Last updated: by Leon Marshal
The holy grail of betting is being in a situation where you just can't lose. Being able to relax in the knowledge that whatever happens in an event, you are going to be quids in. Sounds like an impossible dream right? Well far from it. With online bookmakers fighting each other for your custom, we will show you in this matched betting guide how to use one bookmaker against another to guarantee winnings. Now we are not promising millions, but any profit, no matter how small, is better than a loss.
No doubt you have seen countless websites offering get rich quick schemes, horse racing tipster sites that allege guaranteed winners and talk of a system of placing bets that over a long period of time should show a profit. The simple truth is that any system that has an element of chance in it, has a risk of failure and you can lose your money. Keep reading and we will show you a way of removing all chance, you can't lose. It may seem complicated and hard to understand at first but persevere and you'll soon be reaping the rewards.
Visit any online sports betting site and you will be offered a welcome bonus to encourage you to join. These welcome bonuses come in all shapes and sizes. Some bookies offer matched deposits, for example, you deposit £20 and they will give you £20. Whilst some offer 100% matched deposit like the example, others offer higher or lower than 100%.
A much more popular welcome bonus for sports betting sites is the offer of free bets, with deals like bet £10, get £30 commonplace. These deals make up the majority of offers and are good news for the punter as they do not have as many terms and conditions attached to them as the matched deposit offers. We will discuss the role that wagering requirements (how many times you must bet over your stake until you can withdraw) play later in this article. These welcome offers form the basis of matched betting.
---
Is Matched Betting Legal?
Does matched betting work? Is it legal? It is also known as back or lay bet matching, arbitrage (arb) betting and double betting, is totally legal and publicly at least, several bookmakers including William Hill, have stated they do not have an issue with matched betting. This may or may not be true but later in this article, we will cover how to minimise the chances of you falling foul of any terms and conditions and reduce the chances of betting restrictions being placed on your account.

williamHill
William Hill's former public relations officer Graham Sharpe stated that his previous employers had no issues with matched betting. He said, "It's a free bet and you can do what you like."
(Source: Murray-West, Rosie. "Is this a bet you can't lose?", The Telegraph. Dec 2010.)
The key bit of advice is to take your time, understand 100% how it works, don't rush to bet until you are confident of the basics. We also have a betting guide for those not familiar with all the types of bets. Personally, I've never lost money using matched betting but I've made mistakes which meant I didn't receive as much winnings as I could have done. As welcome offers are one-time deals, if you don't do it right, it is a missed opportunity.
---
Matched Betting Explained: The Terminology
Before we give you matched betting explained, it is worth covering some of the common words and terms you will encounter. This will be useful if you are new to the topic, experienced bettors may wish to skip this section.
Back bet – This is when you are betting on an outcome to win and is a key component of matched betting. Anything other than a win for the event you are backing would result in a loss. For example; I back Liverpool, they win, I win, they lose, I lose.

Bet – An agreement between the online bookmaker and you. You are risking the amount of the bet on the outcome at a sporting event. If your bet is successful the bookmaker will return your stake plus winnings. If your bet is unsuccessful, the bookmaker keeps your stake.

Betting Exchange – A betting exchange site allows you in essence to become the bookmaker, you are able to offer odds. You can buy and sell the outcome. This is popular with seasoned professionals because the odds are generally better than traditional and online bookmakers. These sites are able to function by charging a commission on winning bets. Some online bookmakers offer a traditional service alongside too.

Bonus – Similar to the free bet but this is a number of funds that are added to your sportsbook account. Some punters prefer this as you can split your bonus over several bets, whereas a free bet normally has to be used in full on a selection.

Commission – This is the money that the betting exchange levies to provide the service. It is mainly levied on the winning bet but some betting exchanges charge a commission on both losing as well as the winning bet.
Decimal odds – More popular in Europe than in the UK but still widely used, it is the decimal equivalent of fractional odds. When using decimal odds the stake return is quoted in the figure. For example 4/1 in fractions would return £5, so these odds in decimal are 5.0.

Deposit – Placing money in the bookmaker's sports betting account, this money is used to place bets.

Free bet – A free bet is when the bookmaker allows you to make a prediction on an outcome but doesn't charge you a stake. Many bookmakers will not return the stake if you are successful, just the winnings.
Gubbed – When an online sports betting sites places restrictions on your account and bars you from taking part in promotions or offers. In severe cases the bookmaker may close your account if they feel you are using a system or are proving too successful, we have a section on how to avoid this on this page.
Lay bet – This is when you are betting on an outcome to lose and is a key component of matched betting. Anything other than a loss for the event you are backing would result in a loss. For example; I lay Liverpool, if they win I lose, if they lose then I win.

Liability – This is the total amount of money that is at risk if an event happens. This is often confused with stake but is different.

Market – Different types of bets that you can place. For example; in football you have markets on a home win or an away win. In baseball you could have a market of over 7 runs or under 7 runs.

Matched bet – When using a betting exchange the term matched bet is used when a match is found for the bet you are offering.

Mug Bet – This is when a bettor places a bet that is not connected in any way to a special offer or promotion. Experienced players use these bets to disguise that they are match betting and it is done in an effort to avoid being gubbed.

Neteller – An online payment method that is often referred to as an e-wallet or internet wallet. Accepted by most online sports betting sites, it allows you to instantly credit your betting account. Many bookmakers do not allow customers using this form of payment to benefit from welcome offers, This is important as this payment method could prevent you from participating in matched betting.
Odds – Mainly in fractional or decimal form this is the ratio between the stake and the winnings you would receive if the bet succeeds. When using fractions, if you placed the figure on the right you would receive the figure on the left. For example 3/1 means you would receive £3 for every £1 you placed. In decimal that figure would be 3.0.

Overlay – This refers to when the odds of a particular sporting event represent good value for the punter. The odds offered are higher than should be offered for the bookmaker to make a profit. This could be caused by lack of research on behalf of the bookmaker or in some circumstances be used by the bookie as a loss-leader to attract new customers to the service.

PayPal – A popular payment method that is owned by online selling site Ebay. Although very popular, many bookmakers do not allow customers using this form of payment to benefit from welcome offers. You would need to check this before placing any bets as not all online betting sites treat PayPal the same.
Qualifying bet – The bet you must place before your free bet or bonus becomes available to you. For example; a customer must place a qualifying bet of £10 at odds over 2/1 to receive a £20 in free bets.
Rollover – Used as part of the wagering requirement. Bookmakers use this to ensure you don't take a bonus and run. The rollover figure is expressed as a times figure, for example x7. This would mean you have to place settled bets to the value of 7 times the bonus you received.
Skrill – A type of e-wallet used for online payments. Accepted by most online sports betting sites it allows you to instantly credit your betting account. Many bookmakers do not allow customers using this form of payment to benefit from welcome offers, this is important as this payment method could prevent you from participate in matched betting.

Stake – The amount you are wagering on the bet.

Stake not returned (SNR) – When placing a free bet you receive the full winnings but the returns would not include the free bet amount. For example; a winning £5 free bet with stake returned at 10/1 would pay £50.

Stake returned (SR) – When placing a free bet you receive the full winnings and also the free bet amount. For example; a winning £5 free bet with stake returned at 10/1 would pay £55.

Underlay – This refers to when the odds of a particular sporting event represent bad value for the punter. The odds offered are lower than should be offered and the bookmaker stands to make more profit. All online sports betting sites use underlay to some degree but if a bookmaker consistently posts underlay odds, they will not offer good value for money and could lose customers.

Unmatched bet – At a betting exchange you are offering odds which may or may not be taken up by other punters. The unmatched bet status shows that a suitor has not yet been found. There are instances when your bet is partially matched which leaves a portion of that bet to be unmatched. For example; I place a lay bet of £100 on an event, only £50 is matched so £50 will be shown as unmatched.

Wagering requirement – This is a condition on you receiving a bonus. This could be minimum odds that an event has to be to qualify, for example; Odds must be 2/1 or higher. It can also relate to rollover requirements, for example; The bonus is £100 and has a rollover requirement of x5, this means you must have settled bets of £500 before you can make a withdrawal of your winnings.
---
Step-by-Step Guide
As we mentioned earlier, the whole idea of match betting is that we use free bets and bonuses offered by the bookmakers to make guaranteed profits. A bookmaker might be offering a free bet as an incentive to sign up or may be offering a free bet to existing customers as a way to get you betting again.
In order to turn this bet into guaranteed cash, we bet on all the possible outcomes of a particular game or event in order to make money, no matter what the result is.
First Steps
How does this work? It works by placing two kinds of bets. We need to find some matched betting sites. With one bookmaker for example Coral, we could place a bet on Liverpool to win a football match. This type of wager is called a 'back' bet as we are backing Liverpool to win. Easy to remember right?
With another Bookmaker, for example, Betfair, we will be placing on Liverpool to not win the match. This type of wager is called a lay bet. Remember we are not betting on Liverpool to lose but rather that they will not win so this bet also includes the draw.
These two cancel each other out completely, so if Liverpool win, we lose the lay bet at Betfair but win the back bet at Coral. That, of course, means that if Liverpool lose or draw the game, we lose the back bet at Coral but win the lay bet at Betfair. So this means no matter what happens, we don't win or lose any money, except perhaps a few pennies.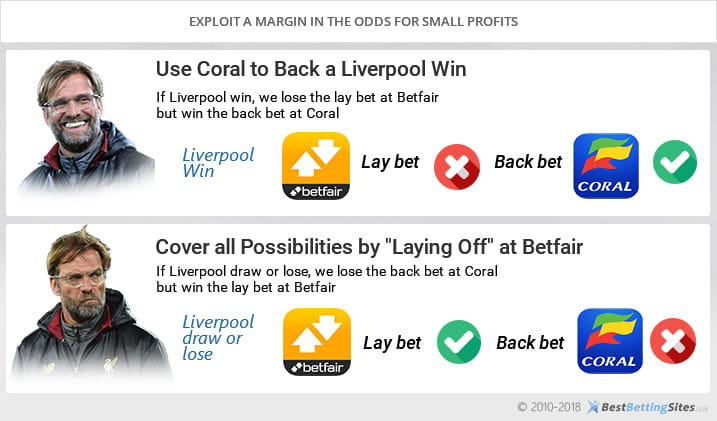 Qualify for the Free Bet
So you may be thinking "what's the point if I don't make any money?" That would be a valid question, the point of this bet is not to make money, the reason we are doing it is just so you qualify for the free bet. When using this matched betting guide, you'll realise our profit always comes from the free bet. With so many online sports betting sites offering free bets, it is very unlikely you'll run out of them so don't worry there are always more free bets up for grabs.
So we get given a free bet from Coral and we are going to use this to place another bet. This time using the free bet, we repeat the same process again, placing a back bet and a lay bet but this time using the free cash. Since we are not using real money but free bets, we make a guaranteed profit from the bets.
Unless you have a fondness for working with numbers, there is matched betting software out there that takes away the head scratching and number crunching and will tell you exactly what to bet. These tools are available online and can be found for free or you may wish to subscribe to a community who offer these tools and also support and tips.
Using this software gives you a calculator that tells you exactly how much to bet and will even suggest events for you to bet on. In reality, though, it doesn't matter who or what we are betting on really, it's what the odds are that makes this work.
A Practical Example
That's the basic idea of matched betting explained, now let's try it with some real numbers; Coral are offering a £20 free bet for new customers. To claim the free bet all we have to do is place a £5 qualifying bet. So I create my account with Coral and I deposit £5 into it. I also create my account with Betfair and I place £8 into that. I need to place a little extra in Betfair but it will become clear why later in the article.
So I now need to place my first bet.
There are 3 stages to placing any bet:
Step 1 Find the bet
Step 2 Calculate the bet
Step 3 Place the bet
When we are looking for a bet, we want the back odds on Coral to be very close to the lay odds at Betfair. So if Liverpool are at odds of 3.0 to back on Coral we would want them to be as close to that as possible at Betfair. Maybe something like 3.1.
You can, of course, look through the odds that a site is offering but using matched betting software automates the process for you. All you need to do is state what odds you are looking for, select Coral from the drop-down menu and this software will automatically find the odds that are closest together, displaying them for you in a useful list.
For each match, it shows the date and time of the match or race, the name of the team you are betting on and the type of bet that it is. The rating column tells you how close together the bets are. Usually, we want to look for things that have a rating score of 95 or above. The software collates real-time information on the market and will display the betting exchange back odds and the exchange lay odds.
For Coral, our first bet needs to be at odds of 1.50 or above. This is due to the terms and conditions of the free bet. This figure can change from one bookmaker to another. The software makes finding an event with these odds easy. Access the drop-down menu and select minimum odds and select 1.5. The software will then only show matches that are 1.5 and above.
A sample of odds comparison software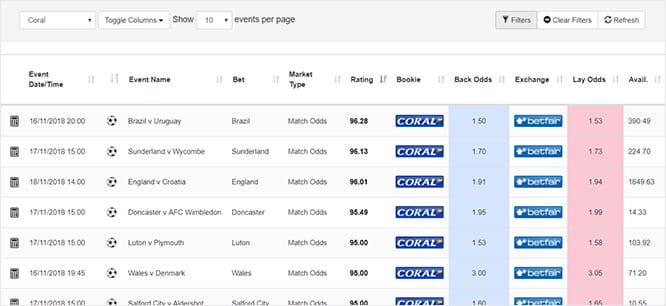 The other thing to consider is that the higher the odds you go for, the more money you need in Betfair to lay the bet. Since for this example we don't want to put any more money into Betfair right now we shall go for something with low odds.
Betting Using Funds
Let's imagine Chelsea are playing Tottenham, on the Betfair website, we click on the exchange then at the top we click on the search bar and type in the full name of the match and select it on the results. In a different browser tab, we do the same for Coral. Chelsea are at odds of 2.5 on Coral and on Betfair they are at odds of 2.54 to lay. We always want the back odds on Coral to be as high as possible and the lay odds on Betfair to be as low as possible. Usually, though the odds will be slightly higher.
For our back bet on Coral we know the bet is £5 because that was the minimum bet to claim our free bet, so that is pretty simple. The part we need to work out is how much our lay bet needs to be at Betfair. It's not going to be exactly £5 because the odds are slightly different and because Betfair takes a commission on any winnings.
We could work it out manually but it is much easier to use a betting calculator to do the maths for us. All we have to do is ensure that a normal bet is selected, enter the bookmaker's stake which we already know is £5. The bookmaker back odds are 2.5 because those are the odds for Chelsea on Coral's website. The lay odds are 2.54 because they are the odds to lay Chelsea at Betfair. In the calculator, we state the lay commission is 5% which is correct at time of writing. The calculator tells us the amount we need to place is £5.02. This will be the stake at Betfair.
The Back and Lay Betlsip when using Funds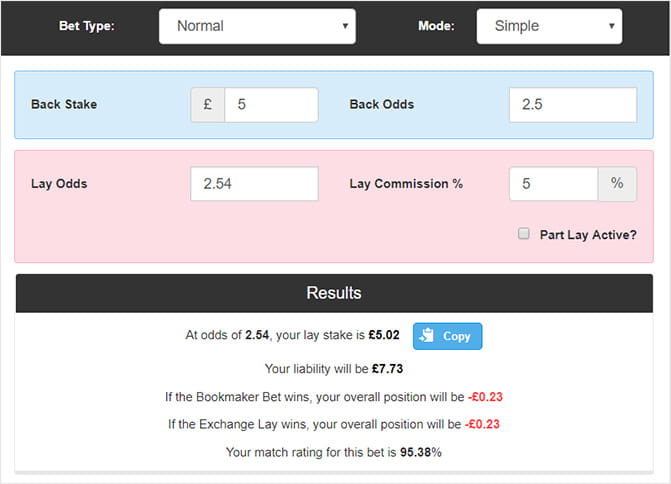 </div Then we need to select back Chelsea at Coral, enter the stake of £5 and place the bet. Then we go to Betfair copy the stake that the calculator showed (£5.02) into the pink lay box and place bet.
It's worth stressing again that the idea of this bet is not to make a profit but rather to qualify for the free bet. Therefore on this bet, we can see on the calculator that we will make a small loss of 23p.
Now the other thing you need to be aware of in the calculator is the liability number. The liability is the amount of money you need in your Betfair account to place the bet, so even though my lay stake is £5.02, I actually need £7.73 in my Betfair account to place this bet.
At this stage don't worry too much about the whys, it will soon become second nature when you repeat the process.
I now get a £20 free bet instantly with Coral as I have placed my qualifying bet. So what we will do now is repeat the whole sequence again.
The Free Bet
Remember our strategy in this matched betting guide: Find the bet, calculate the bet and then place the bet. Using the odds matching software again, select Coral. For free bets, we are looking for higher odds to maximise the return on our bet. Generally with free bets, the higher the odds you go for, the more profit you will make. This does come at the cost of having to place more money in your Betfair account to cover the bet.
This time let's look for odds over 4.0. As before, we select the filter button and enter 4 in the minimum odds box and click apply. For example, purposes let's imagine the search returns a horse called 'Always a Winner' that is running at Market Rasen that it suggests.
The next step is to find the same horse at both Coral and Betfair's website, we will use this shortly.
We now need to calculate the bet. Launch the calculator, this time we select free bet SNR (stake not returned), my stake is £20 which is the amount of free bets we have received from Coral. Enter the Coral back odds which are 4.5 and the Betfair lay odds which are 4.7.
The Back and Lay Betlsip when using a Free Bet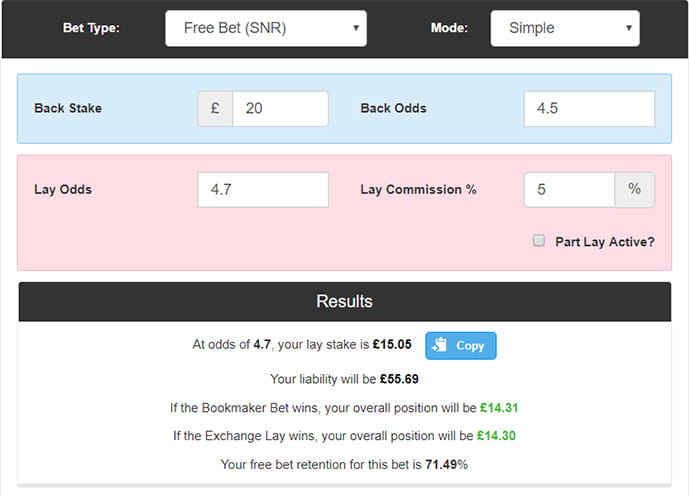 This bet is going to make a profit of £14.31. If we decide we want more profit, we just find an event at higher odds, but for ease of explaining we will stay with these odds.
My Betfair lay stake is £15.05 and I would need £55.69 in Betfair before we can place the lay bet. So we would deposit that amount into Betfair now. If that amount is too high for you, just choose an event with lower odds.
Place the Bet
I'm now going to place these bets. On Coral we click on the name of the horse which we searched earlier. On Coral the £20 is given as 4 x £5 so all we do is use our 4 bets on the same horse. As the system will not let you use all 4 at once, you need to place a £5 bet four times. Once we have the full £20 staked at Coral we now go to Betfair and place the lay bet of £55.69.
A Quick Recap
So let's recap what the possibilities of the two different bets are; in the first bet we placed, if Chelsea win we would lose £7.73 at Betfair but we would win £7.50 as Coral for a 23p loss. If Chelsea lose or draw we would win £5.02 which equates to £4.77 once the 5% commission is taken and lose £5 at Coral which again makes a 23p loss. No matter what happens in this game we lose 23p but remember we gained £20 in free bets which we placed.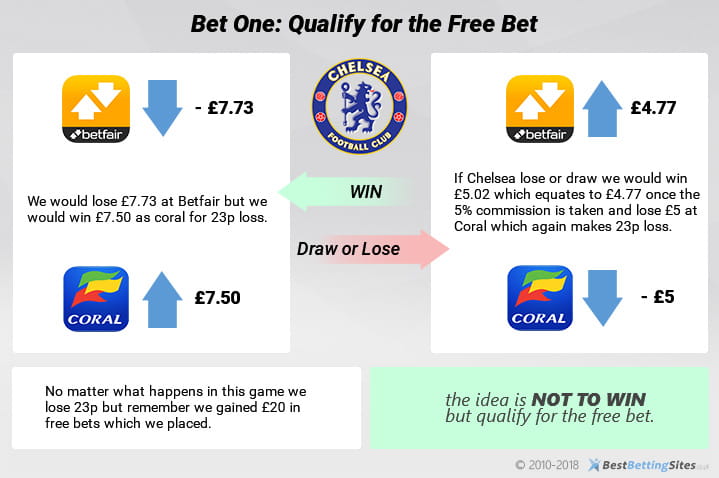 On the second bet, if Always a Winner who we backed wins, we would lose £55.69 at Betfair but win £70 at Coral which would give us a profit of £14.31.
If Always a Winner doesn't win, we would win £15.05 at Betfair which is £14.30 when commission is taken. We wouldn't lose anything at Coral as we used our free bets, this gives a profit of £14.30.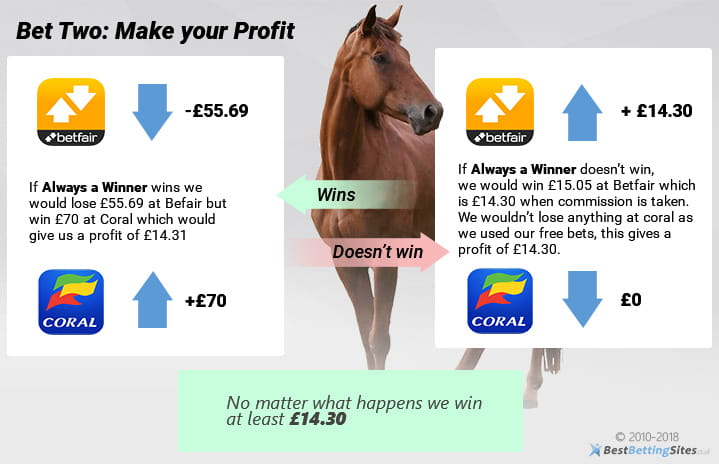 No matter what happens we win at least £14.30.
This may seem long winded but once you've done the whole process a few times, it speeds up. Remember to open the account, find the bet, calculate the bet and place the bet.
So as you can see from this example, there is no way of losing. It just takes a bit of time and patience.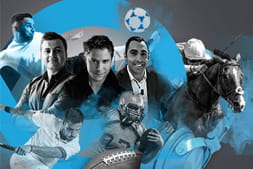 What you get with Matchbook?
Special 0% commission promotions
Top offers for horse racing
Specialised in the Premier League
Award winning customer service
Full T&Cs Apply! New customer offer. Please gamble responsibly. 18+
---
Betting Restrictions: Being Gubbed
Although as we stated earlier, online operators say they have no issues with using the strategy, our experience is that bookies can and do restrict accounts that they believe are using systems to bet. This is known as being gubbed, in the business. As betting sites do not have to give reasons to close or restrict accounts this can be at least annoying, especially if you have been unsuccessful with your betting in the past with the bookmaker. There are no dedicated matched betting sites, so you have to use a bookmaker to do this.
While not guaranteed, there are a few things that regular bettors do to try and reduce the risk of this happening.
Encourage a family member to sign up and use that account. This is not ideal and of course, could violate the online betting site's terms and conditions. As many betting companies track your IP address it is not advisable to do this from the same PC or device. A VPN is advisable to hide your IP address or you could consider remote desktop software to access another PC remotely.
Place bets that are different to cover your tracks. A great tip is every so often place an accumulator bet on five or six horses or football matches at the weekend. Doesn't have to be much, say a £10 acca. These so-called 'Mug Bets' are purely to disguise your true intent and betting patterns.
If you are placing lots of exact bets this could raise suspicion. For example, a series of bets that are strange numbers like £137, £123, £284 could set alarm bells ringing so every so often adjust your bets to more normal figures such as £50, £100, £150 etc.
Big bets on obscure markets can also cause suspicion. If a volleyball game for example only takes in £10,000 in bets in total and you bet £1,000 you become 10% of the bookmakers' liability and would most likely be watched closely. The same bet on the Premier League, a market worth millions is unlikely to be of as much interest.
Rotate your bookmakers. With so many betting exchanges, it is good practice to change often the companies you use. This gives the added benefit of picking up new customer offers as well.
---
Matched Betting Tips
As you will be using a lot of different betting sites it can be really tempting to use the same log-in details for every site. And whilst any online sports betting site that is licensed by the UK Gambling Commission will be safe and secure it is good practice to use a different password for every site, including non-betting sites. This can be hard to manage so we would recommend you use a password manager that will create and store a password that is so strong that it can prevent hackers using a brute force attack. There are free and paid password managers available and as 81% of breaches are caused by weak or reused passwords, even a paid subscription could pay for itself with the time spent changing passwords and the peace of mind it brings.
A final tip would be to use the many tools that are available to help you. We've mentioned how effective matched betting software is and how using these tools can save you time and reduce the chance of errors. Also, consider checking out videos on YouTube that cover matched betting, many offer great hints and tips to help. Another tip is to use profit tracking software, this enables you to keep track of your money across accounts.
---
FAQ
If you still have any questions, check out the ones below. They are the most frequently asked questions by our readers.
Does matched betting work?
Yes! There are numerous examples to prove that with the correct dedication matched betting works. The only way you aren't guaranteed a profit is if you make a mistake, otherwise, it is 100% mathematically secure. It's not a quick fix and takes time to amass big profits, but it is certainly achievable.
Can I use other bonuses too?
Obviously, the best bonuses are the welcome bonuses on offer. However, bookmakers sometimes offer periodical ones too. As long as they match the criteria, you can certainly use these to your advantage too! So keep an eye out for them.