A Comprehensive Sports Betting Vocabulary
A
Accumulator: A series of bets on multiple outcomes, all outcomes must be successful for the Punter to win the bet.
Action: Any kind of bet.
Against the Spread: A bet where you try to determine which team will cover the spread; not necessarily which team will win.
Angles: Using key factors from previous events to predict the results for future outcomes.
Ante Post: It is also possible to place some football bets weeks, months and sometimes years in advance. For example when you bet on the premiership or world cup winner. Such bets are called 'ante post'-bets. The term 'ante post' comes from the world of horse racing. Making such an ante-post bet can be really successful if during the time it becomes clear that the team backed is increasingly favoured to win.
Arbitrage: Betting the same event at separate sports books in order to lock in a profit by taking advantage of different betting lines.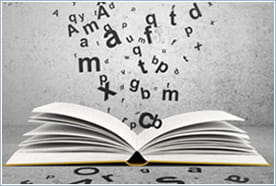 Asian Handicap: Asian handicaps are, as the name suggests, a special type of handicap betting popular in the Far East and commonly used in football betting. In addition to typical +1, 0, and -1 handicaps seen in standard handicap football match betting, Asian handicap allows for a ¼ goal, ½ goal and a ¾ goal start. On the face of it this may not seem to make a lot of sense, since any team that beats (or loses to) a ½ goal start will also beat (or lose to) a ¼ goal start. However, there is more to ¼ and ¾ ball betting than meets the eye. As for normal handicap betting, the underdog will be awarded a head start of a handicap, and the favourite will concede a handicap of the same magnitude. For the purposes of bet settlement, the predetermined number of the handicap will be added to the real number of goals. Where no handicap is awarded (0:0 handicap), a drawn game will result in a tied bet and returned stakes. if either side wins, bets backing that team will win, whilst bets backing the other will lose. Similar rules apply for 1 goal (0:1) and 2 goal (0:2) Asian handicaps. When ½ ball handicaps are applied, bets can only be won or lost – a tied bet is impossible. If the handicap is set at ¼ (or ¾, 1¼, 1¾ etc) of a goal, then any bets on the match will be settled as a split stakes bet, with half the stake going on the handicap ¼ of a goal less than the quote and half on the handicap a ¼ of a goal more. For example, with a ¼ ball handicap, half the stakes will be settled as though the handicap was 0, and half as though the handicap was ½. It follows, then, that if a team beats a ¼ ball handicap by ½ or more, the backer will win the whole bet; if they lose by ½ or more, the backer will lose the whole bet. It is only when the result falls within ¼ of the handicap that the result is different from a conventional handicap. When a team beats the handicap by a ¼, the backer receives half stakes on a win, and half returned. For example, if £10 were staked at odds of 1.95 for a ¼ ball advantage, a drawn game would return a profit of £4.75. This is known as a "win ½". If a team loses by a ¼, the backer has only half his stake returned. This is known as a "loss ½".
---
B
Bar: This shows what the lowest odds of horses not mentioned in the betting forecast are likely to be – '50-1 bar' means those not quoted are 50-1 or bigger.
Banker: A selection that is fancied very, very strongly indeed. It will often be the cornerstone of combination bets.
Bankroll: Total capital available for betting sports.
Beard: A friend or acquaintance whose job is to place a bet in order to conceal the true identity of the real bettor.
Bet: To lay money on the correct prediction of an outcome.
Betting Exchange: When punters back and lay bets against each other and the Exchange operator is getting a commission.
Bookie/Bookmaker: A company who is licensed to accept bets on the result of an event based on their provision of odds to the customer.
---
C
Canadian: A Canadian (also known as a Super Yankee) consists of 26 bets involving 5 selections in different events. The bet includes 10 doubles, 10 trebles, 5 fourfolds plus an accumulator. A minimum of 2 of your selections must be successful to get a return.
Chalk: The favourite.
Chalk Player: A person who usually places his bets on the favourite.
Circled Game: Applies to US sports. A game where the betting activity is limited by the bookmaker; this usually happens where bad weather or injury may significantly alter the chances of either team winning, thereby making the outcome far more uncertain.
Correct Score: Correct score betting is popular with football, where the total number of typical scores is limited. The odds are dependent on the actual match odds between the two teams.
Cover: Winning against the point spread. (A 10-point underdog that loses 20-14 has covered, or "covered the spread.")
---
D
Dog: Somebody who is expected to lose a fight or contest. Also known as the "underdog".
Dog player: A person who usually places his bets on the underdog.
Doubles: An accumulator which involves two selections. Both must be successful for the bet to win.
Double Action: An "if-bet" that proceeds if the precedent bet is won, tied or cancelled.
Double Chance: Occasionally, bookmakers may reduce the 3 outcomes for a football match to 2, by what is known as 'Double Chance' betting, where a single price is offered on a win or draw. If the backed team wins or draws, the bet wins; if the team loses, so does the bet. With double chance bets there is no possibility for the draw. The win/draw odds will always be shorter than for both the individual win and draw odds, because the chances of either outcome occurring are greater than for each one separately.
Double Result: Some bookmakers now offer books for the half-time result only, and more typically the "double result", that is, the result at both half-time and full-time. For football matches this means a total of 9 betting possibilities is commonly available. This is a popular alternative to simply backing an outright result, which may often be at unattractively short odds. Obviously the risk is greater since there are more possible outcomes (9 as compared to 3 with standard match betting), but consequently the odds are better. The highest odds are obviously available for the home team to be winning at half-time and the away team to win after 90 minutes. Typically, odds of 28/1 can be found for this unlikely double result, and can be even higher if the home team is a strong favourite.
Drift: When the price of a selection moves out (gets bigger), often due to a lack of support. That selection is said to be "on the drift".
---
E
Each Way: In contests with large fields, even the shorter-priced favourites may have quite high odds. To increase the chances of a punter winning something from this bet, it may be offered each way. Each way bets are actually two bets, one for the win and one for a high placing, and are settled as two bets. The place part is calculated at a fraction of the win odds. This fraction will vary by sport and event, and will always be displayed where each way betting is available. In a football tournament the each way part is usually settled at half odds for 1st and 2nd place only. Consider a £10 each way bet on England to win the World Cup at 10/1. If England win, a £150 profit would be made; £100 for the win at 10/1 and £50 for finishing in the top 2 at 5/1. If England lost in the final, the profit would only be £40; £50 from the place part minus the £10 stake lost on the win. Quarter of the odds is very common in horse racing.
Edge: A punter's advantage in a bet.
Exotic: Any bet other than a straight bet or parley – also called a prop or proposition.
Exposure: The maximum amount of money a sports book stands to lose in a game.
---
F
Favourite: The team or individual the bookies rate most likely to win the contest they are betting on.
First Goalscorer: A bet placed on a player to score the first goal in the event.
First half Bet: A bet placed solely on the first half of a game.
Fold: A fold represents the number of selections in an accumulator, i.e a Four-Fold Accumulator consists of 1 bet involving 4 selections in different events. All must be successful to get a return.
Form: Form rates how a team is currently performing.
G
GamCare: The UK national centre for information, advice and practical help with regard to the social impact of gambling. Goliath:A Goliath consists of 247 bets involving 8 selections in different events. The bet includes 28 doubles, 56 trebles, 70 four-folds, 56 five-folds, 28 six-folds, 8 seven-folds and an accumulator. A minimum of 2 of your selections must be successful to get a return.
---
H
Half Time Bet: A bet placed on the half time result.
Half Time Result: A bet that involves the Punter correctly predicting the result of a match at half time.
Handicap: A system used by bookmakers to make a one sided event become a more attractive betting proposition to the punter. For example, the weaker team may start with a one goal advantage. Known as the Spread in US sports. For fractional handicaps (0.5, 1.5 etc.), there is no possibility of a draw. If the margin of victory is same as the quoted handicap, all bets on the selected team will lose.
Handicapper: A person who studies, rates and bets on sporting events and/or races.
Hedging: This involves placing a bet on opposing outcome to the punters original selected outcome in order to guarantee winnings or cut losses. Very popular saying in the UK, "To hedge your bets".
Heinz:A Heinz consists of 57 bets involving 6 selections in different events. The bet includes 15 doubles, 20 trebles, 15 fourfolds, 6 fivefolds and an accumulator. A minimum of 2 of your selections must be successful to get a return.
Hook: Half a point added to e.g. football or basketball betting lines.
IBAS: Independent Arbitration Betting Service. An arbitration service which was launched to deal with betting disputes between punters and bookmakers.
---
L
Lay: It is accepted to say that when a bookmaker gives you a betting option, he 'lays' a bet. The term is also used in Bet Exchanges, where punters 'Lay' bets for other punters to 'Back'.
Lengthen: Often bookmakers opt to lengthen (increase) the odds for a certain bet, when it doesn't meet the activity expectations.
Line: The odds or point spread that are present at the moment for a certain event.
Lock: Popular term used in the US for a low-risk bet.
Longshot: When a competitor or a team has little chance to win.
Lucky 15: This type of bets are accepted for Horse racing and Greyhounds only and consist 4 singles, 6 doubles, 4 trebles and 1 fourfold. The bonus will only apply if all selections are winning. If all 4 selections turn out winning, you will get a 10% bonus. The consolation prize for only one wining selection is the winnings odds are paid double. There are also Lucky 31 and Lucky 63 bets available.
---
M
Martingale: A betting strategy that is based on doubling-up.
Match Betting: Another name for the famous 1X2 betting, where you have to predict the final score of a football match. 1 stands for a Home win, logically 2 is for the away team to win and X means the draw.
Monkey: A jargon used by bookmakers for £500.
Multiples: A bet that consists more than one selection. In order to grant you profits, all picks in the multiple bet have to be winning. See also Accumulator.
---
N
Nap: The most valuable bet for the day, according to a certain tipster.
No Action: When you record neither profit or a loss with a bet.
Number Spread: Index on how many goals are scored in a particular game.
O
Odds: A ratio that shows how big the profits from your winning bets are. See also price.
Odds On: A price that is lower than Evens (2.00 decimal).
Odds Against: A price that is greater than Evens (2.00 decimal).
Outsider: An underdog for a particular fixture or competition.
Over: An increasingly popular football fixed odds market is total goals betting, sometimes known as over/under. A commonly available over/under bet available in football is over/under 2.5 goals. By introducing a decimal, this removes the possibility of a draw, leaving only two possible outcomes. Some bookmakers like to introduce an extra outcome to the book. 3 outcomes might include: fewer than 2 goals; exactly 2 goals; and more than 2 goals. Other bookmakers introduce even more, this is often with a view to increasing their profit margin on the book. A fixed odds market for football, which is used for predicting a number of events in a game, such as goals, corners and cards. The denominations for Over bets can be various (0.5, 1.5, 2.5, etc). For example, an Over 2.5 goals bet is considered winning, if the game in question has 3 goals or more.
Overlay: When the odds for a selection are notably higher than normal.
Over-Round: In theory a betting book should be 100%, so a toss of a coin would be even money heads, even money tails. However the bookmakers' profit margins mean the figure is usually above 100%. In cases where it is less this is referred to as 'over-round'. The estimated profit that a betting site will gain from a certain fixture. See also vigorish.
---
P
Parlay: A term, used by Americans for accumulator.
Patent: A set of bets that includes 3 selections, grouped in 3 doubles, a treble and a single on each selection. A return is guaranteed with even just one right selection. Picks: A selection of bets that is offered by a tipster.
Permutations or Perms: The maximum number of bets that can be formed from a number of selections strictly depends on their total number and the minimum requirement to claim a return.
Point Spread: The scoring advantage for a team that is set by a bookmaker prior to the fixture's start.
Pony: A jargon used by bookmakers for £25.
Price: See odds.
Punter: A popular term in the UK, used for a person that places bets, usually on football and horse racing.
---
R
Round Robin: A type of system that involves 3 different races, grouped in 3 doubles, 1 treble and 6 single stakes.
Reverse Forecast: Same as Straight Forecast, but the punter only has to guess the first two participants to finish and not the correct order. Runner: A person that places a vet on behalf of another individual.
S
Score: A jargon used by bookmakers for £20.
Scout: A punter who waits for an unusually strong and valuable wager.
Sharp: A professional punter.
Single: The simplest and easiest to understand bet type, either wins or loses depending on the outcome of the event. The return is calculated by multiplying the stake and the odds.
Special Bets: In an attempt to attract spread bettors into fixed odds football betting, some online bookmakers have started to offer specialised markets. Special bets include odds on the number of corners and bookings a televised match will have, odds for team performance, or the time of the first and the last goal scorer. These bets have their origins in the spread markets, and it is only through the availability of online gambling that fixed odds bookmakers have been able to break into this market. Unusual and quirky bets, the purpose of which is to attract more punters, including Scorecast, To win to Nil, red card in the match, etc.
Spread Betting: For the sake of giving punters additional betting options, bookies often give the teams advantage beforehand, usually using half-point fractions. The aim in spread betting is to guess the outcome of the game after the advantage is applied.
Straight Forecast: A type of bet for horse racing and greyhound racing that requires a single unit stake. In order to claim a profit, the punter has to correctly predict who will finish 1st and 2nd in the event.
Super Heinz: A minimum of 2 of your selections must be successful to get a return. A system of bets that requires minimum 2 right selections to claim a profit. It includes 21 doubles, 35 trebles, 35 fourfolds, 21 fivefolds, 7 sixfolds and an accumulator.
Super Yankee: Same as Canadian.
T
Tic-tac: A method for communication, used by bookmakers on horse racing tracks.
Tipster: A person, who gives or sells predictions for games or races to punters.
Treble: A multiple bet that consists 3 selections and requires all of them to be winning in order to claim a profit.
Tricast: A fairly popular type of bet for horse racing and greyhound racing. The bet requires a single unit stake and the punter has to pick 3 selections in the correct order of finishing 1st, 2nd and 3rd.
Trixie: A system bet that involves 3 selections, grouped in 3 doubles and a treble. Requires minimum 2 winning selections to grant a profit.
---
U
Under: Same as Over, but requires the number of occurring events to be lower than the denomination.
Underdog: A competitor or a team that is unlikely to win, according to the expectations.
Up-and-Down: A bet on two selection that is placed as two single bets.
V
Value Bet: A bet that you believe has better chances of winning than the odds for it suggest.
Vigorish: The amount charged by the bookmaker for taking the punters' bets. The vigorish guarantees the betting sites a profit, regardless of the event's outcome.
W
Win: A single or multiple bet that grants the punter a profit.
Wise guy: A person that has a lot of knowledge about betting on sports.
Y
Yankee: A system of bets that consists 4 selections, grouped in 11 bets, involving 6 doubles, 4 trebles and an accumulator.