All of the Cheque Betting Sites Online – Our Review
Last updated: by Leon Marshal

Using cheques was once one of the most popular and common ways of paying for goods and services, but it has seen a sharp decline over the last decade. However, some betting sites still accept this method of payment. In our guide to the top cheque betting sites we let you know who will still accept this payment method. We also explore the strengths and the weaknesses of this common payment method.
---
Our Guide to the Top Betting Sites That Accept Cheques
Adding funds to an online sports betting site is still possible in the modern age but finding a bookmaker that still accepts them is a tough task and is getting harder as more bookies phase out accepting them. However, we've done the legwork for you and checked all the legal operators in the UK, and you'll find the results of our searching in the table below;
The Best Cheque Betting Site
Bookmaker
Rating
Essential Info
Sports Welcome Bonus
Secure Link
T&C
🥇 William Hill
5.0

out of 5

Minimum Deposit:

£25,

Maximum Deposit:

£25,000,

Odds Levels:

Up to 97.65%
Bet £10 Get £30
promo.williamhill.com
Full T&Cs Apply! New online customers only, min £10/€10 stake, win only, min odds 1/2, free bets paid as 3 X £10/€10, 30 day expiry, free bet/payment method/player/country restrictions apply.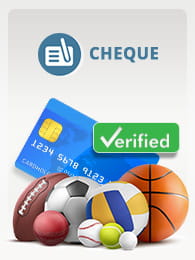 Top 5 Cheque Betting Sites
As you can see from the table above, only one of our recommended betting operators still accepts this payment method. That said, William Hill is one of the oldest and prestigious bookmakers we feature; therefore we have no issues using them. The minimum deposit amount is £25 with the maximum deposit is a huge £25,000. Ideal for all the high-rollers out there!
---
What to Consider Before Paying by Cheque
The first thing you need to ensure when considering using cheques at an online bookmaker is to ensure you have the funds in your bank account to cover the amount that you wish to deposit. Unlike other services that will just be declined if insufficient funds are available, you could face quite hefty charges from both your bank and possibly the bookmaker if a cheque is returned unpaid.
THE THREE STEPS TO USING CHEQUES FOR ONLINE BETTING
Step 1Check your bank account and ensure you have enough funds to complete the deposit
Step 2Log-in to your online bookmaker and access the cashier section
Step 3In the deposit section, select cheque from the options and make a note of the details
While it isn't difficult at the best cheque betting sites to deposit, the process has more steps than other payment services, and as you'll see, the timescales involved are quite lengthy. In the next section, we go into more details and thoroughly explain how to complete the process.
How to Depositing at Betting Sites that Accept This Payment Method
Depositing at betting sites that accept cheques is not an instant process. There are likely to be many days, if not weeks until the funds are available to use at your chosen betting site. The process is also a three-stage process, and you will need information from the bookmaker to complete the deposit, we outline the three stages in the section below;
Log-in at Your Betting Account

Log-in at your betting account and access the cashier section. Select the deposit option and choose cheque from the available methods.

[1/3]

Write Out Your Cheque

The bookmaker will display the details for whom you need to write it out to. Complete the payee's name, the date, the amount and sign it.

[2/3]

Post the Cheque

The address that you need to send the cheque to will be displayed once you select the method in your account section. Send the it to that address.

[3/3]
If your cheque is of high value, we would recommend you use a recorded or courier service to ensure safe delivery. Especially if it is a banker's cheque, these cannot be stopped and are treated the same as cash. It's also good practice to include a return address on the back of the envelope in case there is an issue with delivery.
How to Withdraw using this Payment Method
The process for withdrawing your winnings from cheque betting sites is very similar to the deposit steps we explained in the previous section. You need to log-in to your online sports betting site and click on the cashier option and select withdraw. Select cheque from the list of withdrawal methods and type in the amount and fill in your address details. You'll then be presented with a confirmation screen which will display a message saying the request was successful. You will also see a date shown informing you of when the bookmaker expects the payment to be processed.
Fees When Using Cheques at Online Bookmakers
As both depositing and withdrawing using cheques involves more effort for both the bookmaker and you, it wouldn't be surprising if the operator charges for choosing this payment method. However, the good news is that our recommended bookmaker William Hill doesn't impose any fees. The only difference is there is a slightly higher minimum amount of £25 for all transactions.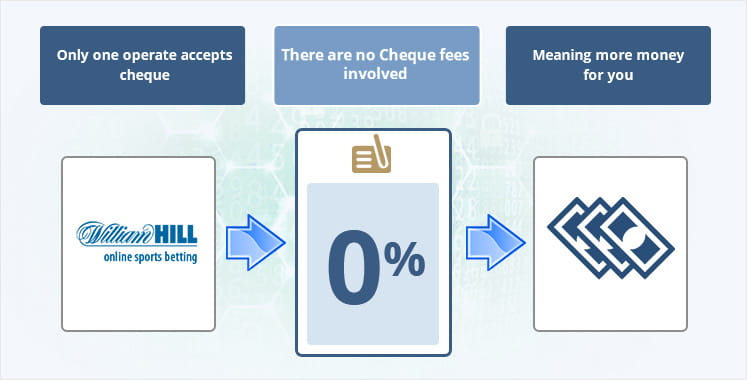 The lack of fees makes this payment option stand up well against other methods. One of the most popular alternatives with punters are E-wallets such as Neteller due to their ease of use, this convenience does come at a cost though as companies offering these services impose a fee. While the charges are not overly high, often about 2%, they are more expensive to use.
---
Advantages of Gambling with This Payment
In this next section, we have compiled what we believe are the advantages of cheque gambling. Why you should consider this payment method over the dozens of other alternatives that are available to use online, if you are considering this option, but are still on the fence, our top three benefits should help you decide.
Low Risk of Fraud
As cybercriminals are responsible for the majority of fraud that is committed in the UK, the offline nature of this payment method makes it incredibly secure against this type of threat. The only reason to log-in to the online sports betting site is to obtain the details that you need to send the cheque, once you have these details, you don't need to access your account for subsequent deposits.
Can be Cancelled
It is unlikely you will run into any problems at the best cheque betting sites, but if for any reason you wish to stop a payment once you have sent it off, it is possible to cancel a cheque. Many high street banks allow you to do this online, by telephone or by going into a branch. You will need to provide the bank with the details of your bank account and the number of the cheque you wish to cancel; this can be found on the stub of your cheque book.
Disputes Process in Place
As your bank issues this payment method, it is legally bound to listen to any dispute you may have, and if they cannot resolve your problem, you can contact the Financial Ombudsman Service. Established in 2000, the FOS has statutory powers to help settle disputes between consumers and UK-based businesses providing financial services. That includes banks as well as building societies. The Financial Services Authority also regulates the banking industry.
CHEQUES PROS AND CONS
Safe from Online Fraud
No Charges to Use
Eligible for all Promotions
Suitable for High Rollers
Few Bookmakers Accept Cheques
Very Slow Timescales
Need to Use Postal Service
Sensitive Information on Cheques
---
Disadvantages of Cheque Gambling Sites
So with no charges from the bookmaker to use, it has been good news so far, however in this section we highlight the areas that fail to impress with betting sites that accept cheques. For some punters, these won't be a big issue, but for others, they could be deal-breakers. Here are our two biggest gripes;
Lack of Betting Sites that Accept It
The biggest issue you are going to have with betting with cheques is finding an online bookmaker that accepts this payment method as there are so few that exist now. Even six months ago, many more operators would allow you to deposit and withdraw using cheques, but many have stopped accepting due to lack of demand and increasing costs. Less choice means less welcome bonuses you can take advantage of, sadly we don't see this changing anytime soon.
Timescales Involved
The second aspect that would put us off using a cheque bookmaker is the length of time it takes to both deposit and make a withdrawal when betting. William Hill states the time it will take to process deposits in 10 working days with withdrawal requests taking 5-10 working days. The term 'working days' is crucial as it doesn't include weekends and bank holidays. So in reality, the real timescale could be much longer. This length of time also doesn't take into account how long it will take for the cheque to reach the bookie and vice versa for winnings to be paid.
---
Legality and Safety of Cheque Betting
Since it is your bank or building society that issues you with your chequebook, there is no question over the legality of using cheques, and they are accepted worldwide. Safety-wise a cheque in the wrong hands could be a severe security risk due to the amount of personal information contained on them. Your full name, bank sort code and account number are all present, and a criminal could use this information to try and impersonate you. However, this is very unlikely as they would need to intercept your outgoing post, an improbable scenario. You can reduce this risk by using recorded delivery when sending.
---
A Few Facts About The Payment Method
Once upon a time, the humble cheque was king with more people using them as a payment method for everything from buying a car, televisions and just about anything else you could think of. Before bank transfers became the norm, many of us would receive our wages in the form of a cheque. However, despite a rapid decline of use in the consumer market, they are still widely used in business circles. Last year over 346 million were issued and the value of these amount to some £442bn. One of the biggest concerns is that the payee will not have enough funds to cover the purchase and it will "bounce", but the facts are that only 0.05% ever do, a small fraction of the total amount used. So while there a few cheque bookmakers, this mode of transaction is far from defunct.
---
Alternative Payment Methods to Consider
Unless you are in no hurry to deposit at an only betting site, there are several alternative payment methods that you could consider. A debit card from Mastercard or Visa will see your funds topped up instantly, eliminating the long wait until you can bet.
A strength we identified with betting sites that accept cheques is that you are not entering your financial information online. Another payment options also enable you to pay without revealing card information is the industry giant PayPal. It utilises a service called Trustly which enables you to pay using your funds in your bank account without having to disclose these details, great for the security conscious.
---
Is Cheque Betting Recommended?
People have depended on this form of payment since the 15th century and alongside cash, was once the preferred way to purchase goods, especially expensive items. Anyone who is over the age of thirty will likely be familiar with them, and in some ways, it is a shame we don't use them much anymore as they felt very personal.
CHECK OUT THE BEST CHEQUE BOOKMAKER
WHY WILLIAM HILL IS GREAT FOR CHEQUE BETTORS?
Deposit up to £25,000
Competitive Odds
Many Different Markets
Mobile-Friendly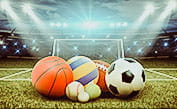 Full T&Cs Apply! New online customers only, min £10/€10 stake, win only, min odds 1/2, free bets paid as 3 X £10/€10, 30 day expiry, free bet/payment method/player/country restrictions apply.
However, betting sites that accept cheques are very few and far between and the payment method suffers from the most extended deposit and withdrawal times of any of the best betting sites we have tried. You also have the hassle of writing out the cheque and then posting to the bookmaker, even the humble bank transfer is a better fit in this modern age. Therefore, we don't recommend this form of payment.
---
Frequently Asked Questions
We have tried to make our review of cheque betting sites the most comprehensive guide on the internet and to ensure we give you all the facts we have checked what punters are asking. In this section, we answer the most commonly asked questions.
🏆 What are the best cheque betting sites?
It is possible to use a cheque as a payment method, but the number of sites is minimal. If you want to explore a website that does, you can our reviews of the best cheque betting sites. As always, any operator we feature is fully licensed and regulated by the UK Gambling Commission.
👮 Are cheque betting sites secure?
Paying by cheque is very secure, especially when loading your account in person at a local online bookie's betting parlour. Additionally, postal service is now one of the most secure methods of sending cheques should you choose to load your account via mail. You can see more about the security of using cheques at online betting sites in our detailed write-up.
🕒 How long does it take to make payments with cheque betting sites?
Using a cheque as a form of payment at a sports betting site is not a quick process, far from it! Not only do you have to send the payment to the bookmaker, which can take a few days, but the bookmaker also has to deposit it and wait for it to clear. You can find out more information in our section about cheque betting sites processing times.
💳 Are There Any Fees When Using Cheques?
As it takes more processing than any other form of payment, you wouldn't be surprised if bookmakers applied a handling fee when you use cheques at betting sites. However, our recommended operator doesn't charge any fees for either depositing or withdrawing funds. There is a chance that your bank may charge for processing, especially if you have a business account, we advise we check with your bank before using.