World Cup 2018 – Spain team preview
Last updated: June 1, 2018 by Leon Marshal
The Spanish National team are one of the eight national football teams to have ever been crowned FIFA World Cup champions, having won the 2010 tournament in South Africa. They are the first ever national team to win back to back European titles having won Euro 2008 and Euro 2012 as well as the 2010 World Cup.
Spain topped the FIFA Team Ranking for six consecutive years from 2008 to 2013, the second longest team to do so behind Brazil. They were also undefeated for 35 consecutive matches in a period ranging from November 2006 to June 2009.
Spain's golden generation is one of the most current and many of us will be aware of the team that went down in football folklore by winning the World Cup and two European titles. Led by manager Vicente Del Bosque, Spain had the most talented players mostly hailing from Barcelona and Real Madrid. The goalkeeper was Iker Casillas, who captained the team and was defended by Barcelona captain Carlos Puyol, Sergio Ramos and Gerard Pique. The midfield was the heart of the team with the best duo to ever play for Spain in the shape of Xavi Hernandez and Andres Iniesta, the duo playing in front of the tall and composed holding midfielder Sergio Busquets. The attack was led by Fernando Torres who was nicknamed "El Nino" and David Villa who were both magnificent goalscorers. The international team just oozed the same domestic quality on show at Barcelona and Real Madrid at the time.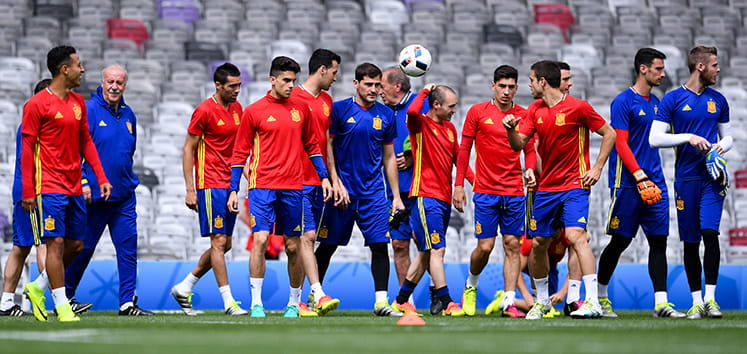 ---
How did they qualify for the World Cup in Russia?
Spain is in group B of the 2018 FIFA World Cup in Russia alongside Portugal, Morocco, and Iran.
Portugal is the toughest challenge in the group. They go to Russia as the reigning Euro 2016 champions. The squad is very talented with experienced players such as Cristiano Ronaldo and Pepe who have both played for Real Madrid together and have a good understanding of each other's gameplay.
Iran and Morocco have a fairly limited talent pool but one player worth keeping an eye on (and a really good shout to score at any time) is Iran's Alireza Jahanbakhsh. Jahanbakhsh is hardly a household name but he is on fire at Eredivisie in the Dutch league, as an attacking midfielder, the 24-year-old has scored 21 goals with 11 assists. FIFA 18 players will already know this, as he has a '90 rating.
It is however expected to be a two-horse race in this qualification group, with Spain and Portugal both fighting for the number one spot.
Spain topped Group G of the FIFA World Cup qualification winning nine of the ten matches only drawing once away to four-time World Cup conquerors Italy. The team managed to score 36 goals with David Silva, Isco, Alvaro Morata, and Diego Costa among the scorers, each scoring five goals.
---
Spain's key players
David de Gea – The Manchester United goalkeeper is currently regarded as the best goalkeeper in the world. He has been fantastic for Jose Mourinho's team pulling off some exceptional saves. Second place in the Premier League was largely due to his excellence. In the 359 appearances for Manchester United, De Gea has managed 119 clean sheets and has been nominated for Premier League Player of the Year award this season after an impressive season in England. He was the man between the posts as Spain fought throughout the qualification phase as they only conceded 3 goals in ten matches and is likely to be vital for Spain.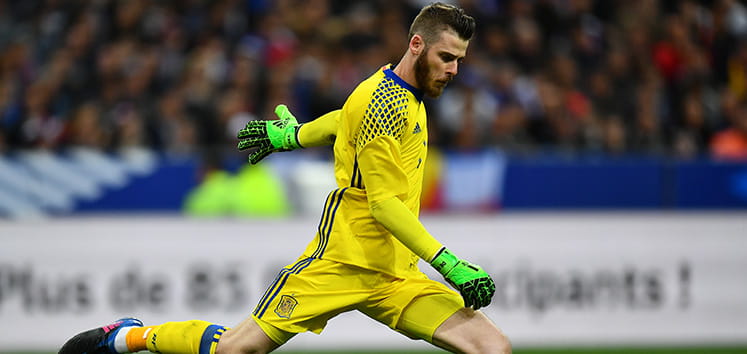 Sergio Ramos – The most red-carded defender in the Spanish history of football and third in the world with 24-red cards sounds like a recipe for disaster but Ramos has represented the Spanish national team well since he was just 18 years old. Spain's captain is the second most capped player and has featured in 151 appearances, just sixteen matches behind Iker Casillas record of 167 matches and has scored 11 goals.
Isco – Francisco Román Alarcón Suárez, commonly known as Isco. The Real Madrid star man is an exceptional talent with great skill in his dribbling, ball control, and creative movements to create chances for his teammates. He has been an influential attacking midfielder in Zidane's side especially early this season when Cristiano Ronaldo and Karim Benzema were out of form and Gareth Bale was out with an injury. He featured 49 times this season for club scoring 9 goals and also scored 5 goals in the qualification phase of the World Cup for the Spanish national team. Isco is the man to watch especially going forward in terms of creating chances and scoring goals. He can play as an attacking midfielder on all sides of the pitch, through the centre or can also be utilised as a forward.
Andres Iniesta – The Spanish Legend doesn't need an introduction. He is one of the finest midfielders and is known for scoring the 2010 World Cup title-winning goal in the finals against the Netherlands. He will bring a great deal of experience to the squad and quality with great passes, skills and magnificent footwork. Iniesta has won a remarkable 34 trophies, making him the most decorated Spanish footballer of all time. The 34-year-old has just left Barcelona, calling time after an incredible 16-year career at the Camp Nou, signing for Vissel Kobe in Japan.
Overview of the manager
Julen Lopetegui – The former Spanish goalkeeper played for both Real Madrid and Barcelona among other Spanish sides. He was in charge of FC Porto leading them to the quarter-finals of the 2014-2015 Champions League being knocked out by Bayern Munich and finished third in their domestic league. His contract was terminated for failing to secure silverware for the side and was later appointed as Vincente Del Bosque's successor.
---
Strengths & Weakness
Decorated Defence – Spain will play a very composed and experienced defensive line. The Centre Backs Ramos and Pique have played together for many years and are very composed. The full-backs Jordi Alba and Dani Carvajal are also high profile defenders who thrive under pressure.
Alba and Pique are Barcelona defenders who have played almost all matches this season and were excellent, as they came close to pulling off an Arsenal 'invincible' season for Barcelona. Carvajal and Ramos have also been key players for Real Madrid this year so in light of that, Spain will be having the most experienced and well-established defence in Russia.
Real Madrid and Barcelona Teammates – The Spain national team has always been composed of players from the two best football clubs in the world, Barcelona and Real Madrid. The players tend to put their fierce rivalry displayed throughout the season aside to perform their patriotic duty for the team. The huge talents from the two teams make up the majority of the players in the Spain squad making it easy to have an understanding of each other's game, more like an away game than a World Cup.
Attacking Options – Alvaro Morata is a very highly rated striker and at the beginning of the season secured a move to Chelsea. He has since only managed to score only 15 goals in 47 appearances which is a rather poor record compared to his usual standards. It will be interesting to see if he will perform better for his country, as he could well feel the pressure.
Diego Costa was one of the best strikers in the Premier League in Chelsea's last title winning season. He fell out with his manager and ultimately forced a move away from the club to join former club, Atletico Madrid. He has since been impressive but has suffered from lack of game time, although he will be vital for Spain as he can be relied on for goals.
---
What are Spain's chances of winning the World Cup 2018?
There can be little doubt that Spain ten years ago was on the cusp of greatness, winning the EUROs in 2008 and 2012 and sandwiching a World Cup in-between. These achievements strongly indicated towards a golden era of Spanish rule. But as the national team got older, Spain's impact on the international stage grew less. Knocked out in the group stage in Brazil in 2014, losing 1-5 to the Netherlands in the process. The Euros two years later saw them reach the last-16 but they were easily beaten by Italy 2-0 in that competition.
Despite the Spanish team's lofty ranking with the bookies, I'm predicting some tough games ahead and I'll be surprised if Spain reach the last 16.
Spain is considered the third favourite team to win the world cup. Their odds of winning the world cup are 11/2 at Net Bet