World Cup 2018 – Portugal team preview
Last updated: June 7, 2018 by Leon Marshal
Portugal is ranked fourth in the FIFA World rankings. Portugal's best performance in a major tournament was the recent Euro 2016, which they managed to clinch on their seventh attempt. The win qualified them to feature in the 2017 Confederations Cup for the first time in their country's history. They finished third, beating Mexico 2-1 in the third place play-off.
Portugal boasts a number of great footballing talents in their history with players such as Luis Figo, Rui Costa, and Nuno Gomez the standout names from their past. History is likely to remember the current generation of players as being their 'Golden Generation' due to the recent Euro success.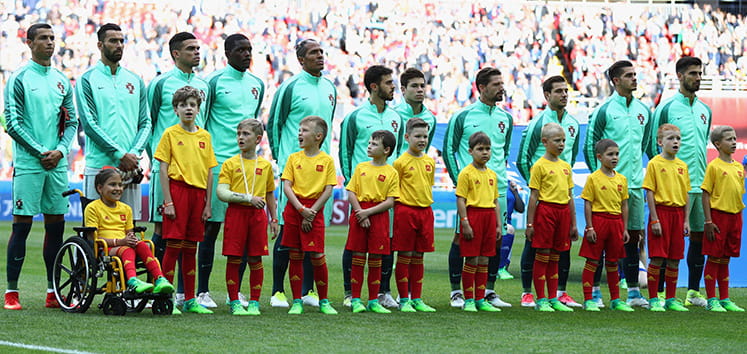 ---
How did they qualify for the World Cup in Russia?
Portugal is in group B in the 2018 World Cup in Russia alongside Spain, Morocco, and Iran. Spain is the biggest threat to Portugal progressing with Spain's new manager Julen Lopetegui developing the squad after dismal performances in Euro 2016 (knocked out by Italy in the round of 16) and the 2014 World Cup (where they failed to progress past the group stage).
Morocco and Iran will just be making their fourth appearance in the World Cup with Morocco featuring for the first time after a twenty-year absence. Iran will be looking to their golden boy Alireza Jahanbakhsh to provide the goals to challenge. Jahanbakhsh has had an outstanding season for Dutch side Eredivisie, scoring 24 goals and 11 assists.
On paper, Spain and Portugal are the most likely to proceed but the other two countries should not be overlooked as they are average but display good football.
Portugal was in a dramatic group in the qualifiers, winning nine of the ten matches losing just once to Switzerland at home with the game ending 2-0. Cristiano Ronaldo was their top scorer with an impressive 15 goals in 9 nine matches. The most significant performance was Andre Silva's nine goals in ten games. The youngster proved himself as a dependable attacker for the present and future team.
---
Portugal's key players
Cristiano Ronaldo – Arguably the best footballer in the world at the moment, the 33-year old has 5 Ballon d'Ors to his name and has been included in the FIFA Team of the Year more times than any other player. Former Manchester United manager Sir Alex Ferguson signed him from Sporting Lisbon when he was just 18 years old. In his time at United, Ronaldo broke George Best's goal scoring record of 33 goals for the club, a record that had stood since 1968.
He then made a move to Real Madrid in 2009 where he established himself as a true footballing legend as part of the team that won three consecutive Champions League trophies. He has a remarkable 311 goals in 292 appearances for Real Madrid. Despite his advancing years he shows no signs of slowing down. This season he has managed 44 goals and 8 assists in 44 appearances.
He was a significant figure in Portugal's triumphant Euro 2016 campaign; he was forced off in tears with a painful knee injury in the early minutes of the finals against hosts France and in typical Ronaldo fashion he appointed himself as assistant manager. Ronaldo was very active, shouting and issuing instructions to his fellow teammates on the pitch from the side-lines.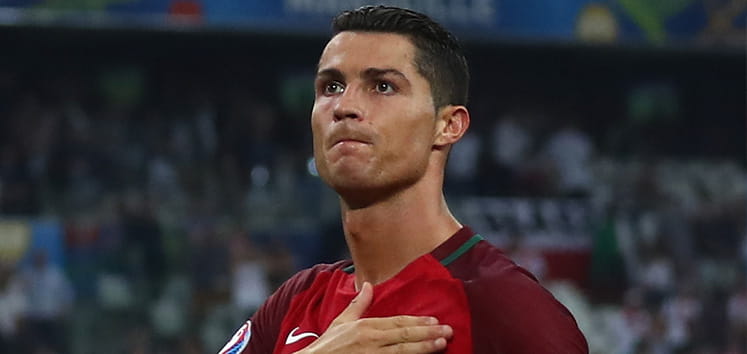 Bernardo Silva – Pep Guardiola was quick to bring Silva to Manchester City this season where he was utilised as a utility player, featuring in 35 matches and scoring six goals. He was very influential in their Premier League winning season for City, being deployed as a dependable substitute and filling in when the regular starting wingers Leroy Sane and Raheem Sterling were not playing. He will be a great inclusion for the Portugal squad as the youngster possesses bundles of creativity as well with the ability to spot a killer ball.
Andre Silva – The 22-year-old is one of the next generation of Portuguese stars. His performances for FC Porto where he made 50 appearances scoring 24 goals caught the attention of AC Milan who he later joined. At international level he featured in 22 appearances for the national team, scoring an impressive 12 goals. He is expected to be a regular starter in the Portuguese squad as their main striker alongside Cristiano Ronaldo. Silva was impressive in the qualification phase scoring nine goals
Gelson Martins – The main target for Arsenal and Juventus in the summer transfer window according to reports. Both teams are keen to add the flyer to their ranks. The winger was Sporting Lisbon's star man last season with 13 goals and 13 assists, a tally that helped Sporting secure a third-place finish. He adds a great deal of energy and speed and takes the place of Renato Sanchez who was very influential in their Euro 2016 campaign but has been dropped by Portugal for the World Cup.
João Moutinho – The thirty-one year old is one of the most successful players in the Portuguese team with 12 major titles. He has represented the Portuguese national team in three European championships and will be featuring in his third World Cup competition in Russia. Moutinho plays his club football at Monaco, where since 2013 he has scored 9 goals in 158 appearances.
Overview of the manager
Fernando Santos – Santos is a former Portugal defender and was Greece's national team coach in the 2010 World Cup. He was appointed as Portugal's head coach in 2014 taking over from Paulo Bento who was fired after a series of poor results. Santos led the team to their first-ever major international conquest in the Euro 2016, finishing the tournament unbeaten.
He has an impressive managerial record over 50 games, winning 32, drawing 9 and losing 9, giving him a 64% winning rate. He will go to Portugal with World Cup experience and with a confident squad as the reigning European Champions.
---
Strengths & Weakness
Euro success – This success brings along pride and experience to carry along the tournament. They are not the best team as such in terms of play style, talent, and scoring goals but they have a great team spirit and persistence to get the best results even when they are not dominating.
Under-reliance on key players – Despite having one of the best talents in football history, Portugal managed to win the final of the Euro against the hosts France without him. The players are capable to adjust and bring out the best results even when their key players are missing out.
Ageing squad – Most of the players in the Portuguese team are fairly old with the average age of the squad being 28.4 years. This of course does bring a great deal of experience and confidence to the team. Because the players have been in many competitive situations and have been playing together for a long time they have a good understanding of each other. However, old age also comes with lack of energy, accumulation of fatigue and worn out muscles. It will be interesting to see how this works out for them.
Expectations – As Euro champs, Portugal have a degree of expectations that may well be alien to them. No-one expected their Euro victory but you can be sure that no team will underestimate them in this tournament so they will need to raise their game.
---
What are Portugal's chances of winning the World Cup 2018?
Portugal is ranked a distant eighth favourite to win this year's World Cup. Their coach is very experienced in managing and accommodated the big names in the squad and has also integrated young talent slowly into the ranks of the first team.
They won't be the most entertaining team to watch in Russia and their chances of progressing rest heavily on their star man Ronaldo. If they qualify from their group they will face Russia, Egypt, Saudi Arabia or Uruguay in the last 16 so they should be confident of progressing.
I would be surprised if they went any further than the quarter-finals. Coral has Portugal at a very healthy 25/1 shot to lift the World Cup.