World Cup 2018 – France team preview
Last updated: May 16, 2018 by Leon Marshal
France is among the most successful teams in the world. They won the 1998 World Cup, two UEFA European Championships, two FIFA Confederation Cups, and one Olympic tournament. They are currently ranked seventh in the FIFA World Ranking, which is their best ever rank since holding the number one spot from May 2001 to May 2002.
When discussing legends, France have had so many that it would justify a full article in itself. Let's start with Zinedine Zidane. When France famously lost to Italy 5-3 on penalties in the 2006 World Cup final, Zidane was red-carded for head-butting Marco Materazzi after an alleged insult. This would be Zidane's last appearance in the colours of Les Bleus.
Some doubted that Zidane would be fit for management due to his temper but as the current manager of Real Madrid he has led his team to two successful UEFA Champions League titles and is already in the finals of this year's competition, where they will be playing against Liverpool. Zidane's success as a manager also reflects in his playing days as an elite playmaker with great ball control, vision, technique, elegance and magnificence. He was a joy to watch with his famous move, the 360 and is regarded as one of the best players of all time. Zidane is also famous for his 2002 UEFA Champions League Final goal, a volley that is the all-time best goal in the competition finals. He was part of the France team that won the 1998 World Cup scoring two goals in the finals. The three times FIFA Player of the Year also won the 1998 Ballon d'Or.
Thierry Henry is another former player we cannot fail to mention. France's all-time goal scorer is currently Belgium's assistant manager. He is an Arsenal legend as one of the key players in the team that led Arsenal to the invincible season. Oh and did I mention Fabian Barthez, Eric Cantona, Patrick Viera, Erick Abidal and Lilian Thuram?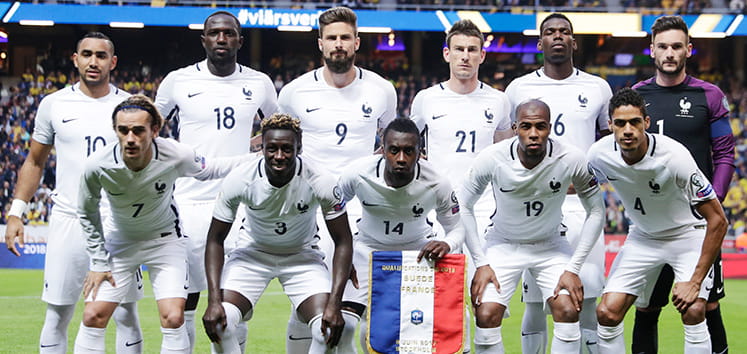 ---
How did they qualify for the World Cup in Russia?
France is in group C of the 2018 FIFA World Cup alongside Australia, Peru, and Denmark.
Denmark is dependent on the services of Tottenham Hotspurs playmaker Christian Eriksen as their high profiled player while the rest of the players are average. Australia, on the other hand, will be making only their fourth World Cup appearance. They are still depending on their country legend Tom Cahill who is 38 years of age and is undoubtedly the most talented player to ever play for the team. France don't have a perfect record in the group stages, having been knocked out six times in the groups. They face potentially tough challenges against Australia and Denmark. Peru is the weakest team in the group but can still surprise the big guys.
France was impressive in their qualification, winning seven of the ten matches and losing only once to Sweden. They were top of their qualification group ahead of Sweden and Holland. Oliver Giroud was their top scorer but managed only four goals. The whole team only managed to score a total of eighteen goals which is rather dismal in regard to the level of competition in the qualification stages.
---
France's key players
Paul Pogba – Pogba needs no introduction on these shores, being a high-profile midfielder who plays for Manchester United. He has fantastic ball control and good footwork. He is not afraid to dribble which can often lead to a fair degree of showboating, he also has a powerful shot which can lead to goals from distance. The midfield maestro has been the most controversial player in the Manchester United team since making his big-money signing from Juventus, dividing opinions of both fans and pundits. For the French National team, Pogba plays a free role that fits in well with his playing style. He will be their key player in creating chances, his aerial dominance will be vital as well as his ability to hit those long shots.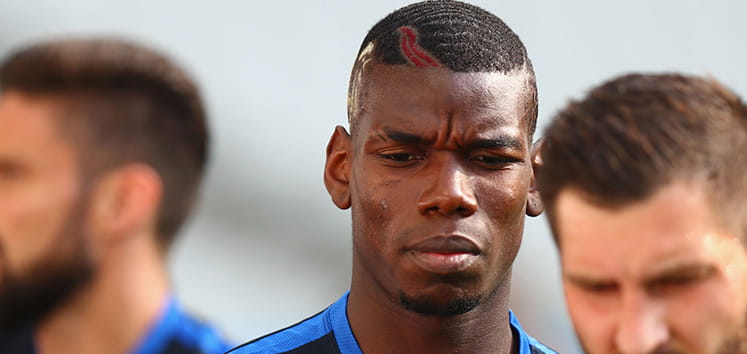 N'Golo Kanté – France's player of the year has proven himself since coming into the limelight as part of the side that did the impossible and won the Premier League in the 2015-2016 while at Leicester City. A move to Chelsea followed and so did another Premier League title. Kanté is a holding midfielder, very small in stature but hardworking and industrious. He has great stamina, is able to last a whole game even after chasing after every ball for 90 minutes. In the French National Team, Kanté will likely sit just above the defence, launching counterattacks with his speed and vision.
Antonio Griezman – France will largely depend on Griezman for goals. The Atletico Madrid star has been their most impressive player over the years and is highly rated. If you agree that Lionel Messi and Cristiano Ronaldo are on a different planet, then Griezman is one of the best "human" players. Stat fans will love the 146 goals in 348 games for club and country but the impressive stats don't tell the full story, as in his early playing days for Real Sociedad he wasn't as prolific and he is recently. In his last three league campaigns, he has netted 22, 16 and 19 goals.
Kylian Mbappé – Mbappé is currently on loan at Paris Saint Germain from Monaco with PSG obliged to make the deal permanent for a whopping £166m. The 19-year-old was voted the 2017 'Golden boy' which is awarded to Europe's best player under the age of 21. The forward is very fast on the ball with quick feet and is able to dribble past defenders. He is also a prolific goal scorer, last year in all competitions he played 49 games and scored 23 goals, earning an average game rating of 7.63 which is remarkably consistent for such a young player. The young talent is a strong presence going forward but equally adept at creating chances.
Overview of the manager
Didier Deschamps is a former French international who played alongside Eric Cantona. He was part of the squad that won the 1993 Champions League with Olympic Marseille, the first French team to do so. He is one of three captains alongside Franz Beckenbauer and Iker Casillas to lift the World Cup, the European Championship and the Champions League trophy.
As a manager, Deschamps was named Ligue 1 Manager of the Year in 2004. He then led Marseille to win the Ligue 1 title in the 2009-2010 season, three consecutive Coupe de Ligue titles, as well as three consecutive Trophies des Champions.
He became France's coach in 2012, leading the team to the quarterfinals of 2014 FIFA World Cup and the finals of Euro 2016 in which they lost in extra time to Portugal. He is regarded as a good coach but his failure to secure the Euros whilst on home soil was unforgiveable to many French supporters, especially as their opponents Portugal were without their star man Cristiano Ronaldo.
---
Strengths & Weakness
The squad is young and very energetic that even though they may not win this year's competition, they may well see this year's World Cup it as a stepping stone to gain vital experience. That said, only an idiot would write off the desire and impact of the younger players (yes, I'm talking to you Mr Alan Hansen!)
There has often been a very big question mark over the discipline of the French players. This has led to on and off-field scandals which have plagued the national team such as the Patrick Evra incident in which he kicked a fan and was banned by the France football governing body. The worst disciplinary incident was the sex scandal involving Karim Benzema and Mathieu Valbuena that led to both players being banned from international duty. Benzama's omission was particularly damaging to the French considering their lack of goals in recent times.
---
What are France's chances of winning the World Cup 2018?
It would be easy to dismiss France's chances of lifting the trophy in Russia but they do have a nice mix of potential and experience. Pogba loves the limelight and there is no bigger stage in world football than the World Cup. You can also factor in the raw talent of Kylian Mbappé and Ousmane Dembélé along with the experience of Antonio Griezman and N'Golo Kanté. I'm not totally convinced they will be eventual winners but I have a sneaky feeling that they will prove a lot of people wrong. Surprise finalists maybe?
France are regarded as the fourth favourites to win the World Cup behind Germany, Brazil, and Spain. The odds at 888sport are 7/1.