World Cup 2018 – Brazil team preview
Last updated: May 9, 2018 by Leon Marshal
Brazil are the most successful international football team on the planet. They have won the World Cup five times and the Confederation cup four times. The South Americans have never failed to qualify for the World Cup and are one of only four teams in the world including Germany, France, and Argentina to win all the three recognised titles in men's football; The World Cup, the Olympics and The Confederation Cup.
They have also won five Copa America titles, the latest won in 2007 and are currently ranked second in the FIFA World Ranking.
Brazil had their best years in footballing history from 1958 to 1970. During this time, Brazil won three World Cup titles and became the first team to win the competition outside their continent, beating Sweden in the finals to win the 1958 World Cup. In the 1970 World Cup, they fielded what is largely regarded as the best World Cup squad ever, boasting the immense talents of Pele, Jairzinho, Rivellino, and Gérson.
In 2002 Brazil won the World Cup that was held in South Korea, winning all their matches in the tournament. This second golden generation saw a new wave of players who would become legends such as Ronaldo, Ronaldinho, Rivaldo, Cafu, Roberto Carlos, and Lucio.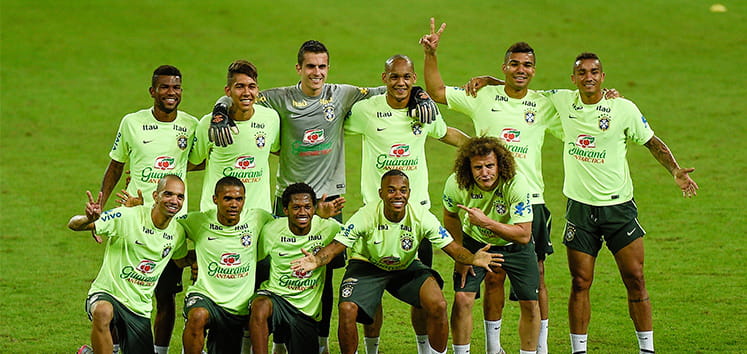 ---
How did they qualify for the World Cup in Russia?
Brazil are in group E of the 2018 World Cup alongside Serbia, Costa Rica, and Switzerland.
Brazil had a virtuoso qualification campaign winning twelve of their eighteen matches and losing only once to Chile. The Samba boys danced through their biggest South American rivals Argentina 3-0 and along with Belgium were one of the first teams to secure their spot in Russia. The manager played a rotational system ensuring many players were selected as he tried to identify his ultimate first eleven. Gabriel Jesus was second on the top scorer list in qualification with seven goals in ten appearances, the same as Lionel Messi but behind Edison Cavani who scored ten goals.
Serbia have a fairly experienced side with stars such as Nemanja Matic, Aleksandar Kolarov, and Branislav Ivanović. They have a great aerial threat compared to Brazil and will be their biggest threat in the group. Switzerland and Costa Rica are also good teams and will try frustrate the five-time winners but you would expect Brazil to cruise through the group stage easily.
---
Brazil's key players
Neymar – Neymar is the most talented player in the Brazil squad. He came third in the Ballon d'Or after Cristiano Ronaldo and Lionel Messi and is expected to take the limelight after the duo retire. Neymar is the most expensive player in the world after making a move worth 222 million Euros from Barcelona to the star-studded Paris Saint Germain. During his time in Barcelona, Neymar formed a formidable trio that led them to win the treble among other titles.
He currently has a foot injury that brought a premature end to his first season in France in which he scored twenty-eight goals and sixteen assists in just thirty appearances. He is expected to recover in time for the tournament and will be the man to watch in Russia in the Brazilian squad.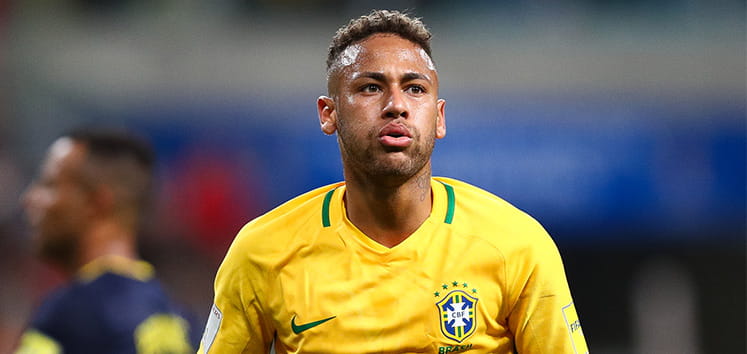 Casemiro – The defensive midfielder has had a magnificent season under Zidane at Real Madrid. They have already won two Champions League titles and are in the final of this year's competition in their quest to win three consecutive European titles. Casemiro has been highly influential in this successful campaign doing all the dirty work in terms of tackles and player marking but also provides a goal scoring threat. He will be very important in bringing stability to the Brazilian defence and aerial threats in winning balls.
Philip Coutinho – Coutinho is a high-profile midfielder who made a big money move from Liverpool to Barcelona. He has quick feet, good turns, and powerful shooting ability with both feet. Coutinho is also prolific in creating goal scoring opportunities and will be the heart of the Brazil team going forward.
Gabriel Jesus – Jesus is set to lead the attacking line for Brazil. He has also had a title-winning season with Manchester City under Pep Guardiola. The striker is a natural finisher with good positioning and ability to score from any position and by any means. The striker is only twenty-one and people are making comparisons with Brazilian legend Ronaldo, who was the top scorer in the 2002 World Cup.
Overview of the manager
The Brazilian team will be managed by Tite who is also a former player for the national team. He is recognised for his demeanour, eloquence, and rhetoric off and on the pitch. Before managing the national team, Tite had a successful spell with Corinthians, leading them to their first Copa Libertadores title and a second FIFA Club World Cup title.
He replaced Coach Dunga for the qualifiers leading his team to seven consecutive wins. Tite has a 78.95% win rate and is responsible for keeping the Brazilian squad together and making them more committed, especially with the number of high profile players in the squad. He is not well experienced at management for the big stage but will surely use his age and playing experience to bring out the best out in his players.
---
Strengths & Weakness
It seems strange to say this about a Brazilian team full of attacking flair but one of the key strengths is their goalkeeping position. Alisson Bekker came into the limelight at AS Roma after the departure of Wojciech Szczesny. He has since proven his worth especially this season making exceptional saves for his team, always keeping them alive and was a key part in leading them to the semi-finals of the Champions League.
The other option for Tite is Ederson Moraes who made a big money move to Manchester City from Benfica. Ederson is a great goalkeeper and has been exceptional for the English Champions in his first season. Not only is his shot stopping first class, his distribution can turn defence into attack in an instant.
Brazil has a huge load of expectation on their shoulders because of the success over the years. There are advantages to having many legends and inspirational players who are still alive and that the youngsters will look up to for advice. The success of the 20 campaigns will surely build their confidence going into this tournament. Their manager is also well equipped in handling the players and will be pivotal in their quest to produce the best from this huge variety of talent.
In the 2014 World Cup, Brazil was knocked out by Germany 7-1 in the semi-finals at home after a defensive meltdown. It will be critical how the team will come back from this disappointing campaign especially on the competitive stage.
Brazil have many options for the Centre Back position but they have not been consistent and solid over the years. David Luiz hasn't had much playtime for his club Chelsea while Thiago Silva has also had a rather disappointing season with PSG, being left out of important games such as the crucial quarter-final against Real Madrid.
Brazil will be depending on the services of João Miranda and Marquinho to lead the defensive line. Dani Alves and Marcelo love going forward and creating chances leaving their positions open and vulnerable. It will be interesting to see how they will cope with their defensive woes.
---
What are Brazil's chances of winning the World Cup 2018?
Normally you would fancy a South American team to struggle in Russia. It is probably as far away from Copacabana both geographically and metaphorically as you could possibly imagine. But this is Brazil! You do suspect that this team are not the living legends of previous Brazilian teams but it would take a brave person to bet against them. They should be there or thereabouts.
Brazil are ranked as the favourites to win the world cup. Their odds to lift the trophy are 4/1 which you can get at Coral.