World Cup 2018 – Belgium team preview
Last updated: May 2, 2018 by Leon Marshal
The Belgium National Team are one the best teams in the world. The team is currently ranked number 3 in the FIFA World Ranking. In 2015, Belgium were ranked the number one international team which is a remarkable turnaround for a team that was ranked 71st in the world as late as 2007, making the Belgians the most improved team of the decade.
They have participated in the World Cup twelve times, the UEFA European Football Championship five times, and the Olympics Football Tournament three times. They have only one major international trophy, the 1920 Olympics Tournament.
Football connoisseurs will remember Paul Van Himst. Van Himst is a Belgian football legend. He helped his team to a third-place finish in Euro 1972, runners-up at Euro 1980, and fourth in the 1986 World Cup. Such was his talent that he was often subjected to heavy tackles, earning him the nickname of Polle Gazon which roughly translates to "Paul Lawn" as he spent so much time laid on the grass after being fouled.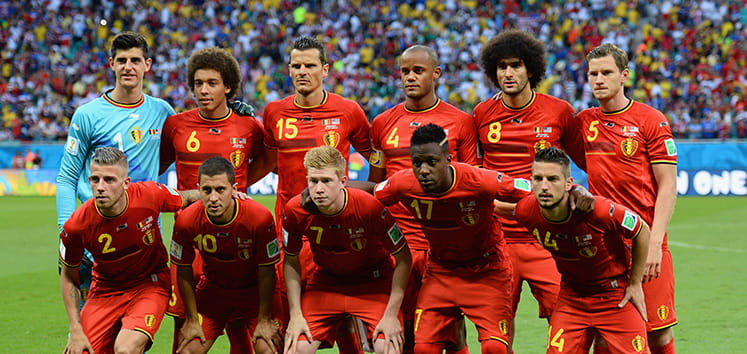 ---
How did they qualify for the World Cup in Russia?
Belgium are in Group G of the FIFA World Cup 2018 alongside Panama, England, and Tunisia. Belgium and England are expected to dominate the group due to the number of high profile players in their squad. England will be making a sixth consecutive appearance and are the only team in the group to have ever won the World Cup back in 1966 when they hosted the tournament. Panama will be in the FIFA World Cup for the first time whilst Tunisia make a return to the tournament after a 12-year absence. This will be Tunisia's fifth appearance in the World Cup.
Belgium qualified by winning their group without suffering defeat, winning nine of the ten qualifiers and only drawing once against Greece who were the eventual runners-up. Belgium amassed 28 points from the possible 30 on offer and had a goal difference of +37.
Romelu Lukaka was the team's top scorer with 11 goals, with team captain Eden Hazard adding 6 goals to the cause. Belgium's best performances during qualification were the 9-0 thrashing of Gibraltar and the 8-1 win against Estonia, hardly top quality opposition but it does show the goal threat that the Belgium team possess.
---
Belgium's key players
Romelu Lukaku – The 6'2″ striker is one of the best in Europe. He plays for Manchester United and has played every single match for the Premier League team this season, scoring 28 goals. He was recently injured in United's 2-1 win against Arsenal but is expected to be fit in time for the tournament. He will be Belgium's first choice striker after a terrific qualification in which he was the top scorer with 11 goals.
Eden Hazard – Hazard is a high-profile playmaker who plays for Premier League side Chelsea. He is rated among the greatest players and has been linked with a transfer to teams such as Real Madrid and Barcelona. Hazard was Chelsea's best player last season, leading his team to win the Premier League. This season he has scored 16 goals and along with Lukaku, he is expected to be the main goal scoring threat for Belgium in Russia.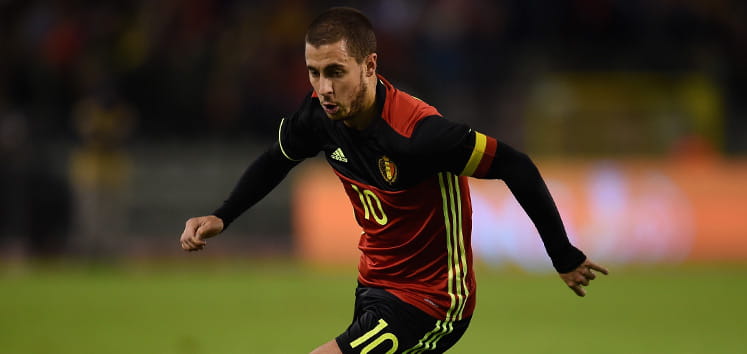 Kevin De Bruyne – De Bruyne is the assist leader in the Premier League with 15. He came second in the Premier League PFA Player of the Season awards, beaten by less than 20 votes by Mohamed Salah. The Manchester City player has put in some outstanding performances throughout the season. De Bruyne is a prolific goal creator from in-play and from set pieces. He will be industrious at the heart of Belgium's midfield and will be relied on to create the goals.
Toby Alderweireld and Jan Vertonghen – The two central defenders play for English side Tottenham Hotspur. They form a formidable partnership that is very solid defensively. Vertonghen's performance this season has seen him named in the Premier League team of the season. His counterpart Alderwield has been side-lined for most of the season but has recently recovered to full health and is expected to feature alongside Kompany in the Defence.
Radja Nainggolan – Nainggolan has had an excellent campaign for AS Roma this season. He is among the key players in their Champions League run which has seen them get into the semi-final where they will be facing Liverpool in their quest for their first Champions League title. Nainggolan may not be the most prolific goal scorer but can strike the ball sweetly from long range.
Overview of the manager
Roberto Martinez is a former Spanish International now turned coach. He will be remembered by English fans for his time in the Premier League when he led lowly Wigan to their first ever FA Cup final victory, the club's first in their history. Martinez also had success with Swansea City, guiding the club to promotion from League One into the Premier League. He also coached Everton, becoming the first manager from outside of Great Britain and Ireland to manage the club in June 2013. He became Belgium's head coach in 2016.
In his first match as Belgium manager, Martinez lost to Spain 2-0. However, he hasn't lost a match since then and Belgium became the first team to qualify for the tournament in Russia. He has a successful win percentage of 70.6%, with a points per match total of 2.35 over 17 games.
Thierry Henry is Belgium's Assistant Coach alongside fellow assistant Graeme Jones. The Frenchman will likely prove an important part of the Belgium coaching staff. He brings plenty of experience to the team being involved with title wins with Arsenal as well as his international experiences. He was part of the national team that won the 1998 World Cup and who were runners-up in the 2006 tournament.
---
Strengths & Weakness
Belgium's strength is that the talent is evenly spread through the team. They have three potential players to choose from for every playing position on the field. Another strength is their abundance of striking options. Alongside Lukaku, there are other stand out strikers such as Michy Batshuayi, Divock Origi, and Christian Benteke. Bathsuayi, who recently moved to German side Borussia Dortmund, has already scored 11 goals in 19 appearances.
The Belgium national team haven't won a major trophy since the 1920 Olympics and it's easy to draw parallels with the great Dutch team of 1974. A team full of quality and potential who won many honours at club level but weren't unable to replicate this success on the international stage. A lack of belief could cost the Belgium team dearly.
There are also question marks over manager Martinez. The 44-year-old lacks experience at international level and this will be his first-ever appearance in a major international competition. Although he led his team to a successful qualification, the World Cup is a different kettle of fish and it will be interesting to see how Martinez handles the atmosphere and pressure in Russia.
---
What are Belgium's chances of winning the World Cup 2018?
Belgium will certainly be a team to watch and will be many peoples' dark horse in Russia. With the quality of players they are blessed with, a top-eight finish should be easily achievable for this squad. Belgium have been phenomenal in the past decade but they need to turn attractive football into tournament wins to really be classed as one of the best teams in the world.
The bookies have Belgium as sixth favourite team to win the World Cup @11/1 which you can get at Bet Bright.