World Cup 2018 – Argentina team preview
Last updated: April 24, 2018 by Leon Marshal
Argentina National Football Team is one of the most successful teams in the world. They are currently ranked fifth in the FIFA ranking behind Germany, Brazil, Belgium, and Portugal. They were ranked number one in the FIFA all-time ranking in March 2007. They have featured in five finals of the World Cup winning the title twice in 1978 and in 1986. Argentina boasts a record 14 Copa America, two confederation cup titles, and two Olympic titles.
Argentina has had great talents in football with legends having featured for the side including Diego Maradona, famous for scoring the hand of god goal that helped Argentina beat England two goals to one on the way to winning the World Cup in 1986. Other legends that have represented Argentina are Gabriel Batistuta, Di Stefano, and Javier Zanetti.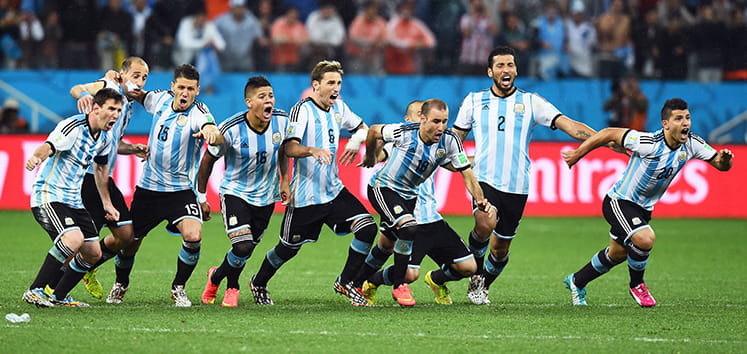 ---
How did they qualify for the World Cup in Russia?
Argentina had a poor qualification campaign losing in four matches to Brazil, Paraguay, Bolivia, and Colombia and drawing seven. They qualified in a dramatic final match of the qualification against Ecuador in which Messi scored a sensational hat-trick to win 3-1. They had earlier conceded early in the half with just 38 seconds on the clock but Messi produced one the most outstanding individual performances in international football history, just when it mattered the most.
The win was only their seventh, but it was enough to ensure they represented South America in Russia alongside Brazil, Colombia and Panama.
Argentina is in group D of the World Cup and face a group that has the potential to be one of the most fiercely contested. Group D contains Iceland, Croatia, and Nigeria.
Aside from Argentina, the strongest team in the group is, on paper at least, Croatia and that will mean that there will be a showdown between Barcelona teammates Ivan Rakitić and Lionel Messi. Croatia are ranked 16th in the world and could prove difficult opposition.
Iceland showed in the Euros what can happen if you underestimate your opponents, reaching the quarter-finals, beating England in the Round of 16. Iceland have five players who ply their trade in the UK with clubs ranging from Burnley to Aberdeen, but it is the impressive commitment and passion they play with that makes them so dangerous.
Nigeria are the remaining team in Group D and actually beat Argentina 4-2 in a friendly match when the teams met in November last year. It wasn't a fluky 1-0 either, a spirited comeback from two goals down to win 4-2 shocked the South Americans.
---
Argentina's Key Players
Lionel Messi – What can you possibly say about Messi that hasn't been said before? A living legend and arguably the greatest footballer of his time. He has broken all possible records for club and country. He is Argentina's all-time leading top scorer and has 5 Ballon d'Or wins, three UEFA Best player trophies, 4 Champions League, 8 La Liga trophies, 5 Spanish Cup titles, 3 Super Cup wins and 3 FIFA World-Club Cup wins to his name.
However, for his country, the only title to his name is the Olympics 2008 Gold medal. He is currently in great goal scoring form with 29 goals, leading Barcelona to their 25th La Liga title and is already in the Copa Del Rey final. He shows no sign of slowing down and will surely bring his electric form to try to add a World Cup medal to his CV.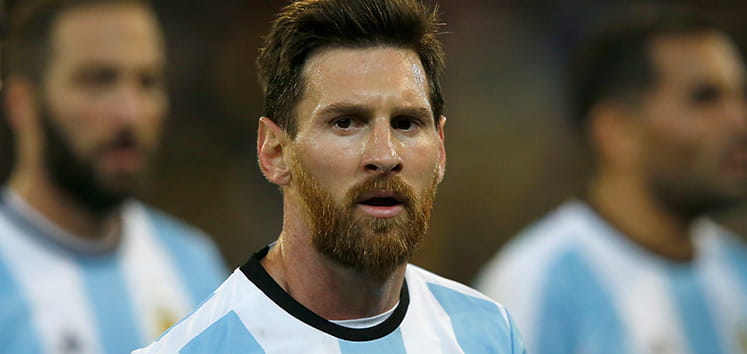 Sergio Agüero – The lethal striker who recently became Manchester City's all-time goal scorer is a very dependable attacker. He has had a successful season leading Manchester City to a League Cup win and a Premier League title. He is expected to lead the line in Argentina's goal hunt in Russia.
Santiago Ascacibar is only 20 but already a regular player in the heart of the Argentine's midfield. Hailed as the next Sebastian Veron, he is expected to feature as their defensive midfield with Mascherano playing as a centre back. Ascacibar has the skill and the ability to be a long-term replacement for Mascherano.
Paulo Bruno Dybala is a 24 years old Juventus forward. He is seen as the suitable replacement for Lionel Messi due to his similarities in playing styles, technique, talent and eye for goal. He is currently placed sixth in the UEFA Best Player of the Year Award. He has also been in fine form and will be a great utility player for the Argentine squad bringing in fresh energy and talent.
Pablo Zabaleta is a 33-year-old defender currently playing for West Ham United in the English Premier League. He spent eight seasons with Manchester City and helped his team win two Premier League trophies, two Football League Cups, and one FA cup. He has featured for Argentina since 2005 and was part of the team that won the 2008 Olympics and also in the team that were runners-up in the 2014 FIFA World cup.
Javier Mascherano is a 34-year-old versatile defender who can also play in the defensive midfield position. He is known for his aggressive tackles and intelligent leadership skills. He spent 5 seasons with Liverpool and secured a move to La Liga giants Barcelona. He has captained Argentina since 2010. He is currently the assistant captain.
Overview of the manager
Jorge Sampaoli is the man tasked with the responsibility of coaching Argentina. The 58-year-old is a former Sevilla Coach who also had a successful spell with Chile. Ironically, Chile beat Argentina on penalties to win 2015 Copa America.
Sampaoli was shortlisted for the 2015 FIFA World Coach of the Year award alongside Pep Guardiola and Luiz Enrique. He has declared he is confident with his squad and has put much praise on his star player, saying Argentina will be a "Messi team" in the World Cup.
---
Strengths & Weakness
Argentina has a great talented squad with almost all their players playing in top leagues in Europe. The likes of Di Maria who is a goal assist master, Kun Agüero a scoring machine and Maestro Lionel Messi among others. Argentina's strength is hugely reliant on whether they can link all the talent in the squad to play as a team rather than individuals.
Argentina has a solid squad going forward, yet their main weakness is their backline. Otamendi has been great for club Manchester City but is not a major physical presence in the backline. Manchester United's Marcos Rojo is also a great defender with good precision in his tackles but has been sidelined with frequent injuries. They will be relying on the experience of Zabaleta and Mascherano to bring stability to their defence.
Gonzalo Higuain is a prolific striker (22 goals in 43 matches at domestic level) but has been rather disappointing when it comes to big games in major tournaments when the pressure is on to perform. The 30-year-old will probably always be remembered for his incredible miss in the FIFA World Cup Final 2014 against Germany.
---
What are Argentina's chances of winning the World Cup 2018?
Any team that boasts Lionel Messi in their ranks should be confident going into the tournament. There is of course the danger of over relying on one player if they are injured or suffer a dip in form but Argentina do have some world class players aside from Messi. Dybala is in scorching form in Serie A, scoring 21 goals in 26 appearances and hitting the net on average every 88 minutes.
The biggest challenge of their Coach Sampaoli is to bring out the best in every other player which will stop the over-reliance on their star man. If He can achieve this, then Argentina will be contenders and a semi-final finish should be the minimum expectation for this Argentina side.
The bookies have Argentina as fifth favourites @9/1 to lift the trophy, which you can get at Coral.