Wenger calls time on Arsenal
Last updated: April 23, 2018 by Leon Marshal
Arsenal fans have been calling on Arsène Wenger to step down for what seems like an eternity now and many were dismayed when the Frenchman signed a new two-year contract last year.
So, when Wenger announced last week his intention to step down as manager at the end of this season it took the football world by surprise. Will a new manager make Arsenal title challengers again or will it be a case of being careful for what you wish for?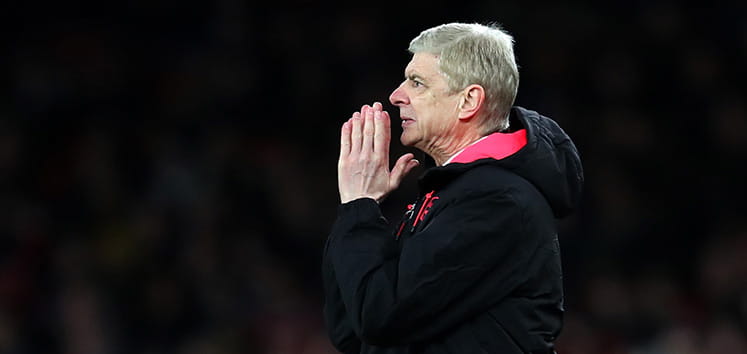 ---
Arsene Wenger Golden Days
When Arsenal part ways with Arsène Wenger at the end of the season it will be the end of a 22-year era with the Frenchman as their team manager. The 68-year-old joined Arsenal in 1996 and was largely unknown on these shores, prompting many newspapers to run headlines along the theme of "Arsène who?" when he joined after leaving Nagoya Grampus Eight.
It wouldn't be long though until everyone knew who the new Arsenal boss was. He started his Arsenal career in blistering form, winning the league and two FA Cup titles in his first two years in charge.
In his time with the club, Wenger led Arsenal to win three Premier League titles and seven FA Cups but it is his team's achievements in the Premier League in 2003-2004 that will live forever in footballing folklore. His team featuring the likes of Sol Campbell, Dennis Bergkamp, Freddie Ljungberg and Thierry Henry did what was thought impossible in the modern era, they went a whole season unbeaten in the league. This was only the second time this had been achieved in English top-flight football (Preston achieved the feat in 1889 but played only 22 league games) and this achievement earned the Arsenal team "The Invincibles" tag.
This predictably earned Wenger a great deal of praise and cemented his place as one of the best managers in the world. Something his modern approach with regards to diet and training had enabled.
---
Financial constraints building the Emirates
For Arsenal to compete with the best in the Premier League they needed to move out of their beloved Highbury Stadium. Highbury was built in 1913 and was showing signs of decay but it was the capacity of only 38,419 that was affecting Arsenal financially and leaving them unable to compete with teams such as Manchester United, whose Old Trafford ground could accommodate twice as many as Highbury.
The club moved from their Highbury Stadium to The Emirates Stadium in 2007. This had financial implications for the club as they locked down their spending to help fund the £390m building of the new ground. As such they were unable to sign high-profile players and eventually this cost-cutting affected performances on the field.
This meant that all the earlier success achieved was overshadowed by a 7-year trophy drought. It was during this period that fans started to lose patience with the manager.
Even when finances improved greatly, Wenger always seemed a reluctant spender, much to the ire of fans who accused him of thinking of the money like it was his own, rather than investing heavily to keep up with the now free-spending teams like Manchester United and Chelsea.
It wasn't long before an ever-growing number of fans were constantly pushing for his exit. Arsenal fans staged protests in streets with placards, boycotting home matches and of course the famous Twitter hashtag # Wenger out.
The team made important signings such as Mesut Özil and Alexis Sánchez significantly improving the team's performance winning three FA cups in four seasons. It was a case of too little too late though, the lack of European success and failure to put in a realistic challenge for the Premier League meant the fans became more united in their quest to kick out Wenger.
---
Arsenal's fickle support
A rather careful manager with his words, Arsène seemed to be even more reserved in his comments about departing the club than usual, but there was a sense of the hurt he was feeling and he aimed a parting shot at the supporters.
He was quoted saying that the club's image is currently not what he had given it over the years and bemoaned the supporters for tarnishing the club with their actions. The club's in-fighting had become the source of amusement for rival fans.
The ironic part of all this controversy is that the fans really appreciate Wenger's efforts over the years, they were just blinded by the recent lack of success. Once Arsène announced his decision to leave, a new sense of unity started building with fans and former players as they started paying tribute to the manager. For many there was even a sense of regret and perhaps fear for the future.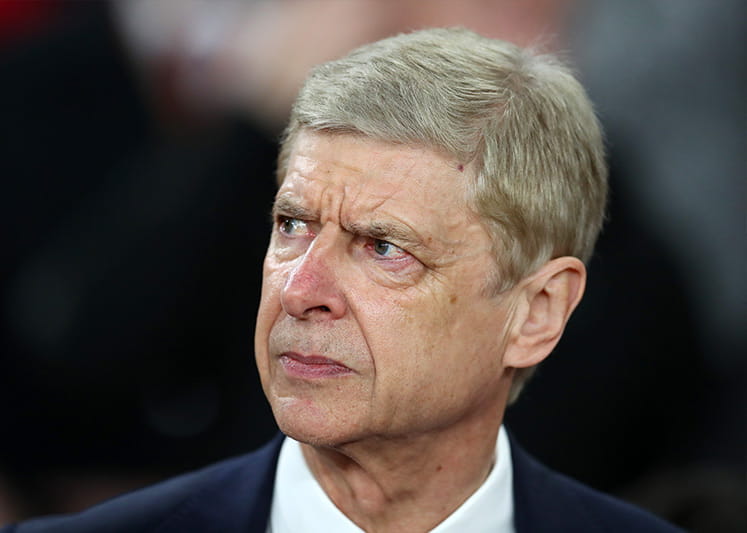 ---
Pinning hopes on Europa League glory
Arsène Wenger's resignation came just days before their crucial Champions League semi-final clash against Athletico Madrid. Arsenal are currently sixth in the Premier League which is their worst position in Arsène's time as manager. They are relying on winning the Europa League as their only hope of playing in the Champions League next season.
The team players led by captain Per Mertesacker expressed their desire to win the Europa cup for their departing manager who has had an outstanding impact on their careers. It would be a fitting tribute to the man who has been in charge of Arsenal for many supporters' whole lives and would allow Wenger a chance to walk out of the Emirates with his head held high.
He is undoubtedly the best manager ever in Arsenal's history, something the vocal majority may soon come to realise once he has gone.
---
Who will replace Wenger?
Once Wenger is out of the picture, the big question is who will pick up the baton? The Arsenal board are clear in the fact that they will hire a manager with the same principles and style of play that has made Arsenal so enjoyable to watch for many years.
The names currently doing the rounds on the sports gossip pages are Carlo Ancelotti, Diego Simeone, Patrick Viera, Mikel Arteta and Rafael Benitez. Although with each passing day this list is getting longer and longer.
Wenger has stated that he isn't finished with management but you would presume that taking charge of another English club might prove too emotional. The smart money would be on a return to France. One thing is for sure, he's unlikely to suffer from a lack of offers.