Seat cushions found during search for Emiliano Sala
Last updated: January 31, 2019 by Leon Marshal
Seat cushions believed to be from the plane carrying missing footballer Emiliano Sala have been found. The Cardiff City new signing was travelling to Cardiff from Nantes when his plane disappeared from radar screens.
The search for missing Cardiff striker Emiliano Sala and pilot David Ibbotson is resuming this week with teams planning on deploying underwater sonar equipment. The search, which is expected to last up to three days will search an area covering four square miles.
French authorities earlier discovered seat cushions near a beach in Surtainville on the northwest coast of France. Britain's Air Accidents Investigation Branch (AAIB) confirmed these are in all likelihood from the missing plane.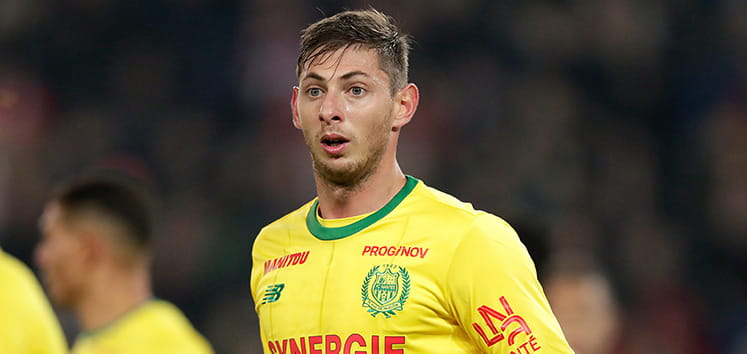 A statement released by the AAIB said they had reviewed the flight path the plane would have followed and taken into account the aircraft's last radar position, they had narrowed the search area to four square nautical miles. The authority revealed that they had liaised with the Ministry of Defence's Salvage and Marine Operations (SALMO) Project Team and specialised vessels will be performing a search to try and locate the aircraft's wreckage.
Emiliano Sala became Cardiff's record signing two-weeks ago from French side Nantes. He was seen as a player who could bring much-needed goals to a Cardiff side that have only scored 20 goals in 24 games this season. His stats in Ligue 1 were excellent, the 28-year-old already hitting the net 13 times, making him the third top scorer, behind Kylian Mbappe and Nicolas Pepe.
The disappearance of Sala has made headlines throughout the world. Chillingly during the ill-fated flight, the Argentinian left a voice message for his father in which the player states he is concerned for his safety. He tells his father that if nothing is heard from him in an hour and a half then to send help. He once again tells his father how scared he is and it looks like the plane is about to fall apart.
Teams were launched from Guernsey when the plane vanished from radar screens and a search and rescue operation took place just off the coast of Alderney. Bad weather hampered the search with volatile winds gusting in excess of 35 miles per hour. The low temperatures meant survival for over a couple of hours was unlikely and after a couple of days without success, rescue teams confirmed it was a recovery rather than a rescue operation. A crowdfunding campaign was launched to raise funds to continue the search and will combine with the ongoing official UK government search.
Cardiff City manager Neil Warnock has admitted the disappearance of the player has hit him hard. The 70-year-old revealed how he wanted to quit the game and didn't even want to get out of bed once the seriousness of the situation became evident. The veteran manager told Sky Sports News that he had been talking to the player on an almost daily basis for a few months and had built a great bond with the player during that time. Warnock went on to express his devastation that Sala would never realise his spoken ambition to play in the Premier League.
Whilst Cardiff's thoughts were understandably on Emiliano Sala and pilot David Ibbotson, football does eventually return back to normal. The Welsh club faced a tough trip to The Emirates to play Arsenal in the Premier League earlier this week on Tuesday.
The game ended in a narrow 2-1 defeat to Cardiff but a great deal of respect must be given to how Arsenal approached this emotional fixture. Tributes were paid to Sala before the game from both sets of players, club officials and supporters.