Pressure mounts on Mourinho
Last updated: August 29, 2018 by Leon Marshal
Marmite manager José Mourinho is feeling the strain. The self-proclaimed 'special one' is increasingly becoming the 'miserable one' and two defeats in three games has ramped up the pressure on José. The bookies have Mourinho as the odds on favourite to be the first manager to be sacked – could this be the beginning of the end for José?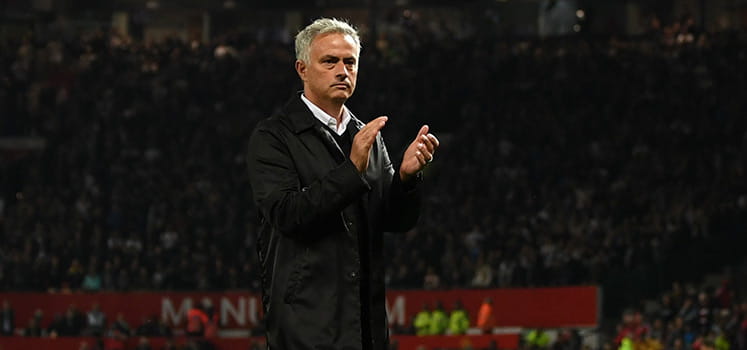 Unless you are a Manchester United fan, you are probably enjoying three courses of schadenfreude right now. With the customary banner bearing airplane already booked for United's next game against Burnley at the weekend, the 20 times league winners currently look more likely to be fighting a relegation battle than challenging their noisy neighbours for the title.
The misery for United fans is compounded by the emergence of bitter rivals Liverpool – who look genuine title contenders – playing free flowing attacking football.
By stark contrast, the defensive mind-set that Mourinho has tried to instil since starting his third spell in English football in May 2016 is at odds with both the supporters and the club's philosophy.
The infamous chant about Ryan Giggs running down the wing would now be replaced with a ditty about Giggs holding his defensive shape, passing back to his goalkeeper and not taking risks. Not quite as catchy I feel.
It's certainly not the fact that this Manchester United team doesn't contain creative players. Paul Pogba, Anthony Martial, Marcus Rashford and Juan Mata are all exciting and expressive players, but whether by design or by accident, they seem petrified and unable to play their natural game.
---
Mourinho and controversy
It's fair to say that Mourinho and controversy are good bedfellows. He has narcissistic tendencies and has perfected the 'it's not me, it's you' excuse. Mourinho has blamed his club doctor, the floodlights, the fans, the board, the media, the pitch, the fixture list, opponents and referees. In fact, perhaps the only person who has escaped Jose's wrath so far is Dorothy the tea lady at Old Trafford. But I do fear her days are numbered if she ever forgets to sugar his "uma bica" espresso.
Further proof, if any was needed, of the narcissistic side of José could be seen after the defeat at Old Trafford to Tottenham. Despite the score line showing 3-0 to the visitors, Mourinho claimed Man Utd beat Tottenham 'tactically', insisting he wasn't to blame.
In an astonishing press conference after the game he held aloft three fingers and asked the reporters if they knew what that meant. He said yes it could be the score line, but it is also the number of titles he has won in England, stating he has won more championships than the other 19 Premier League managers combined. He then stood up saying 'respect, respect, respect' before storming out of the press conference.
It is understandable that players are scared to play for Mourinho. One bad game doesn't mean you get benched, one bad game means you get ostracised. After Eric Bailly had a bad game against Brighton he was dropped from the squad altogether.
It wouldn't be fair to end this article without at least acknowledging José Mourinho's achievements in football, as the guy is a serial winner. So far he has won eight league titles during his managerial career and has done so in four different countries; Portugal, England, Italy and Spain. He has won the Champions League and Europa League twice and amassed 13 domestic cups at the clubs he has managed.
But you only have to look at the difference in love and respect that Klopp at Liverpool enjoys, where despite not winning a single trophy since becoming manager, he is adored. He's humble and oozes passion. Interestingly, despite the lack of silverware, Klopp's odds of being sacked are 100/1, Mourinho's are 10/11 on. Never underestimate the power of a smile.