Is Pogba's return is crucial to United's title hopes?
Last updated: November 16, 2017 by Leon Marshal
It was an underwhelming season for both Pogba and Manchester United last season, but the Frenchman started this season with a bang, scoring two and assisting three goals in his first four Premier League games at the start of the 2017/18 season.
However, in a Champions League match against Basel in September, Pogba picked up a hamstring injury which has seen him out for the last two months. Manchester United continued their winning ways for the next four weeks, but the performances and winning margins were noticeably less emphatic. On the 20th October, United lost their first league game of the season with a shock defeat to Huddersfield. The week before, Mourinho was heavily criticised for his defensive approach which earned a goalless draw away at Liverpool. A fortnight after the defeat to Huddersfield, United had lost again, this time against rivals Chelsea.
Pogba's return is now imminent, with some reports suggesting he could be inline to start this weekend against Newcastle. Mourinho is unlikely to risk starting Pogba, but it does seem United are a better team with the Frenchman playing. But do the stats support this?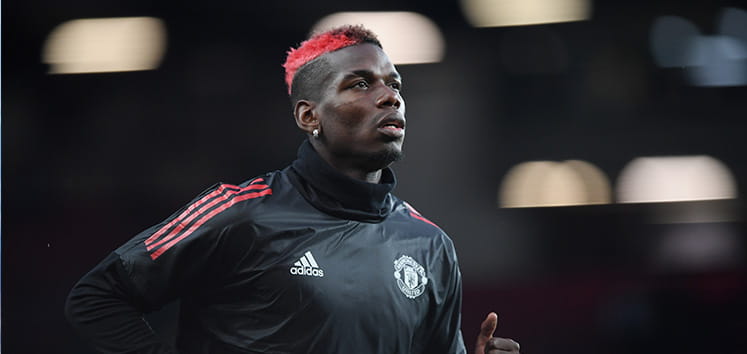 On the pitch
Pogba's arrival at Manchester United last summer broke the transfer records at the time. Many said the Frenchman was overrated and overpriced and after United's performances during his first season back at the club, they were proven somewhat right.
However, despite United's modest finishing position in the league, Pogba was still instrumental to the limited success they had. Last season, Pogba played more successful through balls and key passes than any other United player and only Kevin de Bruyne played more in the league. Pogba also recorded more dribbles, more forward passes and more successful long balls than any other player on the team.
Staying in the 2016/17 season, Pogba was also the most fouled United player and made the most successful passes in the final third of the pitch. He didn't shun defensive duties either and was second only to Ander Herrera – who played a markedly more defensive role – for winning back possession.
Critics were quick to point out that to justify his transfer fee, Pogba needed to chip in with more goals. Last season, he notched five goals and four assists, which is in truth a fairly modest return.
Until his untimely injury, Pogba appeared to have already put any questions about his goal-scoring and creating ability to bed. In the four league games he played, he scored two and assisted three. That's just one less assist than he notched in thirty appearances last season and three less goals. With the signing of Nemanja Matic, Pogba has more licence to roam forward, and he did so with great effect.
This season, United had won three games, lost zero, scored twelve goals and conceded two with Pogba on the pitch. Without him, they've also won four, but lost two and drawn another.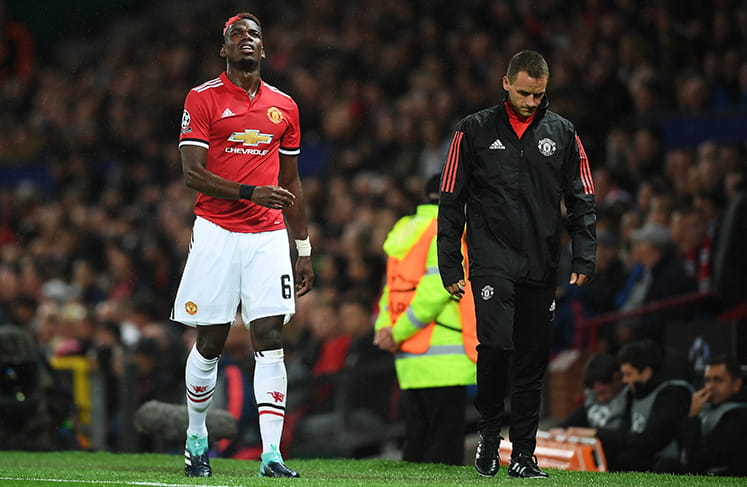 Off the pitch
But it's not just on the pitch where Pogba's influence is felt. His larger than life character is well-known and a good harmony and atmosphere between players off the pitch is vital if a team wants to perform on it.
Pogba undoubtedly brings with him a captain's mentality and has strong bonds with other players. Nothing emphasised this more than a recent video of Pogba meeting up with the Franch national team – despite being injured and unable to play – and having a unique handshake with each squad player.
Among his Manchester United teammates, Pogba has exhibited similar friendships and bonds with other players. His friendship with Jesse Lingard is perhaps the most well-known, with the two concocting numerous unique handshakes and goal celebrations.
While the extent of Pogba's influence in the dressing room will never be fully known outside of it, it's clear that he brings with him a positivity and confidence that will naturally spread to his teammates. There's a great deal of pressure that comes with being one of the world's best and most expensive players, but Pogba has handled it easily.
With the Christmas season fast approaching, the games will rack up with little space in between, and Pogba's return from injury is therefore timely. It remains to be seen whether United can catch neighbours Manchester City, but one thing is for sure; thez have a much better chance of doing so with Pogba in the team.