One Club Wonders – What Price for Loyalty?
Last updated: March 24, 2015 by John Kettle
We see it too much these days, players who kiss the badges on their shirts only to publicly manufacture a move to another club days later. In this article we have a look at the most loyal of servants, the one club players and give you our starting XI. This team wont make the chairman lots of money but these players will stay and fight and what value do you put on loyalty?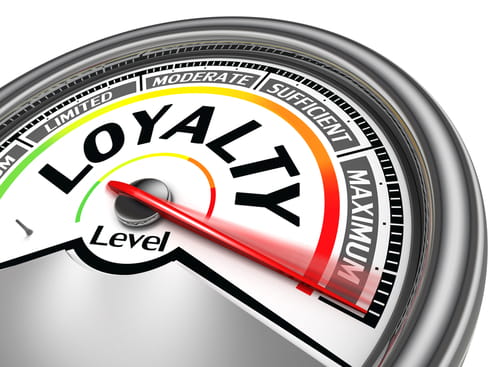 By John Kettle Share this Article: . t
In today's game super agents rule the world! People like Jorge Mendes, who has superstars such as Cristiano Ronaldo, Luis Nani, Angel Di Maria and Victor Valdes on his books has made millions representing his players! But there is another breed, a breed so rare that I am surprised David Attenborough has not done a documentary of them yet! I am of course referring to the breed of players who have only ever played for ONE club. Out of this relatively small list, we have selected our "Loyal Eleven"
Chosen Players
Lev Yashin (Goalkeeper)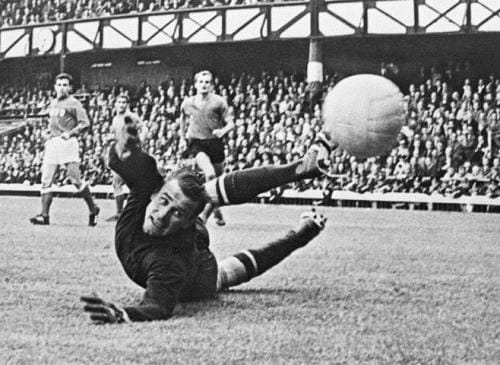 Lev lightning fast reflexes earned him the nickname "The Black Spider" and is widely considered to be the greatest goalkeeper that ever lived. Standing at 6ft 2in he was certainly an imposing sight and his mere presence was enough to put attackers off. His command of his defence reminds us very much of Peter Schmeichel and Lev was perhaps one of the first goalkeepers to bark instructions and play a key role in organising his defence.
Lev spent his entire career at Dynamo Moscow which spanned 20 years and 326 appearances. He also represented the Soviet Union and earned 75 caps. The 1958 World cup in Sweden was the event that brought Lev to the attention of the public and whilst the Soviet Union lost to the eventual winners Brazil it was down to Lev's outstanding goalkeeping that the margin of Brazil's victory wasn't much higher.
He was included in the All-Star Team for that World Cup. In 1963 Lev was the first and to date only goalkeeper to have been awarded the Ballon d'Or. He is estimated to have saved more than 150 penalties in his time and kept 270 career clean sheets.
Paolo Maldini (defender)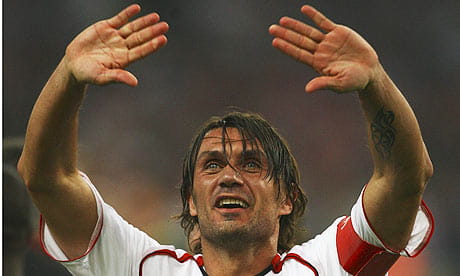 There are a few players in our one club top XI who have earned the right to be called a legend and Paolo Maldini is one of them. In a career spanning 25 seasons at his home city Milan, Maldini won five Champions League medals, Seven Serie A titles, five Supercoppe Italiane, one Coppa Italia, five European Super Cups, two Intercontinental Cups and one FIFA World Club World Cup.
Whilst some players performance dips as they get older, Maldini seemed to go from strength to strength and in fact won the best defender trophy at the UEFA Club Football Awards at the ripe old age of 39. Earning the nickname "ll Capitano" (the Captain) due to his immense leadership skills, Maldini holds the record for most appearances for Milan with 902.
He also holds the record for most appearances in Seria A with 647 and UEFA Club competitions with 174. After he finished playing football in 1985, Milan retired his number 3 shirt to recognise his outstanding contribution to the club.
Jack Charlton (Centre Half)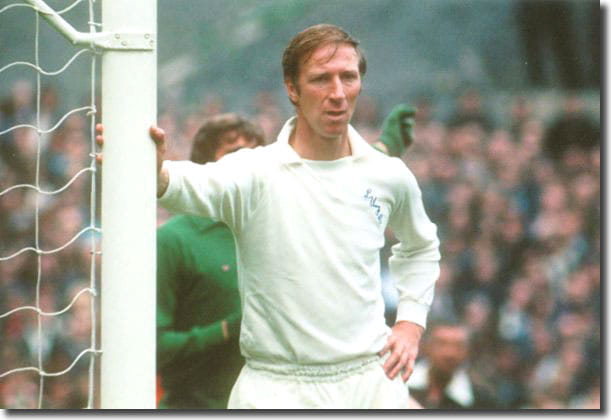 Whilst Jack Charlton may have not won as many team honours as his younger sibling Bobby, like his brother he was a member of the England team that won the 1966 World Cup. Jack spent his whole playing career at Leeds United and was part of the team that gained promotion from the Second division in 1963-64 season, 4 years later he was instrumental in guiding Leeds to the First Division title in 1963 – 1964.
It's fair to say that great footballers ran in the family with his Uncles being Jack Milburn (Bradford Park Avenue and Leeds United), George Milburn (Chesterfield and Leeds United), Jim Milburn (Bradford Park Avenue and Leeds United), Stan Milburn (Rochdale, Chesterfield and Leicester City) and his Mother's cousin was the England international Jackie Milburn who scored two goals in the 1951 FA Cup final and scored a goal in 45 seconds in the 1955 FA Cup Final (which was a record that stood for 42 years).
One of Jack's lasting legacies was that in the 1967 season he developed the tactic of standing next to the goalkeeper during corners, this prevented the goalkeeper rushing out to collect the ball. This was new in the game and caused chaos for the defenders, this tactic is still very much used today.
Tony Adams Defender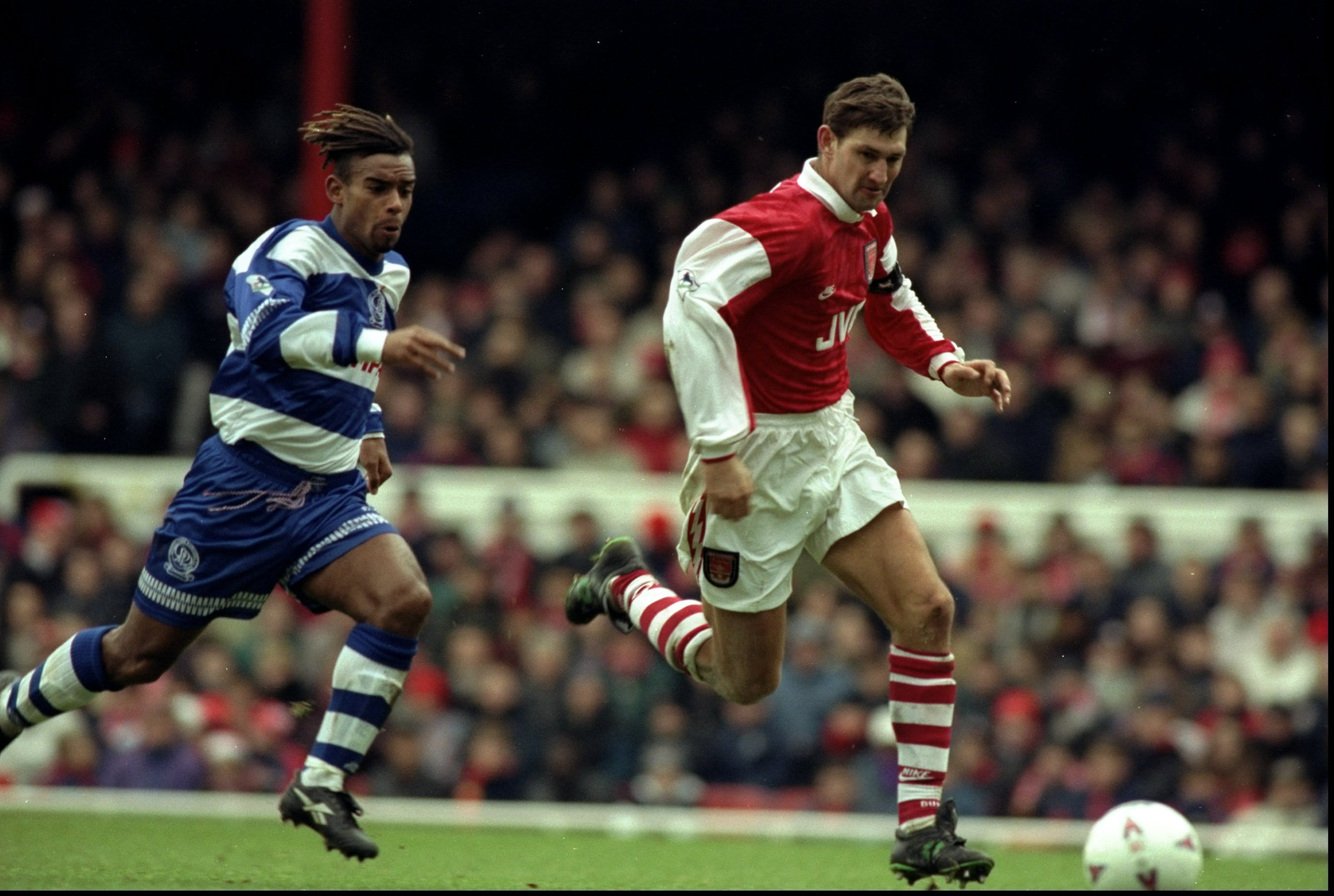 Tony Alexander Adams was born on 10th October 1966 and signed for Arsenal as a schoolboy in 1980, making his first team debut on 5th November 1983. Tony became Arsenal captain at the age of 21 and would remain as captain for the next 14 years.
1992 saw Tony Adams become the first player to captain his side to a League and FA cup double, the very next year Tony was holding the European Cup Winner's Cup. Unfortunately Tony will be remembered not just for his on-field heroics but also for his private life as he battled alcoholism, very much a keen participant on the drinking culture that existed at Arsenal (as well as other English teams at the time) this culminated in Tony Adams being sent to prison for four months for drink driving.
Perhaps the biggest impact of Tony Adams career was the arrival of new manager Arsene Wenger who installed a much stricter regime at Arsenal and this paid dividends as Tony captained Arsenal to two Premiership and FA Cup doubles. To date is the only player to captain a title winning team in three different decades.
Gary Neville (right back)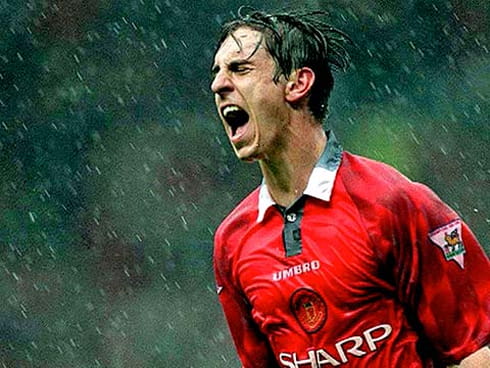 Gary Neville could be considered the "Marmite" of footballers, you either love him or loathe him, there is usually no middle ground. Outspoken Neville joined Manchester United as an apprentice having left school in 1991.
In his first season he captained the youth team to a FA Youth Cup victory alongside an impressive crop of players which included his brother Phil Neville, Ryan Giggs, David Beckham, Nicky Butt and Paul Scholes. These players would go on to become the nucleus of the Manchester United team for many years and was dubbed by the press as "Fergie's Fledglings" in a comparison to Sir Matt Busby's infamous "Busby Babes" of the 1950's.
Gary Neville played 400 league games for Manchester United, scoring five goals. In this time he won eight Premier League titles, two League Cups, a FIFA Club World Cup, an Intercontinental Cup and a Champions League Trophy as well as winning 85 caps for England. Gary caused a bit of a stir when he wrote in his autobiography that he thought his international career had been "a massive waste of time" and that success with United was "always the most important thing".
When Gary retired from professional football he became a football pundit which surprised a lot of people, however Gary has received plaudits regarding his no nonsense style whilst commentating and he has won many people over with his style and detailed analysis of games.
Pepe (midfielder)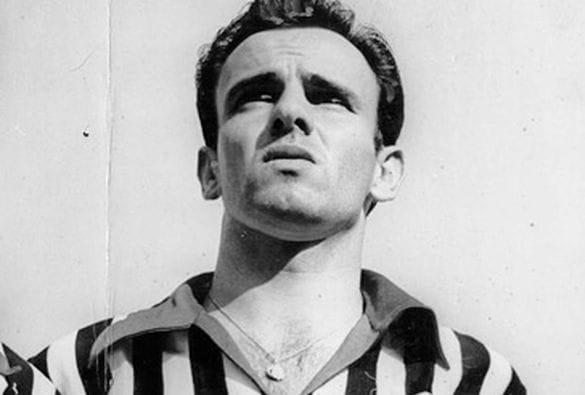 Jose Macia who is better known as Pepe was born February 25th, 1935 in Sao Paulo and played as a left winger for his home town team Santos. Due to a thundering left foot and the fact the stadium he played in was colloquially called "Vila Belmiro " Pepe earned the nickname "Canhão da Vila" (The Vila Cannon).
One of the best quotes from Pepe was that he was "the greatest human striker in the history of Santos – because Pelé is not human".
His league career at Santos spanned from 1954 – 1969 and consisted of 750 appearances in which he scored over 400 goals and in a glittering career has won the Campeonato Paulista ten times, The Taça Brasil five times, twice won the Copa Libertadores as well as the Roca Cup on two occasions, Tournament Rio – São Paulo three times, European/South American Cup winner on two occasions and the Recopa Sul-Americana in 1968.
He played for the Brazilian national team and won 41 caps and scored 22 goals. When Pepe stopped playing he took up management and has managed over 25 different clubs which is an astonishing number.
Paul Scholes (midfielder)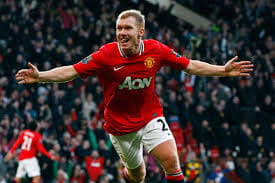 In the current crazy world of spiralling agent fees and mega million deals it's amazing to think that Paul Scholes never even had an agent. He never negotiated for higher wages, he just trusted his manager and signed whatever deal was offered. Scholes made 718 appearances for Manchester United and won eleven Premiership Titles, won 3 FA Cups. Two League Cups, Two Champions Leagues, 1999 Intercontinental Cup, 2008 FIFA Club World Cup and five Community Shield wins.
On-field Scholes was very vocal and despite having great vision and a shot that rivals Bobby Charlton's, his tackling was the weakest part of his game and with Scholes receiving 99 yellow and four red cards in the Premier League alone. Off field though he rarely gave interviews and is famously quite shy.
Scholes did originally retire from football in 2011 to concentrate on coaching but would later reverse this decision and returned as a player on 8th January 2012 for one more season. When he played in his 700th appearance for United he scored against Wigan Athletic, that goal meant he had scored in 18 consecutive seasons, only Ryan Giggs with 21 had scored in more consecutive seasons.
Francesco Totti (midfielder)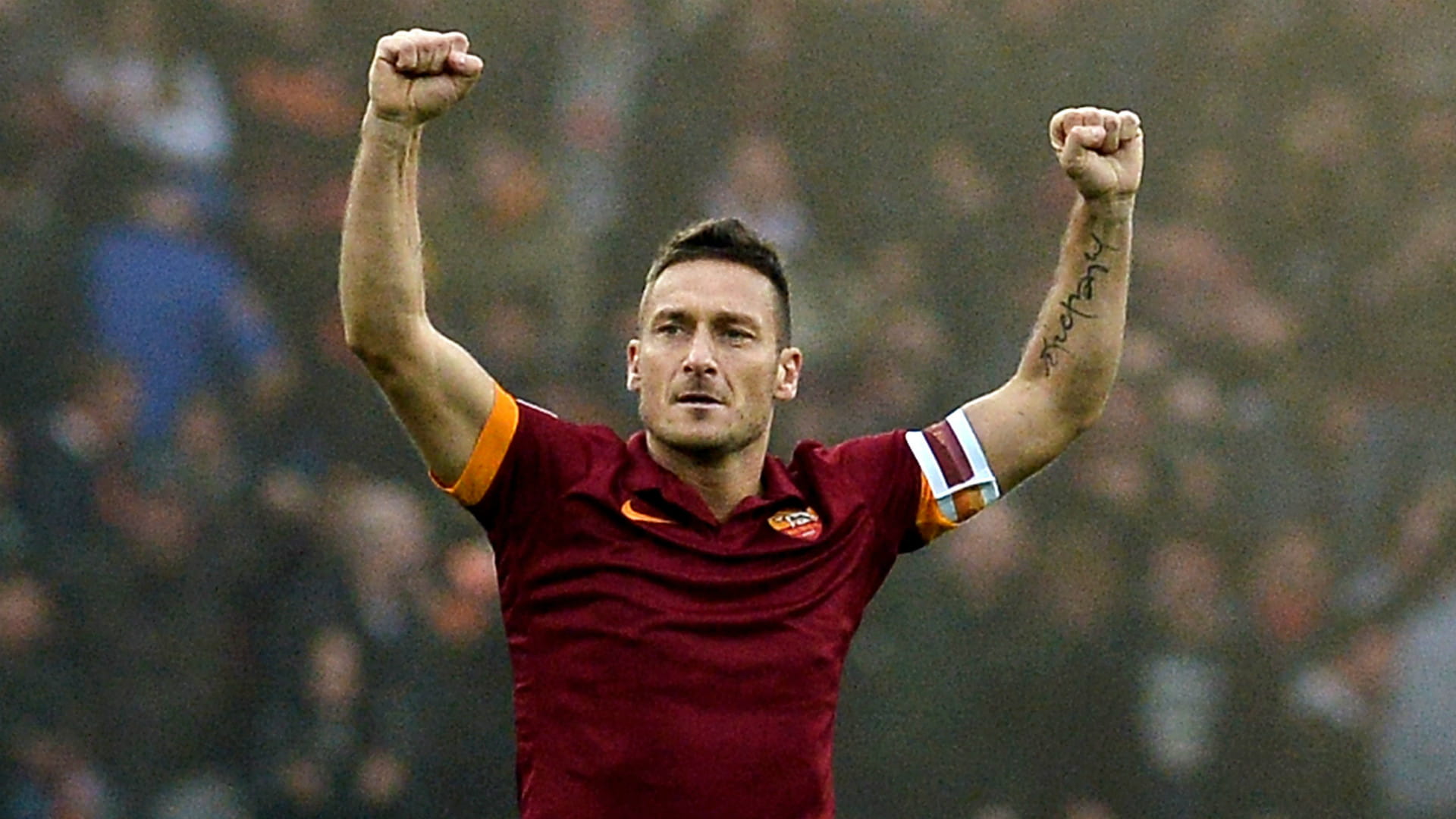 Arguably one of the greatest Italian players of all time, Francesco Totti was born 27th September 1976 and joined the Roma youth team in 1989 after his Mother had refused a lucrative offer from AC Milan. After three years in the youth team, aged just 16, Totti made his first appearance for the first team. He scored his first goal for the first team on 4th September 1994. A year later Totti was a regular in the first team. In 1998 Totti was awarded the Guerin d'Oro (Golden Guerin) which is a prize run by the Italian weekly football magazine Guerin Sportivo which has been running since 1976 and is given to a player who has obtained the best average media rating.
At the tender age of 21, Totti became Roma's captain and he was named the Serie A Young Footballer of the Year in the 1998–99 season. On 17 June 2001, Totti scored in a 3-1 victory that confirmed Roma as Serie A champions. Totti was named Italian Footballer of the Year in both 2000 and 2001 and became a hero of the supporters who appreciated his hard work but also the fact he was a local lad, playing for his local team.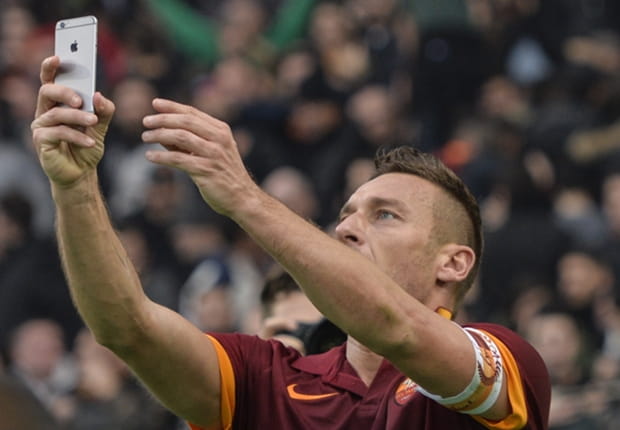 On 30th October 2002, Totti further enhanced his growing reputation by scoring the winner against Real Madrid in the champions league, this was the first time Roma had beaten Real in 35 years! In the Coppa Italia despite scoring 3 goals he was on the losing side against AC Milan. 2003-04 season saw Totti score a personal best 20 league goals and was rewarded by once again receiving the Guerin d'Oro. In December 2004 he became Roma's all time leading scorer with his 107th career goal.
Described as a hard-working, generous, quick and dynamic centre forward, Totti is also famous for his exuberant and humorous goal celebrations. In 1999 after scoring in the final minutes against Lazio he showed a t-shirt with the words, "Vi ho purgato ancora" ("I've purged you guys again"), in reference to the previous derby game in which he helped Roma come back from 3-1 down to earn a draw. As a tribute to his then-pregnant wife, Totti imitated a childbirth scene by stuffing the football under his shirt and then lying on his back whilst his teammates extracted the ball. His ritual of sucking his thumb after a goal began after his son was born and subsequently after the birth of his daughter.
Totti is still playing for Roma and his career to date has seen him play 731 times, scoring 296 times and his honours for Roma include Serie A title in 2000, Supercoppa Italiana in 2001 and 2007 and winning the Coppa Italia on two occasions in 2006 and 2007.
Ryan Giggs (midfielder)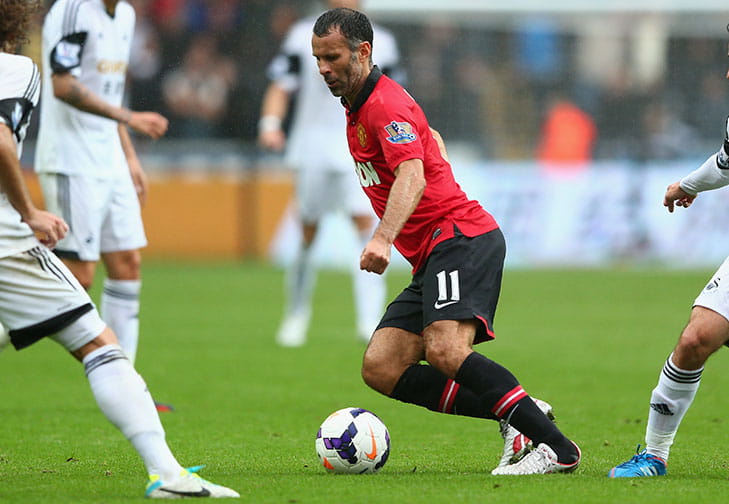 There was absolutely no way we could miss out Ryan Giggs in our list! Ryan is the most decorated player in Welsh and English football history and he also holds the club record for competitive appearances. He made 672 league appearances and went on to win 13 premier league medals, four FA Cup winner's medals, two champions league winner's medals and three league cup winner's medals.
Giggs also holds the record for most assists in the history of the premier league with 271. Ryan Giggs was given an OBE in 2007 and won the BBC sports personality of the year in 2009.
Ryan will perhaps be most remembered for his stunning solo goal against Arsenal in an FA Cup replay in which he took on the majority of the Arsenal defence before unleashing an unstoppable shot over David Seaman. Rumour has it that the FA introduced yellow cards for removing shirts to try and prevent a repeat of Gigg's horrific chest rug display after scoring that goal.
Matthew Le Tissier (striker)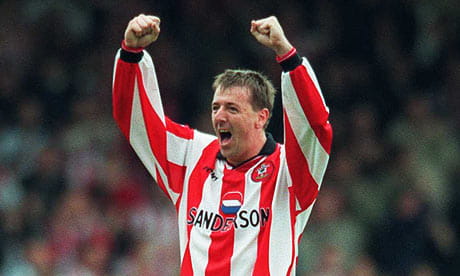 When you have the nickname "Le God", you know you are revered by the fans! This was exactly what the Southampton fans thought of their hero Matt Le Tissier. Born on the small island of Guernsey, which is home to only 65,000 people. Matt signed for Southampton as part of the Youth Training Scheme in 1985, turning professional in 1986. In his first season he scored six goals in 24 league games, including a hat-trick against Leicester City. Le Tissier scored two goals against Ron Atkinson's Manchester United in a game that Southampton won 4-1, 48 hours later Ron Atkinson was shown the door at Old Trafford.
1987-88 was a barren year for Matt as he failed to score in 19 league attempts but the year after he scored nine goals in 28 league games. 1989 was the year when things really took off for the young Le Tissier, not only did he win the PFA Young Player of the Year award but he also was one of the league's top scorers with a healthy 20 goals. This tally was beaten in 1993 when he scored 25 league goals as well as winning the converted Match of the Day "Goal of the Season" award which was due to a stunning 40 yard chip against Blackburn Rovers.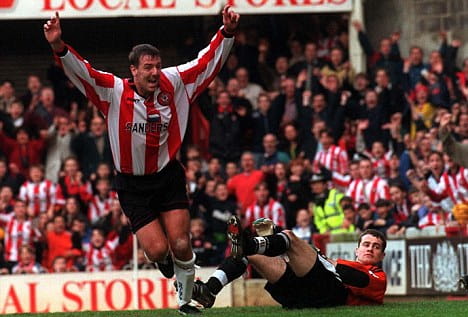 Le Tissier became the first midfielder in the Premier League to score 100 goals and only the sixth player at the time to reach this milestone. Le Tissier was almost single handedly responsible for keeping Southampton in the top flight as they came close to relegation in five of the first seven years of the Premier League. In fact one season they managed to avoid the drop only on goal difference!
What makes Matt's loyalty so special was that he was pursued by lots of top clubs such as Chelsea, Tottenham Hotspurs and Manchester United as well as interest from overseas but he stayed loyal to Southampton. Matt was a prolific penalty taker and he scored a remarkable 47 out of 48 penalties he took for Southampton, Nottingham Forest's Mark Crossley was the only player to save one of his penalties, something Mark states as his proudest save of his career.
Respected by fans and fellow professionals alike, In 2010, Spanish superstar Xavi said that Le Tissier had been one of his childhood heroes, claiming that: "His talent was simply out of the norm. He could simply dribble past seven or eight players but without speed – he just walked past them. For me he was sensational"
Flórián Albert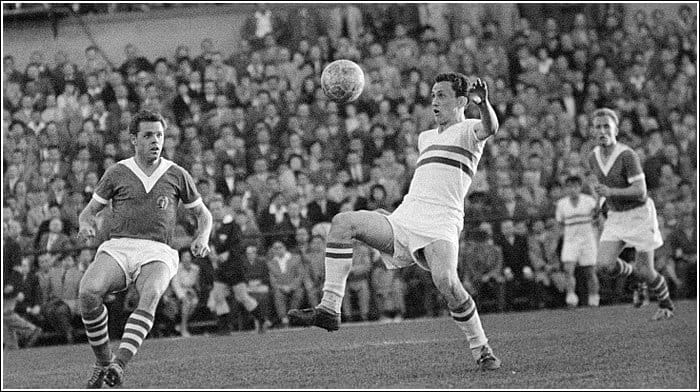 Flórián Albert who was born on the 15th September 1941, was a Hungarian international football player, who later became a manager and sports official. From signing as a youth player in 1952 till his last game in 1974, Flórián Albert only played for one team, Ferencváros. He was spotted by the club when he performed at a talent day held by Ferencváros TC, he was 11 years old at the time.
After signing professional terms he quickly rose through the ranks nd made his denior appearance on 2nd November 1958 against Diósgyőr, he scored 2 goals in this game. He was spotted by the Hungarian national team manager and in June the next year he made his debut in June the next year, in his debut he helped Hungary beat Sweden 3-2 (Sweden had finished in 2nd place in the World Cup the previous year) and was credited with two assists. In the 1962 World Cup although Hungary were knocked out at the quarter-final stage, Albert's tally of four goals was enough to share the Golden Boot Award.
For Ferencváros, their greatest moment was when they won the Inter-Cities Fairs Cup, beating Juventus 1-0. On the way to this victory they beat opposition in the form of AS Roma and Machester United.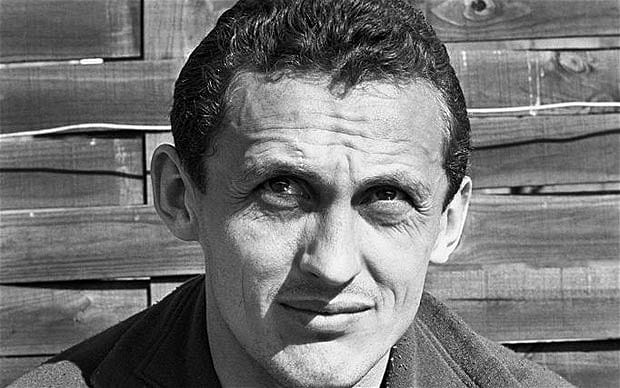 In the 1966 World cup he produced a breathtaking display against a highly rated Brazil team that many still regard as one of the greatest world Cup matches ever. In a must win game they triumphed over the South American team 3-1. He was player of the match and received a standing ovation from the fans after the game. Unfortunately they was unable to overcome the Soviet Union in the next game.
1967 saw Albert win the Hungarian Championship with Ferencváros but it was also a year in which he was awarded the Ballon d'Or. So good was his performances that he received 28 more votes than Bobby Charlton who was runner up. 1968 saw Ferencváros in the final of the Inter-Cities Fairs Cup but this time they was beaten by Leeds United.
His career statistics of 255 goals in 351 appearences and 31 goals in 75 appearences for his country make "The Emperor" a worthy addition to our team. FIFA President Sepp Blatter said about Albert,
"Florian was an extremely elegant footballer with extraordinary skill and ball control. These qualities ensured that he was highly respected by his opponents. I remember his sensational performance in the game against Brazil at the FIFA World Cup in 1966 in England, which cemented his standing as one of the world's top players."
Reserves
Iker Casillas (goal keeper)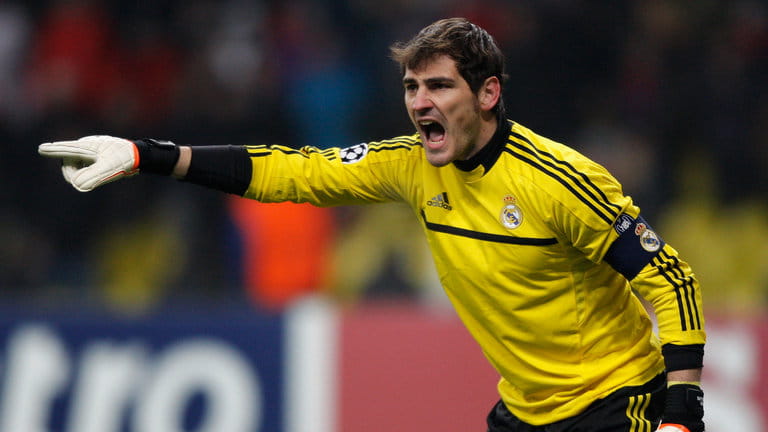 Very unlucky not to get into our starting XI, Iker Casillas has won the IFFHS World's Best Goalkeeper award an amazing five times in a row! Casillas has most goalkeeping appearences in the Champions League, most capped player for his national team and was the first captain in history to life the World Cup, Champions League, European Championship and UEFA Super Cup.
Haim Bar (defender)
Haim Bar, the former Israeli footballer who spent his whole 17 year career playing for Maccabi Netanya, this no-nonsense defender would strike fear into any attacker that he faced. It is often said about Haim that the striker had two choices, to lose the ball or to lose a leg! Playing in the same team as his brother, Haim went on to win 4 Israeli Premier League championships, Israel State Cup, 4 times winner of the Israeli Supercup and 4 UEFA Intertoto cups.
Jamie Carragher (defender)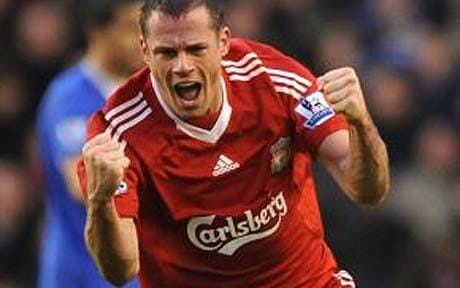 On 9th March 2013, Carragher became only the second player (after Ryan Giggs) to play 500 league games his one club Liverpool. His honours whilst at Liverpool include a Champions League victory, 2 FA cups, 3 League Cups, a UEFA Cup and 2 UEFA Super cups.
Didier Drogba described Jamie Carragher as "the toughest opponent he had ever played against", also describing Jamie as an aggressive but fair defender. Jamie played 737 times for Liverpool and scored 5 goals as well as playing 38 times for England. After his retirement in 2013, he joined Sky Sports as a pundit and has built up a good partnership with Gary Neville which often sees them arguing about football matters.
Daniele De Rossi (defensive midfielder)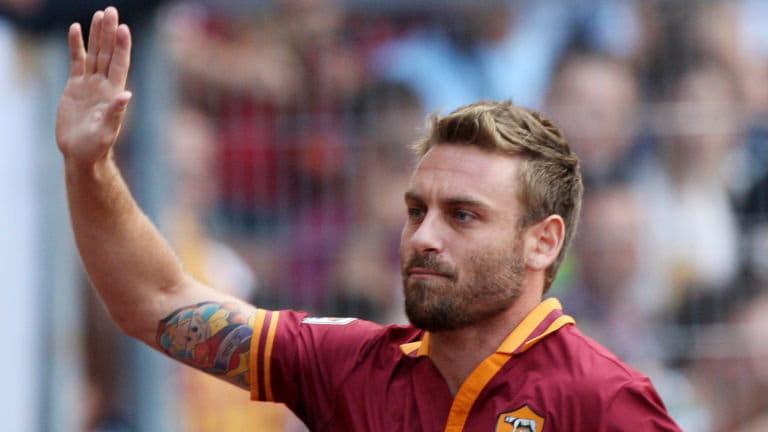 De Rossi joined the youth system at Roma from Ostia Mare and made his professional debut with Roma during the 2001-02 season, making his Serie A debut the following year. With the club, he has won the Coppa Italia twice and the 2007 Supercoppa Italiana. He was named Serie A Young Footballer of the Year in 2006 and the Italian Footballer of the Year in 2009.
Rossi has often been called the "complete midfielder" due to his great vision and passing accuracy, he possesses great strength with an eye for goal. He is a leader on the field and also a more than competent penalty taker. Although he has been accused of being over zealous in the tackle which has led to picking up needless cards, many will say this is due to his never say die commitment to the team.
Santiago Bernabéu (striker)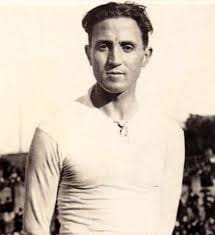 We have all heard of players having a statue outside the ground they were famous in, Santiago however had a stadium named after him! The Bernabéu is synonymous with attractive, free flowing football as this is what Santiago brought to the club both as a player, later as the manager and finally as the club president.
As a player he scored more than 340 goals in 689 appearances for the club, having joined the Real Madrid youth ranks at 14 years old. His later vision as the president of Real Madrid would shape football for years to come, Bernabéu met in Paris with Bedrignan and Gustav Sebes and created what was at first a loosely-constructed exhibition tournament played among invited teams, in time this idea would eventually become the Champions League. The Champions League is the world's premier club competition.
Manager – Willie Maley – Assistant Matt Busby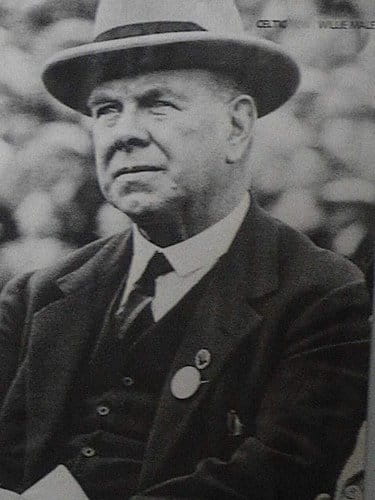 It was a tough decision who we should have to manage our "loyal eleven" team! We had two main contenders, Willie Maley and Matt Busby. In the end we had to go with Willie mainly due to his great win percentage but we are sure Matt can give him some advice if he ever needs it!
Willie Maley managed Celtic from 1897 to 1940 which by anyone's standard is an awfully long time. It's not just longevity either with a win percentage of 64.49% with only 258 loses in 1,611 games. He also won 16 Scottish First Division titles, Won the Scottish Cup 14 times as well as being 14 times winner of the Glasgow Cup winners and one Empire Exhibitions Cup which in case you are wondering was a competition staged only once to commemorate the Empire Exhibition, Scotland 1938.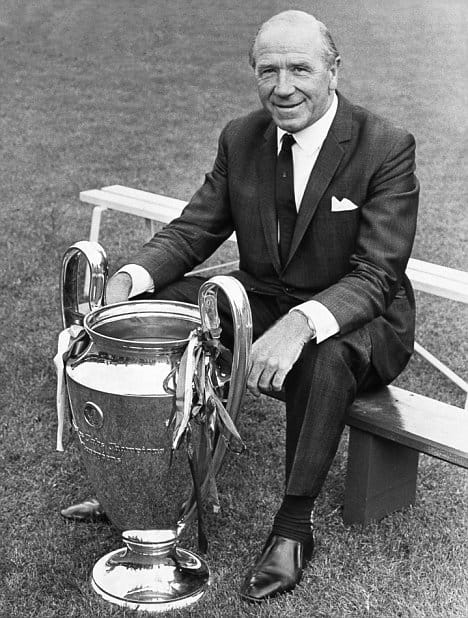 Sir Matt Busby managed Manchester United from 1945–1969 & 1970-1971, what was great about Matt's reign was that when he took over United, Old Trafford was bomb damaged and there was no money to spend. He assembled a great team but had to then rebuild a new team in the aftermath of the Munich Air Disaster which killed eight players and two other players were injured so severely that they would never play professional football again.
Sir Matt won the First Division with Manchester United five times, The FA Cup on two occasions, The FA Charity Shield on five occasions and the European Cup on one occasion. His win percentage from 1945-1969 was 50.45% with 292 loses in 1,120 games.