Naomi Osaka wins the US Open
Last updated: September 11, 2018 by Leon Marshal
Naomi Osaka became the first Japanese player to ever win the US Open in her first individual Grand Slam title against Serena Williams. It was a youthful David against an experienced Goliath in the US Open final but it was non-sport related topics that took the headlines.
Naomi Osaka produced a stunning upset in the final of the US Open against Serena Williams. Few gave her much of a chance but 20-year-old Osaka was more energetic, made fewer mistakes, had the better serve and made untiring runs to close down most of the shots thrown at her that made the youngster a deserving champion.
Her game frustrated the 23-Grand slam winner. The twentieth seeded player landed powerful ground strokes which continually caused all kinds of problems for the former world number one who is 16 years Osaka's senior.
Naomi Osaka stunned Williams by taking the opening set 6-2 in just 34 minutes. She would then wrap up the match 6-4 in the final set for the win. Unfortunately for Osaka, Williams became embroiled in an angry confrontation with the umpire, which led to loud booing and jeering when Osaka won the match.
The young Japanese sensation has a stunning winning record; 31-0 when taking the first set this season. She kept her calm despite all the drama and consistent booing by the crowd to see out the victory against her hero and a player she idolised in her young age.
It was perhaps fitting that it was Osaka's hero who pleaded with the crowd to stop them venting their anger towards the first time winner. Asking the crowd to stop being hostile she asked them to join her in congratulating the new champion.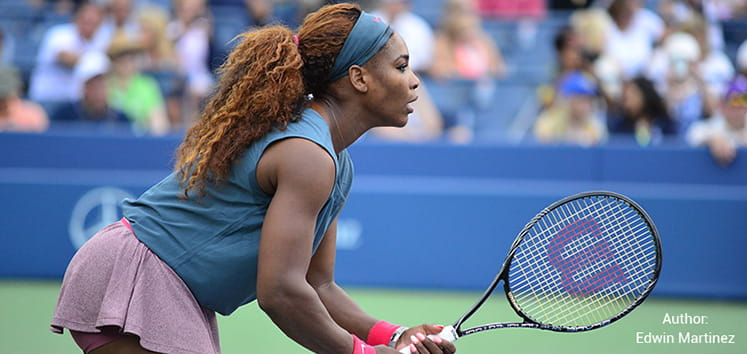 ---
Serena vs Ramos
Carlos Ramos, who is a notoriously strict chair umpire, became the centre of many morning debate shows in the UK. His 'jobsworth' interpretation of the rules of tennis divided opinion. On one hand rules are rules but on the other, a little word in the ear can also work wonders.
In the second set, Ramos spotted Patrick Mouratoglou sitting in Williams's box giving hand gestures (his hands six inches apart moving in a forward motion that could be interpreted as coaching on how he wanted his player to move).
William's was adamant she hadn't been coached but the violation given against her incensed her so much that a penalty point was given against her for racquet abuse soon after. Serena's temper really boiled over when she was given a game penalty for calling the umpire a thief.
Serena complained to the umpire that men do it all the time without being penalised. Serena also said that she was prepared to make this stand so other players after her wouldn't have too. It's fair to say social media has been divided over the matter, some hailing Williams as a feminist campaigner, others being less sympathetic and accusing her of being a sore loser; throwing a tantrum in a game she was losing against a much younger player, who played the game of her life.
It's interesting to see if the stats back up Serena's claims. The tournament saw ten women and twenty-six men punished for code violations. Fourteen men and five women were fined for racquet violations. Three men and three women were penalised for audible obscenity. Four men and one woman were penalised for poor conduct. Five men were fined for time delays.
Serena was one of two women penalised for on-court coaching with Slovakia's Dominika Cibulkova being the other culprit. No male player was penalised for the offence. The stats don't really show a positive bias towards male players.
This is of course not the first time Serena has fallen foul of the tennis authorities in her long and distinguished career:
In the 2009 semi-final against Kim Clijsters, Serena was penalised for threatening a line judge and subsequently fined. In 2011, during the finals loss to Sam Stosur, she called the umpire Eva Asderaki "a hater" and "unattractive inside" for giving a hindrance penalty against her.
And while Serena has been fined £13,100 for the violations in the tournament, her earnings in prize money for making it to the final are £1.43m, so it's more a token punishment than one of any financial impact.
It is Naomi Osaka who is the perhaps the biggest loser. She won, yet in living memory that won't get the column inches. However, if the youngster continues this stunning match play, then it's only a matter of time before she makes the headlines regularly on her own merit.