McGregor Takes On Mayweather In The Fight Of The Year
Last updated: August 24, 2017 by Leon Marshal
Fight details
. . .
| | |
| --- | --- |
| Fight Time: | Saturday, 26 July |
| Venue: | T-Mobile Arena, Las Vegas |
| Coverage: | Sky Box Office |
| Weight Class: | Light middleweight |
| Referee: | Robert Byrd |
| Glove Size: | Eight Ounces |
| Total Revenue: | Up To $500 Million |
It's not often in sport that we get to see fantasy scenarios play out. As sports fans, we've often asked questions that ponder on what would happen if elite-level competitors tried their hand at a different code: "Would David Beckham make it as a kicker in the NFL?", "Would an Aussie Rules player ever be able to make it playing rugby?" or "Would Usain Bolt be able to win a gold medal in the 400 metres ", are just a few of the hypothetical situations that many of us have debated in the pub over a pint or two. This Saturday, though, after months of hype, speculation and media frenzy, two fighters who have dominated their respective disciplines will go toe-to-toe in what is shaping up to be a historic showdown.
The faceoff, or the Money Fight as it has also been coined, has been met with mixed reviews from many influential figures in the world of combat sport. In boxing circles, the consensus is that McGregor doesn't stand a chance: How could he? No one can deny McGregor's talent inside the octagon; he took the UFC by storm in his first two years as a competitor, winning 13 fights in succession between 2011 and 2015, and became the first fighter in the history of the sport to hold the championship belt in two weight categories. This time, however he goes up against a true master, Floyd Mayweather Jr, one of the greatest boxers ever to have lived. Money Mayweather has had a stellar career that boasts 49 wins from 49 and championship belts in over five divisions.
He's a supremely experienced operator whose slick, cunning defence and deft counter punching has seen him topple some of the best fighters of his generation, including Manny Pacquiao, Miguel Cotto, Shane Mosley and Oscar De La Hoya. Even though McGregor is himself a brilliant striker with formidable timing, balance and power – not to mention a shuddering left-counter – that has seen him devastate the UFC, you have to wonder what kind of chance he stands against someone who has already achieved legendary status.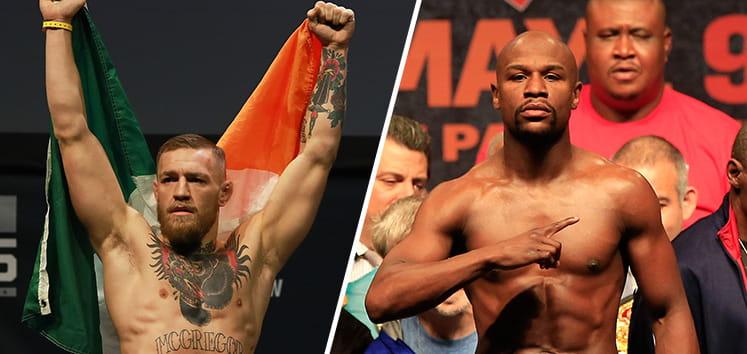 Although this is strictly a boxing match that is to be fought under Queensbury rules, many pundits and sports experts have speculated that the bout will have long-term effects on both sports. UFC/MMA undoubtedly has far more to gain than boxing; the media attention that has surrounded the fight has pushed the sport into the limelight and enhanced its mainstream appeal, causing many who would never have given it a moment's thought to stand up and take notice and even consider renting the fight on pay per view – not bad considering that just a few years ago it was banned in a number of U.S. states and widely criticised for its brutal nature.
Boxing on the other hand has increasingly been perceived as a sport in decline. Alleged corruption, countless organisations claiming numerous champions at every weight category and the lack of quality in the heavy weight division has called into question the credibility of the sport. Should Mayweather win on Saturday, as most expect him to, then he'll restore some much-needed pride to the code and silence all those that claim that MMA/UFC fighters the kings of all combats sports. If he loses, he'll relinquish his unbeaten record and spark even further debate as to whether boxing can continue to reign supreme as the number one fighting sport in the world.
---
Latest News
The victor will be blessed with the new WBC 'Money Belt'. It contains 3,360 diamonds, 600 sapphires, 300 emeralds and 1.5kg of solid gold, all encrusted onto alligator leather.
Floyd Mayweather insists this will be his final time in the ring, coming out of retirement to go ahead with the fight, he said "I've promised my children and I've promised the people around me that this is the last one.
Dan Hardy dismisses claims that Connor McGregor will not make the 154lb light-middleweight limit. "Conor will have a perfect plan to get down to weight, he won't miss the weight.
Bookmakers are anticipating records to be broken with more than FIVE MILLION bets to be placed on the bout before the final bell, making it the biggest boxing event of all-time.
---
---
Career Stats
Floyd Mayweather Jr.
Conor McGregor
"Money"
Nickname
"Notorious"
49
Total Fights
24
49
Wins
21
26
Knockouts
18
0
Losses
3
15
World Titles Won
5
5
Divisions Won
2
Orthodox
Stance
Southpaw
46%
Successful Strike Rate
48%
68kg
Weight
70kg
1.73
Height
1.75m
72′
Reach
74′
Floyd Mayweather Sr.
Trainer
John Kavanagh
72
Pay-per-view bouts
74
If Mayweather is victorious on Saturday he will overtake the legendary Rocky Marciano's professional record of 49 wins. Mayweather, who is currently drawn with the late Marciano with 49 wins from 49, would go down in history as the boxer with highest number of professional wins with 50 from 50.
In the latest press conference in Nevada earlier this week McGregor seemed to be brimming with confidence. He expressed his happiness at how his training camp has gone and was adamant that he's ready to go the distance if need be.
Mayweather is so confident of the result on Saturday evening that he's planning on betting on himself. Rumour has it that he's going to wager in excess of $5million on the fight not to go the distance.
McGregor's nutritionist George Lockhart has made very clear that the challenger will have no problem making the weight, despite claims from Mayweather that he's a lot heavier than he should be just a few days out.
---
Unique Odds Offers
The Best Bets Out There!
Bookmaker
Special Bet
Odds
bet365
McGregor to knock Mayweather out
7/1
Ladbrokes
McGregor to be disqualified
7/1
Coral
Mayweather to win 120 -108 on all 3 scorecards
10/1
---
Conclusion & Betting Tips
Mayweather v McGregor has captured the attention of the entire sporting world, a showdown between a man widely regarded as the greatest exponent of the sport, against an inexperienced boxer hailing from the UFC. McGregor, firmly tipped as the underdog going into Saturday night, appears to be oozing in confidence; at a recent press conference exclaiming "I guarantee I will knock him to the canvas within 1 round, maybe 2" and much more similar rhetoric. Throughout this often ugly and played out build-up, Mayweather has attempted to remain aloof from these cocky jibes, he is a man who is confident in his own ability and rarely loses the cool composure he often displays when breaking down opponents in the ring. There have been many intriguing contests throughout the history of Boxing, but the unorthodox nature and hype surrounding the August 26th bout suggests this is surely one of the most heavily anticipated. Whether or not you agree with the shameless glorification of money, image and bravado – this is a sporting spectacle that cannot be missed.
Our Best Tip
Bookmaker odds are overwhelmingly in favour of a comfortable Mayweather victory. But if you're a punter that likes going out on the limb and taking a chance there's some great value to be had across the board for a McGregor victory and or knockout. Head over to William Hill for some top prices.