Manchester City become champions of England
Last updated: April 16, 2018 by Leon Marshal
They say there are few certainties in life with death and taxes being the exception. This season in the Premier League, we witnessed another certainty, as Manchester City were proclaimed champions. A fine win against Tottenham along with closest rivals United losing against bottom club West Brom ensured City's fifth top-flight league title.
In all honesty, the race for the Premier League was over a long time ago and it has been a case of when not if since perhaps the turn of the year. But the wait is finally over and Manchester City are justifiably the kings of England.
City's players such as Sergio Agüero, Raheem Sterling and the irresistible Kevin De Bruyne have all played their part in a team that has swept away all before them in their quest to win City's third Premier League title in seven seasons. It is the fifth time that City have secured the English top-flight league title.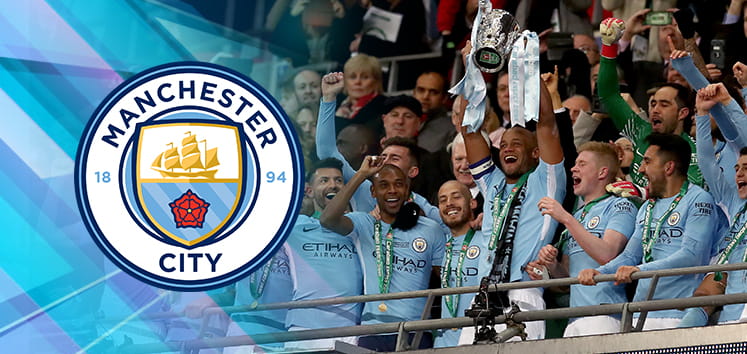 They may have West Brom's victory away at Manchester United to thank for the timing of the championship but with five games of the season still remaining, only the most optimistic of optimists would have predicted anything other than a City title this year.
Pep Guardiola's team had a fantastic first half of the season, drawing only two games against Burnley and United and winning almost all of the rest of the matches. Indeed, it wasn't until January that City lost their first match to an outstanding Liverpool. Before that defeat, it looked a distinct possibility that City could remain undefeated all season.
Liverpool would prove to be a thorn in City's side as they went on to beat City home and away in the quarter-finals of the Champions League. But, in the Premier League, City had things pretty much their own way all season. Even a surprise defeat by Manchester United at home only served to delay the title celebrations for a week.
When Pep first took over at Manchester City last year, he labelled his first season at City as a 'disaster'. Failing to win any silverware and finishing the league 15 points behind eventual winners Chelsea.
Pep realised that the defence needed strengthening and hit the transfer market hard. Spending £58.50m on Aymeric Laporte at centre-Back, £51.75m on left-back Benjamin Mendy, £45.90m on Kyle Walker at right-back and £27m on Danilo also at right-back. He also strengthened his midfield with the £45m acquisition of Bernardo Silva on the right wing and added £36m goalkeeper Ederson. Including players returning from loan, City had an incredible 32 arrivals. This was offset by 30 departures with many joining clubs on loan but did include names such as Wilfried Bony, Kelechi Iheanacho, Joe Hart and Aaron Mooy. That all meant a net spend over the summer and winter transfer windows of nearly £200m.
City's record breaking season
City equaled Manchester United's record in the 2000/2001 season for the earliest team to win the premier league with 5 games remaining. City could yet break more records:
Manchester City achieved 902 passes in their 1-0 win against Chelsea breaking their own record of 843 passes in a single game against West Brom.
They set a record for Consecutive Premier League wins to a total of 18, a record previously held by Chelsea who had 16 consecutive wins.
Ilkay Gündoğan set a record for most completed passes by a player with 181 touches and 167 successful passes.
Chelsea in the 2004/2005 season won 15 away matches under Jose Mourinho. City are on course to surpassing this record with 14 away wins already, with two away matches to play against Southampton and West Ham.
In the 2004/2005 season, Chelsea won the Premier League with a record 95 points. Manchester City already have gathered 87 points with a possible 15 points to play for in the remaining 5 games.
City currently have a 16-point lead at the top, the record is held by Manchester United in the 1999/2000 season who had an 18-point lead ahead of Arsenal.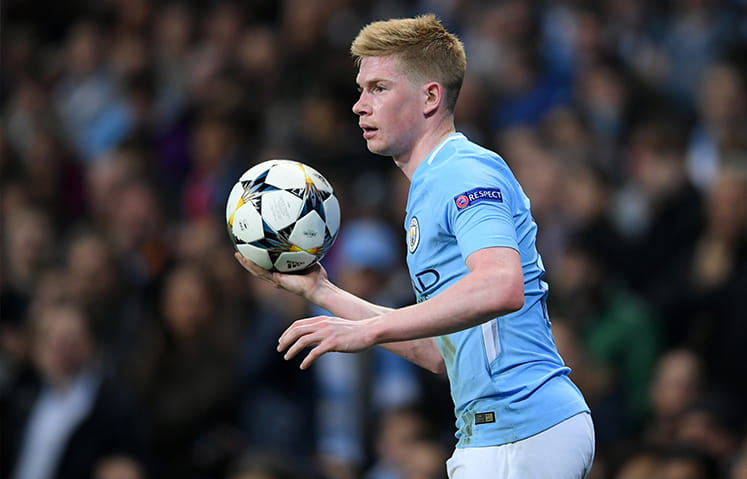 City's transformation and key players
Pep's Manchester City style of play is very similar to his Barcelona days, playing the tiki-taka way of play. Although he publicly states he 'loathes' passing for the sake of it, there is little doubt that his team's passing game has been the key this year.
To date, City have made 24,193 passes in the Premier League. Second in the stats is Arsenal on 20,799 passes, a difference of an extra 3,394 passes. That equates to approximately 102 extra passes per game.
Leroy Sané has been absolutely amazing for Manchester City this season. This has resulted in Sané being shortlisted for the both the PFA Player of the Year and also for the PFA Young Player of the Year Shortlist. The 22-year-old scored 9 goals and provided 12 assists in the Premier League this season.
Nicholas Otamendi, the Argentine defender, was the most consistent player for Manchester City. He featured in 32 of the 33 matches played so far scoring 4 goals. His individual tackle success rate of 74% helped his team keep 13 clean sheets. He is also the most successful passer this season with 2902 complete passes.
Kevin De Bruyne and David Silva, the two prolific midfielders, were the heart of the Manchester City team. They are both shortlisted for the PFA Player of the Season award. Kevin is the assists leader with 15 assists and 7 goals while David has 11 assists and 8 goals.
The numbers don't really reflect the kind of season the two have had especially standing out against the big teams with De Bruyne scoring the winner in the 1-0 win against Chelsea and David Silva scoring the first goal against Man United in the 2-1 win.
Fabian Delph can claim a lot of credit for his versatility. Record signing Benjamin Mendy was injured early in the season. Delph filled the void and was outstanding in the position. He even redefined the play of the left back to playing two roles, one as a holding midfield while the team was attacking but then switching back to his original position while the team was defending.
The question on everyone's mind is if this is the beginning of a period of Premier League dominance at Manchester City? With a reputed £200m to spend in the summer, Pep has shown he doesn't spend huge sums on one player (relatively of course) but spends well. The bookies are rarely wrong, worryingly for the rest of the Premier League they have City to retain their title at 8/11 on!