Kanté signs new 5 year deal at Chelsea
Last updated: November 26, 2018 by Leon Marshal
Chelseas N'golo Kanté has signed a new deal that will keep him at the club until 2023. The former Professional Footballers' Association Player of the Year has agreed to terms that will extend his stay at Stamford Bridge for five years.
One of the nice guys of football, Kanté has won many admirers off the field with his insistence on paying the full amount of tax and National Insurance on his wages. When Kanté's transfer to Chelsea from Leicester was confirmed, an offshore bank account was set up to enable payments for the player's image rights to legally avoid tax liability.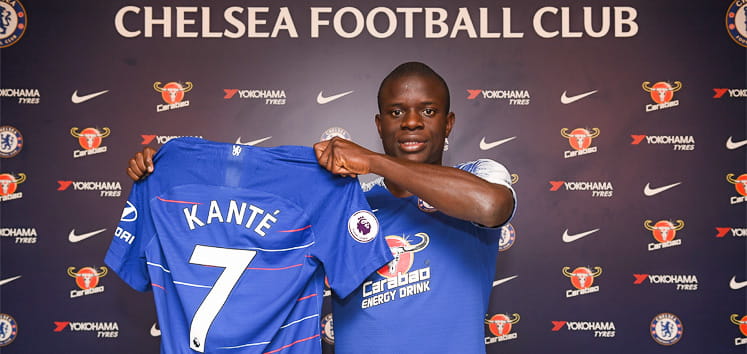 These agreements are common in football but Kanté vetoed this idea, insisting he just wants a "normal salary". This gesture will see the player pay £564,000 per month in taxes as well as £305,000 in National Insurance contributions. UK newspapers were quick to point out that the French international contributes more to the country that he resides in than global corporations such as Amazon and Starbucks do.
At barely over five foot, the diminutive Kanté draws comparisons with the legendary Gordon Strachan who played like a terrier dog, constantly closing the opposition down and harassing for the full 90 minutes.
Another player Kanté has been likened to due to his style of play is Ji-Sung Park. Nicknamed "three-lung Park" at his time at Old Trafford, while playing for Manchester United, the South Korean left nothing in the dressing room and gave his all on the pitch, qualities that the two players share.
While Kanté has a fearsome reputation on the field, off the pitch he comes across as a humble man, even turning up for training in a Mini Cooper. After a recent Chelsea v Cardiff clash the midfielder missed his Eurostar train back to France so decided to visit a mosque. A fan of Chelsea's bitter rivals Arsenal invited the player back to his house for dinner. Kanté happily accepted and spent a few hours with the men he had just met, playing FIFA, eating curry and watching Match of the Day. Arsenal fan Badlur Rahman Jali said the player, "even had a cup of tea". Incredible stuff, can you imagine Garry Neville sharing a cuppa with a Liverpool fan or vice versa with Jamie Carragher?
---
Kanté' journey continues
It has been a long journey to the top for the 27-year-old though. Just over five years ago, Kanté was plying his trade in France's third-tier Championnat National League with Boulogne. In 2013 he moved to Caen and was ever present in the team that secured promotion to Ligue 1. The next season Kanté showed the tenacious qualities that we have become accustomed to seeing, recovering the ball for his team more than any other player in Europe. These performances caught the attention of Claudio Ranieri at Leicester City.
A total bargain at £5.6 million, Kanté signed for Leicester on the 3rd of August 2015 on a four-year deal and played his first game five days later. Foreign players can often struggle with the pace and the intensity of the Premier League but Kanté hit the road running and was phenomenal in his first season. Achieving the miracle title with Leicester, Kanté made more than his fair share in every department. He made 31 more tackles than any other player (175) and made 15 more interceptions than anyone else (157). In his first season in English football, he played 3020 league minutes, won 3 Man of the Match awards and had an average match rating of 7.61.
Perhaps the most telling tale of the impact of Kanté is how his former team Leicester slumped when Kanté joined Chelsea for £32 million last year. Despite Leicester only losing Kanté from their title-winning side they battled relegation for much of the season.
With Chelsea, the opposite happened. Chelsea went from a team in turmoil to Premier League champions and Kanté became the first outfield player since Eric Cantona to win back-to-back titles with different clubs. The £32 million Chelsea paid for Kanté's services is increasingly looking a bargain.