It's Goodbye Alistair: But How Will Cook be Remembered?
Last updated: February 8, 2017 by Leon Marshal
In the age of social media, it appears as though everyone in the public eye polarises opinion among the masses. From the underachieving Arsenal manager Arsene Wenger to the political tsunami that is Donald Trump, famous faces tend to inspire either awe or disdain and very little in-between.
So when England batsman Alistair Cook stood down from his role as captain this weekend, it was no surprise to see people head online and share their opinions of the nation's longest-serving leader. To say that these were mixed would be something of an understatement, and in this respect attempting to appraise Cook's reign and his legacy is extremely challenging.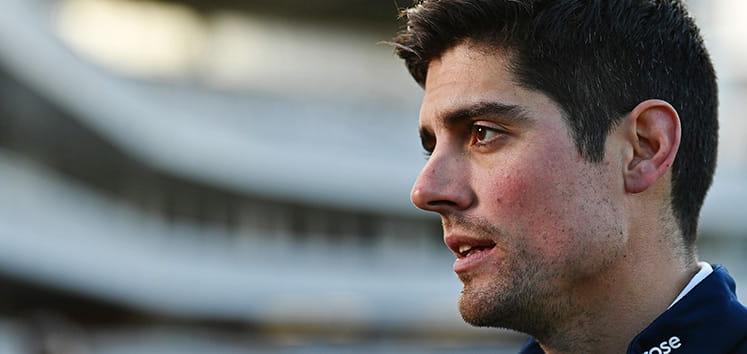 ---
The Highs and Lows of Cook's Captaincy
Time and distance tend to bring perspective, however, so it is interesting to speculate how Cook and his tenure will be remembered over time. It was certainly defined by incredible peaks and horrendous troughs, as while Cook achieved tremendous personal and collective milestones during his captaincy he also received more criticism than any other England skipper in living memory.
From a positive perspective, England recorded impressive series wins in India (2012) and South Africa (during the winter of 2015) under Cook's watch. They also won two home Ashes series against Australia, while Cook took the helm for a record of 59 tests and won more of these than he lost. He also became the youngest player to score 10,000 runs in test match cricket during this time, superseding greats such as Sachin Tendulkar and Brian Lara in the process.
Many of Cook's detractors will attach serious caveats to some of these achievements, however. After all, Cook's debut series win in India was achieved with the nucleus of former captain Andrew Strauss' team, while star performers such as Kevin Pietersen and Graeme Swann performed magnificently. The Aussie teams that Cook defeated were also considered to be average at best, while even one of these home series wins was marred by a 5-0 drubbing that followed in Australia the following winter.
Even Cook's statistical record as captain has come under fire, as while Cook won 24 of his 59 tests he lost 22 and achieved a win-rate of just 40%. This is far below modern greats such as Strauss and Michael Vaughan, while many will argue that this represents under-achievement given the quality of the players he inherited from Strauss. It also adds credibility to the persistent arguments of his critics, which claim that Cook struggled in the role due his lack of natural captaincy ability.
---
How Will Cook be Remembered Over Time?
With Joe Root the overwhelming favourite to succeed Cook, the attention has been turned on the former captain's legacy. This type of scrutiny does a great deal to expose the flaws in Cook's armoury, such as his overly cautious approach, a lack of natural flair for captaincy and a penchant for bizarre selection decisions. So while Cook achieved many great things as skipper, circumstances and a number of natural failings will probably mean that is tenure is viewed in a less than flattering light.
For Cook, the good news is that he can return to the ranks as a player, which many people feel is where he is most comfortable. He can also focus on honing a game that has already delivered more than 10,000 test runs, as he looks to become the single greatest run scorer of all time.