How and why Newcastle United lost the League Title in 1996?
Last updated: March 24, 2015 by Leon Marshal
Few can argue that the Premier League is hands down the most exciting top-flight division not only across Europe, but globally. The unmatched competitiveness is a vivid proof of that. Yes, Manchester United have won an impressive percentage of Premier League titles since the division's inception, but each season there has been a fairy-tale story. Some involve relegation battlers, others are about overachieving underdogs. This article tells you about none of them. It is about the magnificent lads from Newcastle who came so close to be crowned as champions, but eventually were left empty-handed.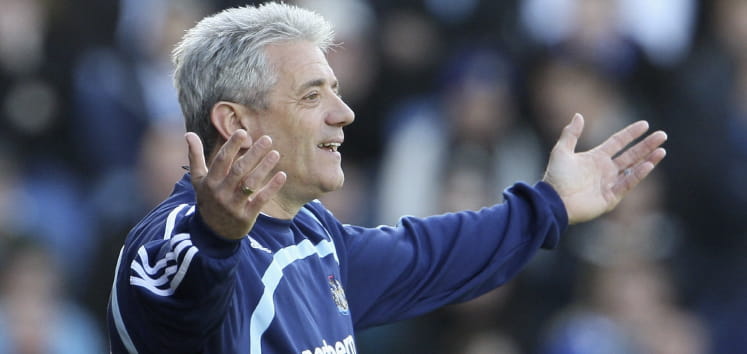 By Leon Marshal Share this Article: . t
Build up for a season to be remembered
Build up for a season to be remembered The mid-90s Newcastle side, managed by Kevin Keegan gathered the sympathies of all neutrals and it was a major disappointment for everyone in the country (except in Manchester and Sunderland) when they lost the title race in 1995 – 96. The promising signs at Tyneside appeared first during the previous term, when the Magpies have won their opening six fixtures of the campaign.
However, the mid-season sale of Andy Cole (which also saw Keith Gillespie coming to St. James' Park) seriously damaged their aspirations and Newcastle finished the 1994 – 95 campaign in sixth, missing on UEFA Cup football by just one point. Logically there were additions to the squad too, the most notable being French winger David Ginola for £2.5m from PSG and the arrival of QPR striker Les Ferdinand for £6m. Newcastle also set a new record fee that is paid for a defender, acquiring Wimbledon's Warren Barton for a fee of £4 million.
Impressive start
Having these reinforcements to their squad, The Geordies were ready for the new Premier League season, which for the first time consisted of just 20 teams, instead of 22. The new signings fitted perfectly into the squad as the team enjoyed a sensational start of the campaign. Thanks to Ginola and Gillespie's runs down the flanks and Ferdinand's goals, The Magpies recorded the impressive 9 wins in their first 10 matches, topping the table after that period, four points ahead of Manchester United. In October's League Cup win over Stoke Les Ferdinand booked his name in The Toon history book by scoring in 8 consecutive games, setting a new record.
The Return of Cantona
Another event in October 1995 outshined the record of Newcastle's new number nine, though. On the day when Kevin Keegan's side comfortably won at Everton, Eric Cantona's infamous ban expired. In January he performed a kung-fu kick in the Crystal Palace crowd and hasn't featured since. The stage was perfectly set for his return. Manchester United were entertaining Liverpool at Old Trafford. 'The King' didn't waste any time to make an impact, creating a goal for Nicky Butt with virtually his first contribution to the game. He also played a huge part in the attack when Ryan Giggs was fouled inside the box and coolly converted from the spot to level it up after Robbie Fowler's brace earlier in the game. United were back on track and Eric's return would prove decisive later on.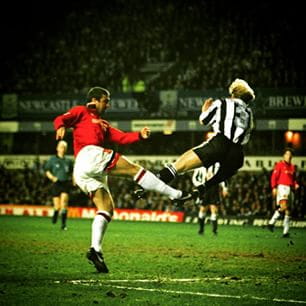 Sunshine and Rainbows in the North-East
The month of November started with a bang. The Top 4 were playing each other in one weekend with United heading to Highbury, while Liverpool travelled to Tyneside to face the league leaders. Dennis Bergkamp, Arsenal's £7.5m summer signing from Inter Milan sealed the three points for his club. Up North, Steve Watson capitalised from a last-minute mistake by David James to give Newcastle a victory in the derby. By the end of the month the gap was extended to 6 points and all was going according to plan for Keegan and his players.
Trouble on the road and an injured goalie
There was a slight downswing in The Toon's form in early December when they had to settle for a draw away to Wimbledon, despite the two goals from Les Ferdinand. Days later the Magpies were beaten by a Ruud Gullit-inspired Chelsea team at Stamford Bridge, the only goal scored by Romanian right-back Dan Petrescu. Newcastle suffered another major blow as first-choice keeper Shaka Hislop got injured and was replaced for the rest of the season by fan favourite Pavel Srnicek.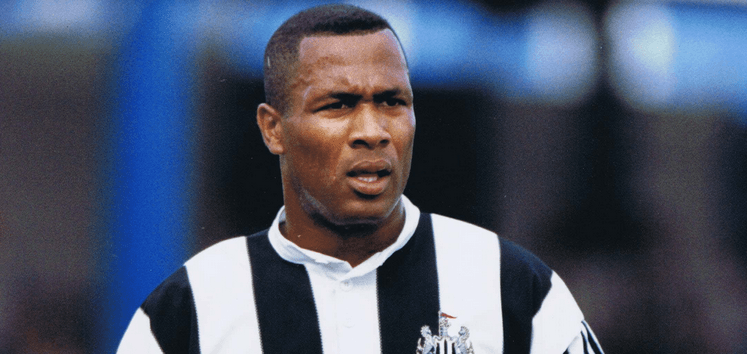 Face to Face, Round 1
As the clash between the title hopefuls at Old Trafford was getting closer, United were in terrible form. In the 30 days prior of 27 December, The Alex Ferguson side played 5 League games and failed to record a win in any of them. The draws with Nottingham, Chelsea and Sheffield Wednesday were followed by damaging away defeats to traditional rivals Liverpool and Leeds United.
Halfway through the season Newcastle United had a 10 points lead ahead of their Mancunian title contenders and had the chance to increase it to 13 if emerged victorious in The Theatre of Dreams. What happened was exactly the opposite, the gap was reduced to 7 points as former Magpies boy Andy Cole opened the scoreline before Roy Keane sealed the victory. "We didn't want it enough" – Kevin Keegan said after the game. The title race was far from over.
The 12-point lead and Tino Asprilla
January will be remembered with Peter Beardsley's 100th league goal for Newcastle United as the Hexham-born forward netted the winner against Bolton at home. After that game the lead was stretched to the impressive 12 points with 15 Premier League games to go. An advantage that seemed impossible to be lost.
In February The Magpies acquired £6.7m Columbia forward Faustino Asprilla from Parma, hoping to strengthen their title bid even more. He was introduced as a second-half substitute in Newcastle's visit to Middlesbrough while trailing 1-0 and had an immediate impact, setting up Steve Watson's equaliser with a neat cross from the left.
Unfortunately, the star signing's performance was marked with inconsistency and controversies off the pitch. He was particularly blamed for the run of bad results, including a 2-0 defeat to West Ham at Upton Park and a 3-3 draw away to Manchester City. He managed just 3 league goals in 14 appearances during his first season at Tyneside.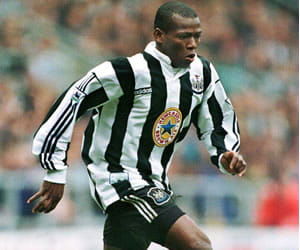 The Turning Point
March 1996 started with the eagerly anticipated clash between the title contenders at St James' Park. Newcastle were topping the pile, 4 points ahead of United with a game in hand and could've made a real statement in front of their fans. It's needless to say that the Toon Army as always provided a proper atmosphere that is needed for any football spectacle. It was the first time Andy Cole returned to the place where he spent two seasons and also the first time David Batty played in Newcastle colours since joining from reigning champions Blackburn. Andy-cole-manchester Andy Cole in Manchester United colours Andrew Cole had six seasons with Manchester United
The first half was all about the home side and Peter Schmeichel had to perform wonderful saves to deny Les Ferdinand on two occasions. Philippe Albert rattled the crossbar with a sweet left-footed free kick as Newcastle seemed firmly in control of the game. David Ginola was outstanding in that game, but it was the opposite side's talismanic Frenchman that made the difference. Against the run of play, Eric Cantona volleyed past Srnicek in the 51 minute to give United the lead. That proved to be the game's only goal, which secured Manchester United's league double over their main rivals that season.
A 2-0 defeat to Arsenal at Highbury condemned the Magpies to a second place in the table at the end of March, although having two games in hand. Meanwhile Cantona has hit top form for The Red Devils, scoring crucial goals against QPR, Arsenal and Spurs that resulted in Manchester United climbing above Newcastle. The title race was pretty much in the balance, but it wasn't getting any easier for Kevin Keegan's boys.
From Bad to Worse for The Magpies
Newcastle's visit to Anfield was another remarkable milestone of their season. Liverpool had a roller-coaster season so far, but were always a threat going forward, thanks to the predator instincts of Stan Collymore and young Robbie Fowler. It was exactly the striker partnership that caused a massive dent of The Geordies' title hopes.
"The highlight of the season. A game of football that anybody, anywhere in the world wants to watch." It was a night of attacking football full of emotions, comebacks and quality goals that finished in the most dramatic fashion as Stan Collymore slotted home in the dying seconds of the game to make it 4-3 to Liverpool.
Five days later, another dagger was applied to Newcastle's hearts. In the 76th minute at Ewood Park David Batty broke the deadlock against his former team, but a last-gasp brace by Graham Fenton (89′ and 89′) condemned Newcastle to their eight defeat of the season. The league title was firmly in Manchester United's control with 5 games to be played.
Kevin's breakdown, the title was lost
As the season approached its end, the pressure escalated in a mind-game started by Alex Ferguson in his trademark fashion. After narrowly beating a 10-men Leeds side at home, the Scot launched an indirect attack against Newcastle by questioning whether they will face similar fierce opposition from Howard Wilkinson's side.
"If they had played like that all season they'd be near the top. They raised their game because they were playing Manchester United. " – Alex Ferguson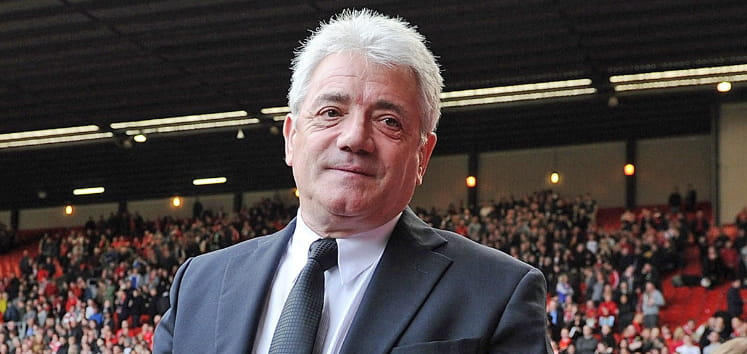 Twelve days later Keith Gillespie's header won the three points for Newcastle at Elland Road, but the game will be remembered with the Newcastle manager's post-match interview. The exact words of anger that King Kevin spoke to Sky Sports were:
"I've kept really quiet but I'll tell you something, he [Ferguson] went down in my estimations when he said that. We have not resorted to that. You can tell him now, we're still fighting for this title and he's got to go to Middlesbrough and get something. "And I'll tell you, honestly, I will love it if we beat them. Love it." – Kevin Keegan
That moment is believed to be the one when the North-East club finally conceded defeat in the title race. In their final 2 Premier League games of the season Newcastle recorded 1-1 draws against Nottingham and Spurs, finishing second with 78 points, 4 behind the Manchester United.
We can't solely blame Keegan for the missed opportunity, but it's never good to give way to your feelings when so many people rely on you and there's so much at stake. Newcastle had hard luck at numerous points of the season, conceding late goals in unbelievable turnarounds, but no doubt should have done better in their direct clashes with Manchester United.
A sad thing to admit, but according to Peter Beardsley the players as a group couldn't cope with their status of title favourites. In January 1997 Keegan resigned as manager and Newcastle were never so close to winning the league again. Nevertheless, "everyone's second-favourite team" in 1995 – 96 will be remembered and praised by generations, but I doubt the sour taste in The Toon Army's mouths will ever disappear.