BestBettingSites Is Officially Partnering With CONIFA
Last updated: July 16, 2015 by Leon Marshal
Here at BestBettingSites.co.uk, we're always looking to support sports endeavours with big visions with a lot of potential. As such, we're extremely happy and proud to announce that we are now the official online partner of CONIFA for 2015. CONIFA is an international non-profit football association dedicated to bringing various countries and peoples who are not part of FIFA together. Our partnership will help CONIFA with making their future World Cup events more spectacular than ever before! For more information, please make sure to visit the CONIFA website.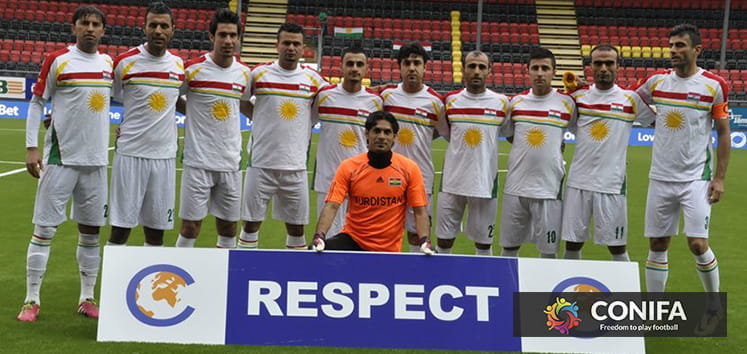 By Leon Marshal Share this Article: . t
About CONIFA
CONIFA are like the superheroes of football. "What the hell is CONIFA", you might be asking, if you aren't already thinking "What do you mean they're the superhero of football". Well, real superheroes are always fighting for the unprivileged, for those who don't have the strength to fight for themselves. Batman repeatedly risks his life to keep the citizens of Gotham safe at night. The Avengers defended the small nation of Sokovia from Ultron's forces when nobody else would. Being a superhero isn't about having superpowers – it's using whatever power you have to stand up for those who don't have any. In a way, that's exactly what CONIFA does. CONIFA, founded in 2013, stands for Confederation of Independent Football Associations. In Layman's terms, what this means is that it's a union of all football associations that aren't big enough to enter FIFA, be they nations, regions or even peoples. With that said, most of its members are smaller countries such as Zanzibar, Monaco and Quebec. CONIFA's goal is to provide underprivileged football associations with the rights they would have had if they were bigger, such as legal protection and the ability to participate in world cups. While the organization is only two years old, it has already become a game-changer for smaller nations and associations.
Teams Who Are Part of CONIFA
As of July 2015, a total of 27 teams across the world are part of CONIFA. Europe's representatives are Abkhazia, the Country of Nice (who won the 2014 World Cup), Ellan Vannin (a team representing the Isle of Man who came second in the 2014 World Cup), Feldvidek (a team representing Upper Hungary), Franconia, Heligoland, Monaco, Nagorno-Karabakh, Northern Cyprus, Occitania, Padania (winner of the 2015 European championship), Raetia, the Romani people, Sapmi, South Ossetia, Szekely Land and Western Armenia. Africa's representatives are the Chagos Islands, Darfur and Zanzibar, while Asia is represented by Arameans Suroyre, Iraqi Kurdistan, Panjab and Tamil Eelam. The American teams (from both North and South America) are Cascadia, Quebec and Aymara.
Political Stance
Considering what CONIFA is doing – giving smaller countries opportunities to shine and enjoy a tournament just like their "big brothers" – it could be easy to read a political subtext between the lines. So, what's the deal? Is CONIFA secretly trying to further their political agenda by sticking it to the big dogs? Actually, the reason for the organization's existence is a much more simple one. I believe Sascha Düerkop, CONIFA's general secretary, put it best: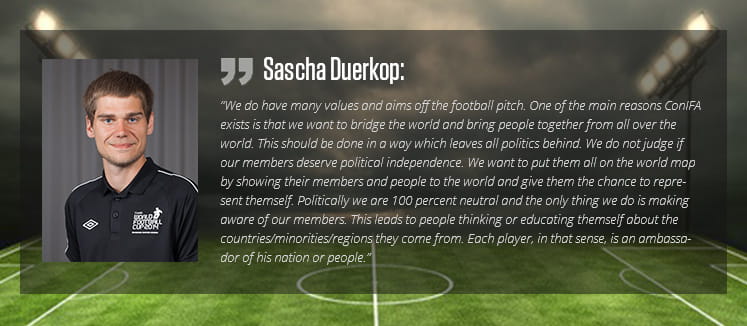 CONIFA Championships
As mentioned above, CONIFA actually organizes its own World Cup for its members. The first, and thus far, only world tournament in the association's short history took place in June 2014, in the city of Ostersund, Sweden. Twelve teams took part in the World Cup, out of the (currently) 27 teams that are part of CONIFA. Quebec and Zanzibar had also expressed interest in participating, but sadly had to pull out for various technical reasons. Regardless, the World Cup was an astounding success, with the Country of Nice (ironically brought in to replace Zanzibar) taking the trophy home after a match with Ellian Vannin, the Isle of Man's representative. In 2015, another championship was organized by CONIFA, this time a European one. It took place in Hungary over four days, with six teams competing for the title. Ultimately, Padania went home with the trophy. A second World Cup is planned for 2016, with the intention of making it even bigger and better.
#NEWHEROES
#NEWHEROES is an initiative brought about through a collaboration between CONIFA and Nordic Bet – a popular betting site based in the Nordic region. It was made to commemorate the very first CONIFA World Cup in 2014 by raising awareness about the teams that would participate in it. That was achieved through a series of videos that give basic information about each and every single one of the competing teams, including a brief history of the country or people they represent, interviews with some of their members and some insight on what football means to them. The initiative was a success, with each video getting thousands of views on YouTube and Vimeo and familiarizing people with those lesser-known cultures before the big tournament.
Differences between CONIFA and FIFA
The most obvious difference between FIFA and CONIFA, besides their size, is the fact that while FIFA is a for-profit organization that generates billions of dollars per year, CONIFA is entirely non-profit. The countries participating in CONIFA are not required to pay huge sums of cash in order to enjoy the benefits of membership, and the overall costs of all events organized by CONIFA is very low for everyone involved. CONIFA's goal is not to make money – it's to extend a hand to those not big enough to stand on their own. FIFA's goal, on the other hand… Well, I'm going to leave the corruption controversy from this year speak for itself on this one. It's also very important to note that, while CONIFA is non-profit, its existence challenges FIFA's monopoly over the world cup market. Considering how much progress CONIFA has made in only two years and the scandals at FIFA, it's a pretty safe bet that the organization will keep growing and growing in the future.