Barcelona finally land £142m Coutinho
Last updated: January 10, 2018 by Leon Marshal
Philippe Coutinho finally received the transfer he craved when Barcelona agreed to pay £142m to secure his services. The 25-year-old who had a transfer request turned down last summer by Liverpool, has put pen to paper in a five-and-half year deal with the Catalan Giants.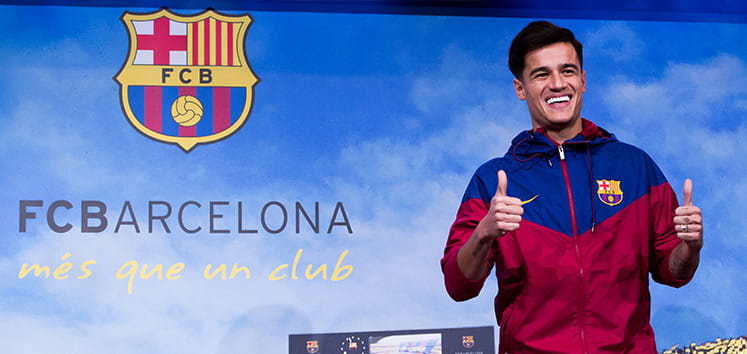 One of the longest running transfer sagas is finally over with Barcelona announcing that they had agreed a fee of £142m for Philippe Coutinho. The Brazilian midfielder had been a target of three bids from Barcelona in the Summer but Liverpool refused to sell, insisting that no offers would be entertained for the player who has scored 54 goals in 201 appearances for the Merseysiders.
Coutinho even handed in a transfer request to try and force a move to Barcelona but this was rejected by Liverpool's hierarchy last year. It is to Coutinho's credit that he didn't allow his on-field performance to drop when faced with the disappointment of his "dream move" falling through, far from it. The downside for Liverpool fans is that they have seen first-hand the quality they will be losing. His hat-trick against Spartak Moscow is testament to the impact that Philippe Coutinho can bring to a game. The Brazilian magician, on his day, is a sight to behold.
Déjà vu for Liverpool fans?
The Coutinho transfer will no doubt rekindle memories of the 2013 season for the Anfield faithful. Back then it was Luis Suarez who was agitating for a move away. He publicly stated his desire to leave the club and was even subject to a bid of £40,000,001 from Arsenal who had been informed the Uruguayan had a release clause of £40 million in his contract. He did, but Liverpool refused to sell.
Rumours at the time suggested that a deal had been done behind the scenes with Suarez at Anfield. Whether the stories are true or not is up for debate, but what isn't is the impact Suarez had on the Premier League that year. He was one of the best players on the planet and almost dragged Liverpool to that elusive Premier League title that they so badly want. His tally of 31 goals and 21 assists in 31 games is the stuff of legends.
When Suarez finally made his dream move to Barcelona after the World Cup in 2014, even the staunchest Liverpool fan felt it difficult to deny him this move, as he had earnt this chance and a mutual respect had been earned. Liverpool fans had stood by Suarez through his darker days and Suarez had obvious love for Liverpool and nearly took them to the promised land.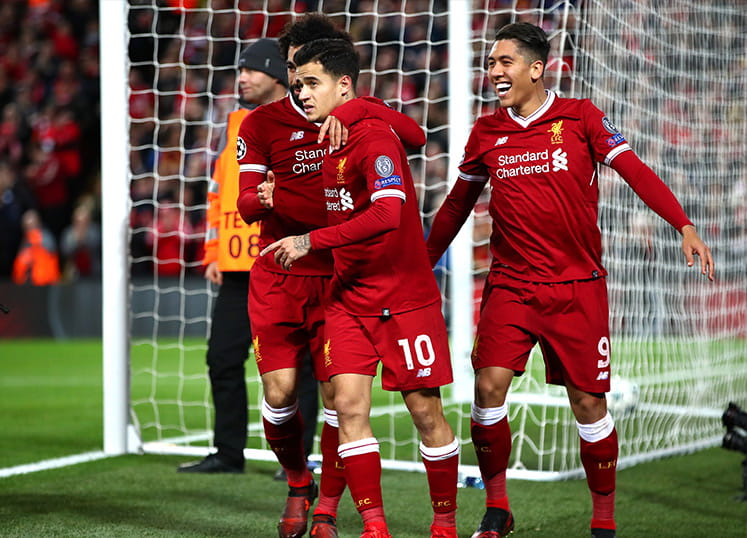 Strange timing for Barcelona or a show of strength?
Anyone who remotely follows football will not be surprised by this deal. What will raise eyebrows is the timing of the deal, with most expecting Barcelona to wait until the end of the season, not least due to the fact that Coutinho will be cup-tied for the Champions League and will not be eligible to play.
Barcelona are also flying high in La Liga, sitting 9 points ahead of Atlético Madrid and a huge 16 points clear of bitter rivals Real Madrid. The news of this transfer is bound to ramp up the pressure on Real and if reports in the Mirror can be believed, Real made a last gasp effort to sign Coutinho themselves but failed with a £177m bid.
Although Liverpool have had to face allegations over being seen as a selling club on social media, receiving £142 million for a player who wants away and only cost £8.5 million is a great piece of business.
They have recouped the record-breaking fee of £75million they paid Southampton for much needed defensive cover by signing Virgil van Dijk. They also have the exciting prospect of Naby Keïta to look forward to next season. Whisper it very quietly Liverpool fans… but a couple more quality signings to compliment the excellent Mohamed Salah and Liverpool could genuinely be in the mix for the title next season.