An overview of Jürgen Klopp's extraordinary takeover of Liverpool FC
Last updated: December 18, 2015 by Leon Marshal
We've seen some great premier league transfers in the last decade, but I would argue that it is not a player that fills the top spot for the best transfer into the premier league in the last ten years, but rather a manager. When Jürgen Klopp was appointed manager this October, Liverpool FC were still reeling from their near miss in 2014 and the subsequent disappointing season, but his move has breathed new life into the team. He has arrived with a different approach; some would even call it style.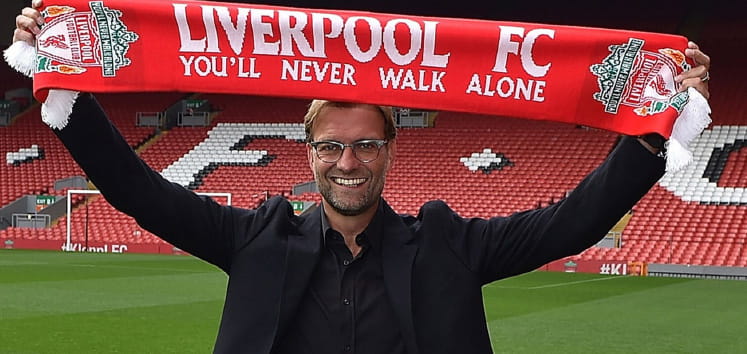 He claims he is just a 'normal man' from Stuttgart, but managed a Borussia Dortmund side as they soared to two consecutive league titles, and three trophies, alongside coming second in the Champions League. He also claims that it will take time and patience to win any kind of silverware at Liverpool, but his side are playing very exciting football, and many have already tipped them for the title. What is clear is that his move has been fascinating, from the past he leaves behind to the future he has began to build.
By Leon Marshal Share this Article: . t
Klopp's past
Klopp's move to Liverpool was so huge because of his incredible success at Borussia Dortmund, and also because he could have chosen much bigger and better teams in the Premier League to manage. Liverpool haven't tasted any real success in almost ten years, and in the most competitive league in the world they have found it difficult to outmuscle the wealth of the other major teams. In recent years we have seen Benitez, Hodgson, Dalglish, and Rodgers all passing through Anfield, with the club's expectations so high, but the offered time frame so small.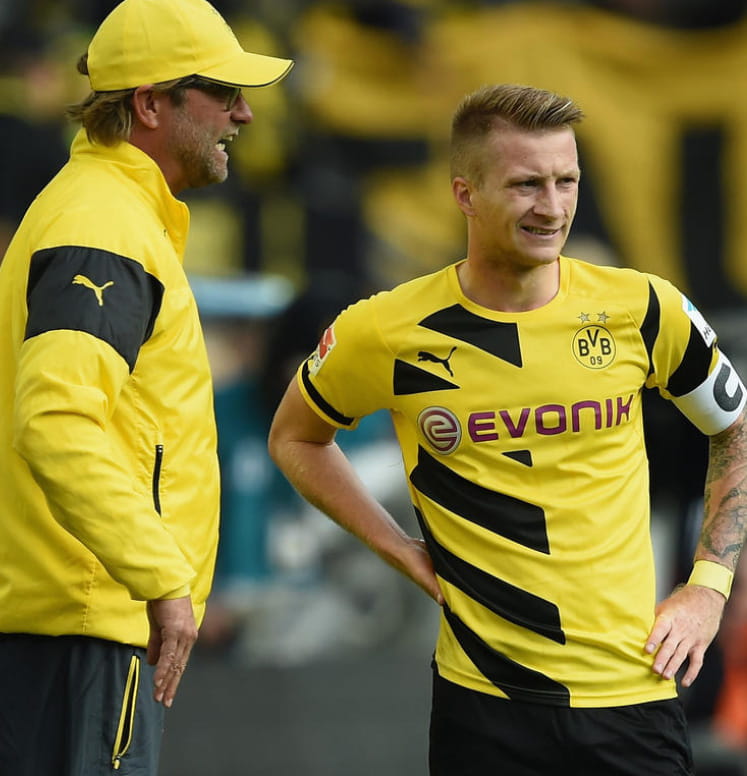 Klopp has been a one club man as both player and manager. Despite being in the football industry for over 25 years, he has played for and managed only two teams before Liverpool: Mainz 05, and Borussia Dortmund. For his entire professional career he played for Mainz 05, as a striker then a defender, before going on to manage the team for seven years, during which they were promoted to the Bundesliga. He then took the reigns of Borussia Dortmund for seven years, leading them to tremendous success.
Despite his obvious credentials as a manager, the main element that ties his success together is time. It took almost four years to achieve promotion with Mainz 05, and three to win the title with Borussia Dortmund. Modern managers come and go as success is believed to be more and more to do with money. But, Klopp represents something altogether different, and something that Liverpool surely must now inherit and take on board. From looking at his past, an investment in Klopp is a big investment in time.
The big move and the challenge ahead
Klopp's move this year was an intense and very well covered affair, and it all started with his departure from Dortmund at the end of last season. He was poised to leave on the DFB Cup final day in a Hollywood style fashion, but the team lost 3-1 to VfL Wolfsburg. This final defeat marked a sobering end to his seven year triumph that had rocketed Dortmund onto the international scene, but the fans seemed not to care.
As soon as he left the speculation around his next destination began, with some big sides in Europe being talked about. After declining the opportunity to take over the Mexican national team in late September, he was then swiftly announced as the new manager of Liverpool FC in early October. The hype around his arrival and unveiling at Liverpool took the football world by storm, as headline after headline was dedicated to him. But, all Klopp wanted to do was calm everybody down, and get to work.
Klopp said from day one that he wants to bring his full throttle approach to Liverpool, or 'gegenpressing' as it is often referred to. Ultimately, he wants Liverpool to play more interesting football. The challenge for him will be to overcome Liverpool's recent history, and also its huge craving for silverware.
Already two months in
Before the season, Liverpool had spent £77 million on transfers, bringing in players such as James Milner, Joe Gomez, Roberto Firmino, Nathaniel Clyne, and Christian Benteke. Rodgers was given a lot of movement this summer, and hoped to fill in some of the glaring gaps in defence and midfield. The club also sold, and released, a bunch of players including Raheem Sterling to Manchester City for £35 million, which is still painful to think about for many of the fans.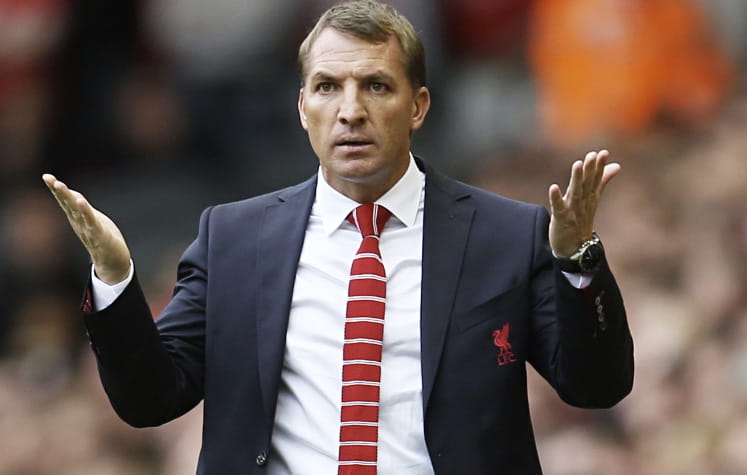 On the eve of Klopp's arrival, Liverpool had already played 11 games of the 15/16 season. The last game that Brendan Rodgers managed was their Merseyside derby against Everton, in which they drew 1-1. After two months, Liverpool sat in 10th place in the Premier League; the season under Rodgers had been lacklustre if anything. Liverpool had been beaten by West Ham and Manchester Utd, and had drawn against Norwich. They were playing decent football, but being caught out time and time again. Some called it a 'stuttering' start, with Liverpool looking energetic, but labouring in front of goal. It was a tame beginning that never really got going, and Rodgers was not given the chance to get it going.
Hard work for Klopp
It was the intense approach to football that apparently drew Klopp to Liverpool, and it was an opportunity for the team to create its own style. He didn't have long to set his ways in motion, as his first game against Tottenham came only a week after his arrival. He told the press before the game that he wants more bravery and more fun in the team. It was a clear beginning to his reign, and all were waiting for his first bout with Tottenham on the 17th October to see Liverpool revived.
Liverpool were quick, and energetic, and working extremely hard for the ball. The effort was no doubt there, leaving Spurs restrained, but what was lacking was the quality while in possession. The week after, Benteke, a new signing this summer, scored late in the game against Southampton to take the lead, only for it to be taken taken back 9 minutes later. The game was quieter than Klopp's first, with the fans lamenting over the deadlock. Two weeks in and Klopp hadn't seemed to have made any impact.
However, their third game against Chelsea saw Klopp's side playing brilliantly. They had shaken off their previous two draws and were waltzing around Stamford Bridge in style. Two goals from Coutinho, and another from Benteke, meant that Mourinho's lifeless team had to hold off another week for their league recovery. The next few games were just as unpredictable as the first few, with Klopp's side losing 1-2 to Crystal Palace, and then going on to beat Manchester City 1-4. Their triumphant victory was a beacon for Klopp's 'gegenpressing', and a step forward for Liverpool's confidence, which was then further stoked up by their following win at Anfield against Swansea.
Klopp's style
It is clear that it has been a difficult couple of months for Klopp, playing tough opponents as he tries to gather the kindling for his new creation at Liverpool. But, we have seen some glimpses of the team and style he is trying to create. Klopp insists that they mustn't try to replicate another team, rather they need to find a new style within themselves. It's not easy to predict what Klopp is going for, but we can speculate from the style of play he pioneered at Dortmund.
I have mentioned the term 'gegenpressing' a couple of times already. This is a certain style of play that Klopp famously loves. At Dortmund he instilled this style, which allowed the team to overcome far wealthier clubs who were also aiming for the title. It is the idea that after losing the ball the team should continue to attack to regain the ball, rather than falling back to defend. For this to work the team have to be compact and very fit, hunting the ball down efficiently. At Barcelona, another team that have pioneered the style, they use a 'one and three' approach, where when the ball is lost one man goes to retrieve it while the other three press the passes. The problems with this style is the physical impact of playing intense dying-last-minutes football for the full 90.
Liverpool under Brendan Rodgers would play a mix of laborious passing football, with counter attacks on the side. Klopp will no doubt be changing this, bringing in quick and energetic counter attacking football.
The burden of history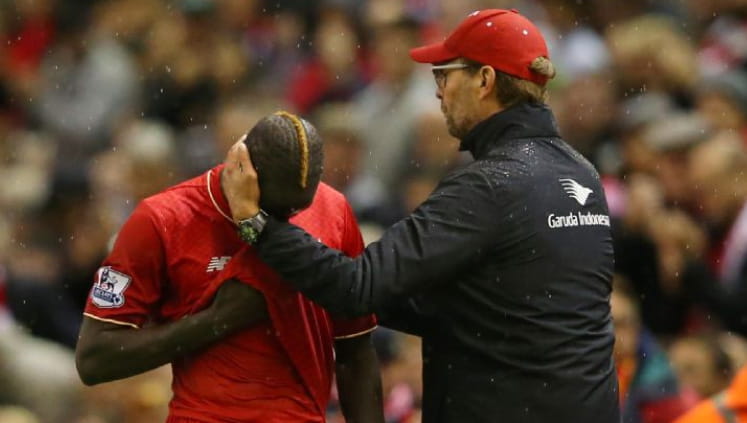 Like all new managers, Klopp is standing on the shoulders of giants at Liverpool. Bob Paisley secured twenty trophies in nine seasons between 1974 and 1983, Kenny Dalglish claimed another nine in the late 1980s, and Rafael Benitez won the Champions League in 2005, to name just a few. Liverpool FC has one of the richest histories in football, which is something that Klopp will no doubt respect. But, Liverpool haven't won the league title in over twenty five years, and this burden weighs on every player and fan.
From 1990, every manager has had to focus increasingly on the league to please fans and the board of directors. Where at other clubs, managers might have been hailed as brilliant for their cup runs and wins, and their high league standing, at Liverpool every manager seems to be rated on their ability to win the title. For example, Dalglish's return in 2012 was potted by his league performance, despite the team winning the Football League Cup and reaching the FA Cup final. Rodgers led the team to the closest league title battle in years, scraping second, but was still sacked after being told it wasn't good enough.
A 'normal' manager for a unique club
Klopp has shown that he understands the pressure at Liverpool to secure the league title, but doesn't want to play up to it. He has often said that he is the 'normal one', and Liverpool can't dream too big. He said that he won't promise anything, and he has laughed at the idea of a title win. Some critics believe that this nonchalance will put him behind, saying he is lacking the drive that previous managers have had.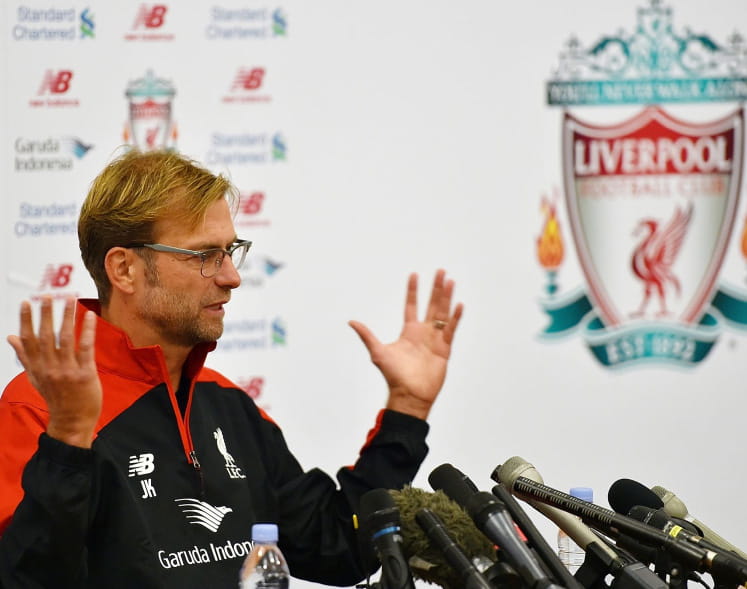 However, with these statements he is strategically composing the club, and forcing it to lose the solemnity which is holding it back. He believes that the club will fare better if is not 100% focused on the title, and instead tries to have fun with the game. In this respect, he is not the 'normal one'. The way in which Klopp ignites the passions of a club is anything but normal.
It is true that at Mainz he took the team on a pre-season trip to a remote part of Sweden, where the players had to fish for their food, and there was no electricity. He did this to to show the players they could survive anywhere. He showed his Dortmund side pictures of Barcelona, not videos, of them celebrating every goal like it was their first, to make clear the undying passion they should have for the game. Klopp led what he calls the greatest footballing project in the world at Dortmund.
Into the new year under Klopp
After their late 2-2 equaliser to West Brom, Klopp got all the players to replicate what had become normal at Dortmund, the post-match bow to the fans. This, to some, was a strange way to end a draw, but to others marked the real beginning of the new era under Klopp. The Liverpool team fought bitterly to gain the point, and for the first time in a long time the stadium was booming. At Dortmund the fans were called the 'Yellow Wall', which shows how fan support can change and influence a game. This relationship with the fans is an idea that has been cemented in the Budesliga, but isn't really present in the English game. This final moment against West Brom signifies the momentum behind Klopp, and also the way he is incorporating his beliefs at Liverpool.
What we expect to see in the new year is more common sense football, and the beginning of the long road to recovery for Liverpool. They have been transformed from a team frightened of defeat, to a team that is more hungry for victory. Klopp, by using his resources wisely, is slowly putting his pieces into place, oiling the rusted machine that Liverpool had become earlier in the season.
Early in the new year Liverpool will have a hard run against Arsenal, Manchester United, Stoke, and Leicester. Klopp's wins at Manchester City and Chelsea show that they are already ready for such games. But, we must not get carried away; the Crystal Palace and Southampton defeats are potent reminders that Liverpool have a long way to go yet. Can we expect a title win this season? Probably not, considering where they stand, and the upheaval that is being taken place. Can we expect a top four finish? If Leicester start to falter later in the season, which is likely, then Liverpool are the team to fill their place.
Conclusion under Klopp
Klopp's arrival at Anfield has given the city something to shout about once again. They look like they are on the way up, fighting for every ball and for every point. He has had a difficult first couple of months in the Premier League, and so far we have only seen glimpses and flashes of the style of play he is trying to introduce.
The footballing style at Liverpool has always been quite similar; hard hitting, physical football. Klopp's style represents something altogether different, at Dortmund his team played lightning fast football, with intuitive counter attacks. The league, and their underdog status suited their rise to greatness under Klopp. At Liverpool, the more physical league doesn't suit the style of play as well, and they will never be the underdog due to their history. But, as he has said, he will try to create something new at Liverpool.
Klopp has brought the passion back to Liverpool with his touchline antics and his connection with the fans. Everything is a whole lot louder, no doubt. But, for his ideas to truly come to fruition he needs time, like he had at Mainz and at Dortmund. This is something that Liverpool do not give away too easily, but if they choose to with Klopp they might have a real chance of changing their Premier League fortunes.