7 Deadly Sins of Football!
Last updated: March 24, 2015 by Leon Marshal
Having in mind the enormous media attention that footballers have today, they are more than just role models. And it's not only the likes of Lionel Messi and Cristiano Ronaldo, even a back-up player of a mediocre team can afford a bohemian lifestyle and virtually all their moves are put under the microscope. In the peak of the social media era we can clearly see that the stars we adore are normal people just like us, doing the usual everyday stuff.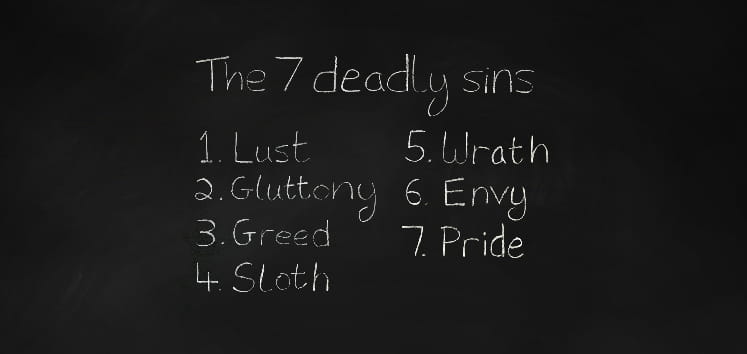 By Leon Marshal Share this Article: . t
Yes, it's hard to believe, but they are humans too. But unlike the joyful group selfies after a win and the exotic vacation snaps, on Twitter, Facebook or Instagram you will never hear of the superstars' immoral acts. They are priority of the tabloid newspapers. Without judging anyone, here we've give you a sample of the top players' most inglorious acts, according to the Biblical seven deadly sins.
Lust!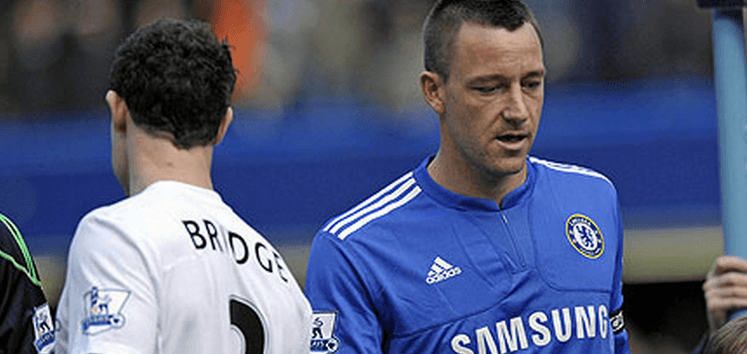 By far the easiest category to fill. Most football players have really attractive WAGs, but no one seems to be surprised when The Sun reveals the latest footballer who bedded a prostitute. Two cases of lust stand out from the rest, though. In January 2010 the press revealed that Chelsea and then England captain John Terry had an affair with Wayne Bridge's ex-girlfriend Vanessa Perroncel. Not really an example for his team mates, Terry was stripped of England's captaincy by Fabio Capello, just to be reinstated the following year and eventually to lose the armband again for racial abuse allegations.
However, Manchester United legend Ryan Giggs makes John Terry's betrayal look like child's play. The midfielder had 24 fruitful seasons in which he won everything with the Red Devils and is now their assistant manager. The Welshman is apparently not so loyal in the bedroom department, according to media reports in May 2011. The father of two allegedly had an 8-year affair with his brother Rhodri's wife, Natasha and two additional intimate relationships, including one with beauty queen Imogen Thomas.
Gluttony!
A lot of young (and not so young) players fail to cope with the money and the fame that come with football, regularly filling the back pages of tabloids with their antics. Nicklas Bendtner is a perfect example for such player. The Dane was brought to the Arsenal academy in 2004 at the age of 16. He was never the first name on Arsene Wenger's team list, but has shown some glimpses of his talent when given a chance and expectations rose with time.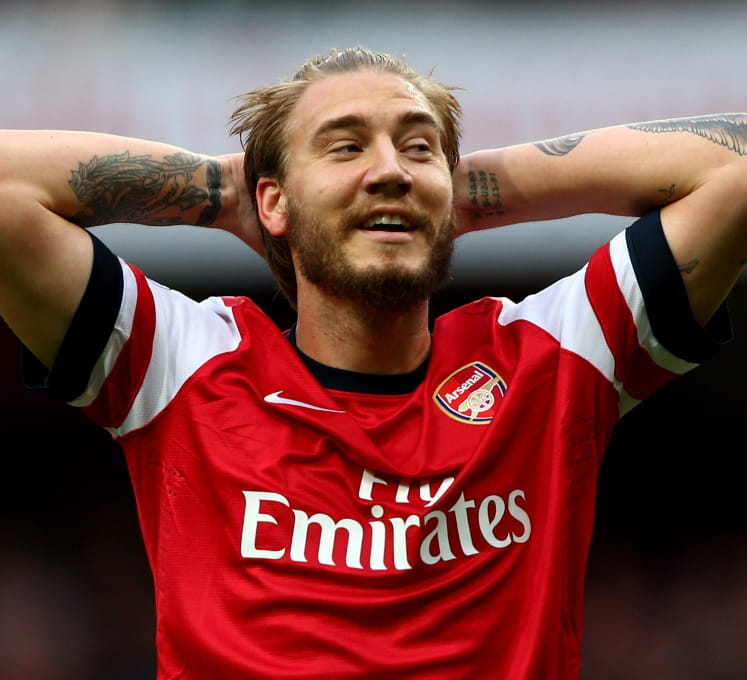 Having in mind his off-pitch performance, Bendtner didn't do that bad for Arsenal in his 5 seasons at the first team, netting 47 times in 171 appearances. His incidents portfolio is way more impressive and includes wrecking his £160,000 sports car, pants dropping and taxi rubbing (don't ask) and advertising Paddy Power with his underwear at Euro 2012. Quite often he was photographed coming out of a night club, looking drunk, he had to be a special talent, considering Wenger's faith in him.
Greed!
The sad truth is that one-club footballers are all but gone. Most players will prefer a lucrative transfer away from the team where they are worshipped, instead of cementing a place in the club's history. A perfect example for that is Ashley Cole. The Londoner came through Arsenal's youth system and had 8 successful seasons with the Gunners, winning 2 League titles and 3 FA cups with The Gunners. He also became the first-choice left back for England and played in 2006's Champions League final in Paris, which Arsenal have lost to Barcelona (1-2).
Cole first started flirting with Chelsea in 2005 when he met Blues manager Jose Mourinho and chief executive Peter Kenyon at a hotel, for which he was fined £100,000 by the Premier League. A month later he extended his deal with Arsenal, but also launched a verbal attack towards the Gunners, claiming he was a scapegoat in the scandal following his contact with Chelsea. He was also "trembling with anger" for being offered just £55,000 a week. The inevitable happened on 31 August 2006 when Cole was sold to the Stamford Bridge side for £5 million in a deal that also saw William Gallas coming to the newly-built Emirates stadium.
Sloth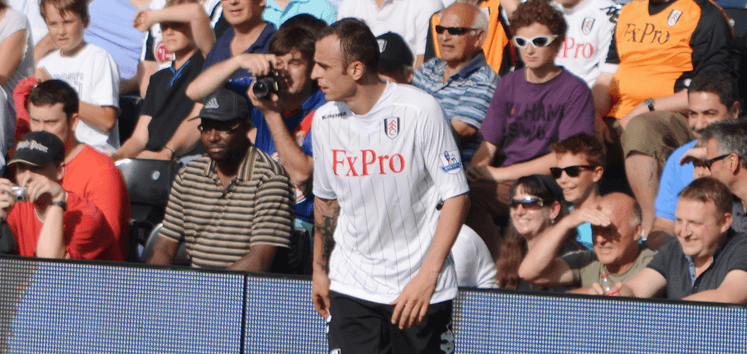 Some people like to say that they participate selectively and are energy-efficient, rather than lazy. Once again, we are far from making general conclusions here, but when you get £100,000 every week it is expected that you will break a sweat every now and then. That doesn't mean you have to chase hopeless balls every time, but fans pay to see commitment from their players and no wonder 'Duracell bunnies' such as Alexis Sanchez often are most loved by the supporters.
There is another kind of players, though. In 2001 Dimitar Berbatov was transferred to Bayer Leverkusen from Bulgarian side CSKA Sofia and had to play for the reserves in his first season, due to his composed style of play. Berti Vogts even called him lazy and uninterested. Thankfully, his talent was not wasted, thanks to his silky touch and true goalscoring instinct. The once-called 'lazy' Bulgarian became the all-time top scorer for his country and had successful spells at Spurs, Manchester United and Fulham before joining Monaco in 2014.
Wrath
It's really hard to talk about Eric Cantona when you have to limit yourself to 200 words. Mostly popular with being a pivotal player for Manchester United's revival in the early 90s, the Frenchman was called "King Eric" and was also voted as the greatest player in the club's history. Less-known facts are that he is also an actor, has a brother who just like him had football and TV careers, is twice married and has strong political views, which he's not shy to express.
Sadly, Eric's dazzling career is marked by an ugly stain. On 25 January 1995 United were playing Crystal Palace at Selhurst Park and a win would climb them top of the league above Blackburn Rovers. The game ended 1-1, but will be remembered for another reason. Cantona's short-fuse temperament resulted in him being sent off in the second half and as he was walking off the pitch, he was confronted by Matthew Simmons, a 20-year old Palace supporter. It's debatable what exactly did the fan say, but he certainly was on the receiving end of an emblematic kung-fu kick.
Pride
There is no bigger honour for a footballer than to represent his country at international level. Therefore, any Englishman should wear the shirt with the three lions with pride. However, there is one more type of pride, the personal one. Some football stars have such big egos, which can lead them into making illogical and even stupid decisions.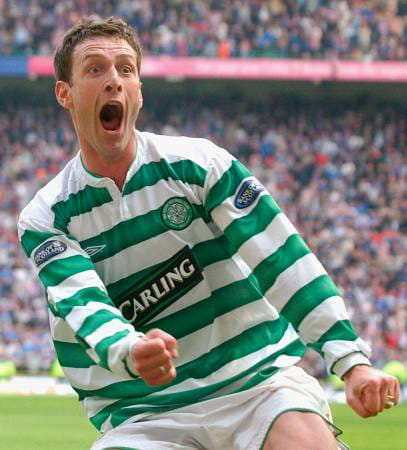 Christopher Roy Sutton was a prolific striker for Norwich and Blackburn in the Premier League's early years. His goalscoring form for Rovers earned him an England call-up for a match against Cameroon in 1997. Sutton was brought on as a sub for the last 11 minutes of the game, which will also prove to be his last as England player. The striker didn't make the cut for the 1998 World Cup finals in France, had a fall-out with Glenn Hoddle and refused to play for England's B team. He continued playing for Chelsea, Celtic and both Birmingham clubs before retiring at Wroxham, but never got called again to represent his country.
Envy
Inter Milan formed really frightening strike force for the second half of the 90s. Chilean international Ivan Zamorano had to fight for his place in the Nerazzurri front line with World Cup star in the making Ronaldo, who signed for Inter from Barcelona in 1997. Over the following two years, Massimo Moratti brought Italy internationals Roberto Baggio and Christian Vieri to the club, making the competition even more intense. I'm still puzzled how this side failed to win Serie A with so many quality forwards.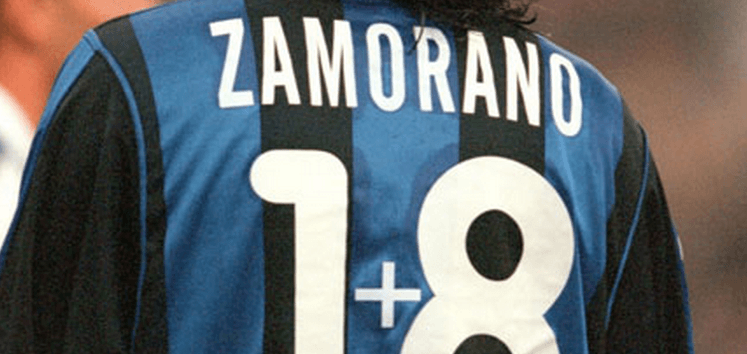 It was exactly Baggio's arrival from Bologna in 1998 that triggered a curious string of events. The Italy hero was given the number 10 shirt, previously worn by Ronaldo, who took Zamorano's number 9. The Chilean had to settle with the not-so-illustrative for a centre forward number 18. He was clearly not happy with the change and managed to raise some eyebrows when he put a "+" sign between the digits. A small consolation, but still not #9, sorry Ivan.